A hunter lived alone in the middle of a forest, in a small house by the river. A short distance down a slope in front of his house, he had a garden where he would grow vegetables to supplement his diet of forest game and fish. One morning, he awoke to the sounds of a thunderstorm and rushing water. Quickly getting dressed and stumbling outside, he saw the river had flooded.
Overflowing its banks, the waters swelled and flowed past, getting ever so closer to the hunter's abode. It would not reach the house, the hunter observed, for it had the higher ground. But there was no hope for the vegetable garden -- it was only a matter of minutes before the floodwaters would wash over it, ruining his harvest for that season.
"Goddam*it," the hunter muttered.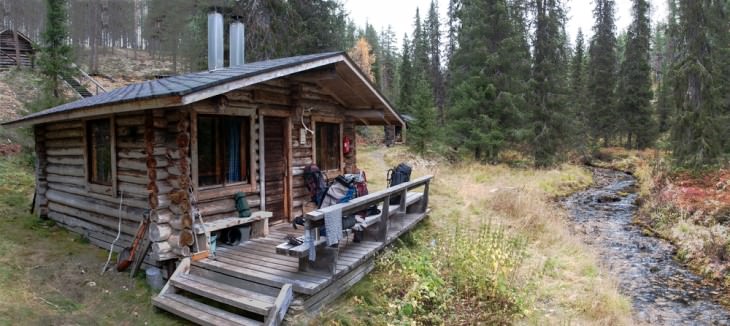 Right before the hunter's eyes, a bolt of lightning struck the bank at the other side of the river, followed by a deafening clap of thunder and a massive explosion. Trees, rocks and chunks of dirt flew hundreds of feet into the air!
No sooner had the debris started falling back to the ground when a monstrous tornado blew in from parts unknown and scooped them right up again. The tornado headed straight towards the river, uprooting more trees and rocks in its path, carving a deep gouge into the earth.
As soon as the tornado blew across the river, there was another flash of lightning and deafening clap of thunder. The tornado disappeared as quickly as it had materialized. The uprooted trees, rocks and dirt crashed into the river, diverting its waters into the deep gouge in the earth. The floodwaters receded, having come within inches of the hunter's vegetable garden.
Having witnessed the whole extravaganza from start to finish, the hunter could only stare, wide eyed, his legs shaking and mouth hanging stupidly open. It was a while before he finally managed to speak.
"Whoa."
Then, from above him, a voice boomed:
"YOU'RE WELCOME."
​For more funny jokes scroll below.