Also known as the jelly roll in the US, a Swiss roll is a classic cake that comes from Central Europe. The cake is made by rolling up a layer of sponge cake filled with some sort of cream or jam. This exquisite vanilla Swiss roll is made with an easy-to-make cream cheese filling and topped with powdered sugar and fresh strawberries.
Prep Time
1 hour and 5 minutes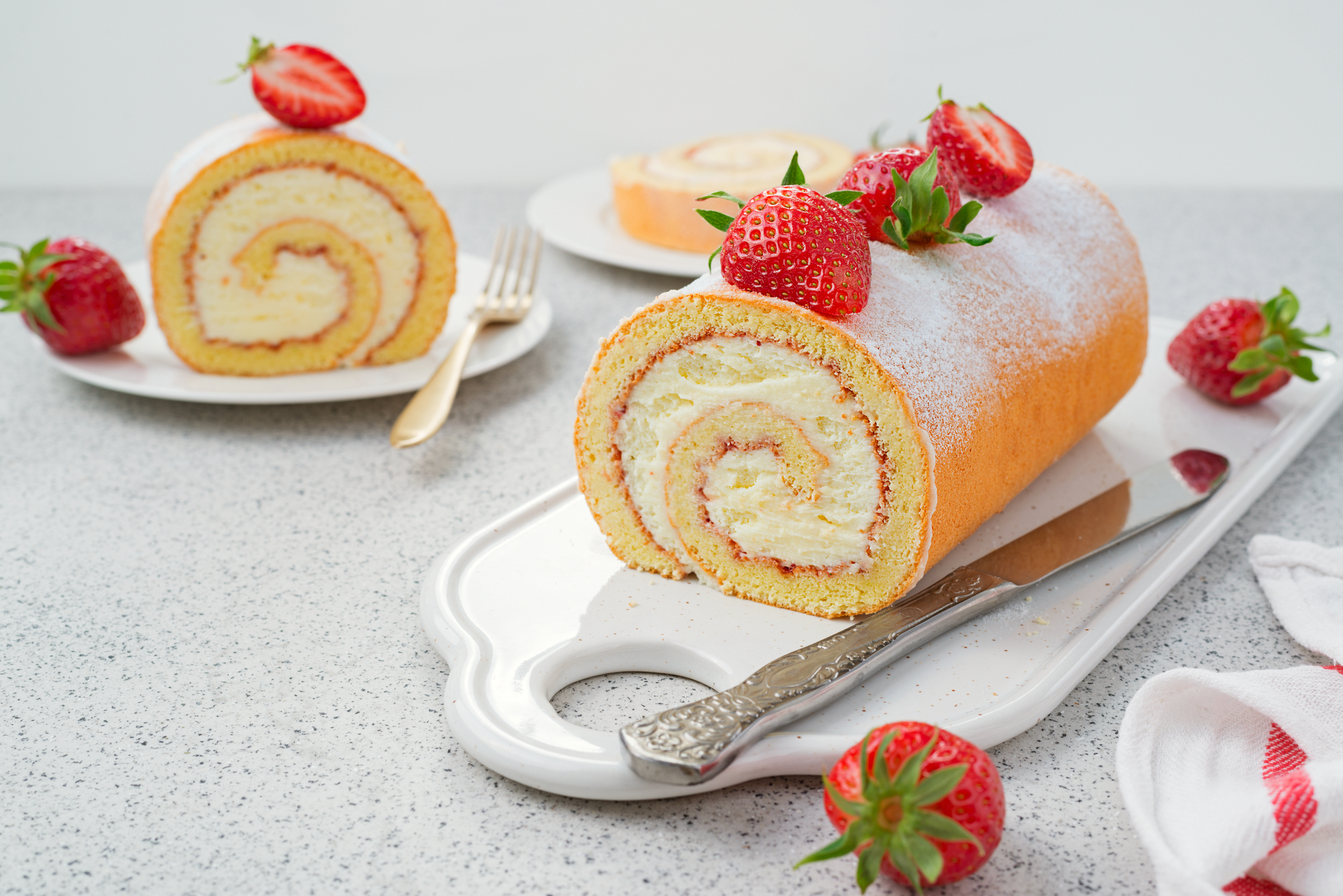 Ingredients for cake roll:
Method of preparing the filling:
Let the gelatin sit in the water for 10 minutes. Microwave the gelatin for 15-20 seconds to dissolve. Avoid boiling. Stir in 1 tbsp cream.

Whisk the sugar, vanilla, and 1 cup cream. Beat on high speed and add the gelatin until stiff peaks form.
Method of preparing the cake roll:
Preheat the oven to 350°F (180°C). Line a 10x15-inch cake tray with parchment paper.

Sift the all-purpose flour, baking powder, and cornstarch into a clean bowl.

Add the eggs, the egg yolk, white sugar, and salt to the bowl, and beat on high speed for 5-6 minutes, until stiff peaks form.

Add the 2 mixtures together with the vanilla and the melted butter, mix everything well and pour into the cake tray.

Bake for 10-15 minutes, rotating halfway to ensure even baking. Let the cake cool only a little, lift it from the tray with the parchment and roll it. Secure with an elastic.

Once cooled, unroll the cake and remove the parchment. Spread the filling in an even layer, leaving a 1-inch border all around.

Roll again, wrap it up in some plastic wrap, and chill for at least an hour before serving.

When ready to serve, remove the plastic wrap from the cake, cut off the edges of the cake for a more aesthetic presentation, and dust the roll with powdered sugar. Decorate the top of the cake with strawberry halves.
Source: Theflavorbender.com