The literal meaning of the French word 'renaissance' is rebirth. This is the essence of the Renaissance period, which is generally considered to have taken place from the 14th to the 17th century. During that period, an interest in antiquity was 'reborn' after the Dark Ages. Renaissance thinkers expanded on classical texts and created their own style of philosophy, literature, and art.
Some of the major developments of the Renaissance include astronomy, humanist philosophy, the printing press, vernacular language in writing, novel painting and sculpture techniques, world exploration, and, in the late Renaissance, Shakespeare's works. And Shakespeare is not the only Renaissance figure whose greatness is still celebrated today. The words of thinkers and artists of this era still echo today, and their universal lessons still apply to our lives. Take a look at these timeless quotes by famous Renaissance figures.
1. "You cannot teach a man anything, you can only help him to find it for himself." - Galileo Galilei
Related: The 10 Most Famous Figures of the Renaissance

2. "Genius is eternal patience." - Michelangelo
Image Source: Jörg Bittner Unna / Wikimediea Commons
Related: Artworks by Michelangelo That Everyone Should Know!
3. "You are not only responsible for what you say, but also for what you do not say." - Martin Luther
4. "Simplicity is the ultimate sophistication." - Leonardo da Vinci
Related: Da Vinci Weaved Magic with Words Too – 15 Wonderful Quotes
5. "Never was anything great achieved without danger." - Niccolo Machiavelli
6. "Faith in oneself is the best and safest course." - Michelangelo
Image Source: Jörg Bittner Unna / Wikimediea Commons
7. "A speech comes alive only if it rises from the heart, not if it floats on the lips." - Desiderius Erasmus
8. "Time is a vindictive bandit to steal the beauty of our former selves." - Raphael
Related: 24 Paintings from Renaissance Grand-master, Raphael
9. "I much prefer the sharpest criticism of a single intelligent man to the thoughtless approval of the masses." - Johannes Kepler
10. "Lend yourself to others, but give yourself to yourself." - Michel de Montaigne
11. "Reading maketh a full man; conference a ready man; and writing an exact man." - Francis Bacon
Image Source: Wellcome Collection / Francis Bacon
12.
"Everything that is done in the world is done by hope." - Martin Luther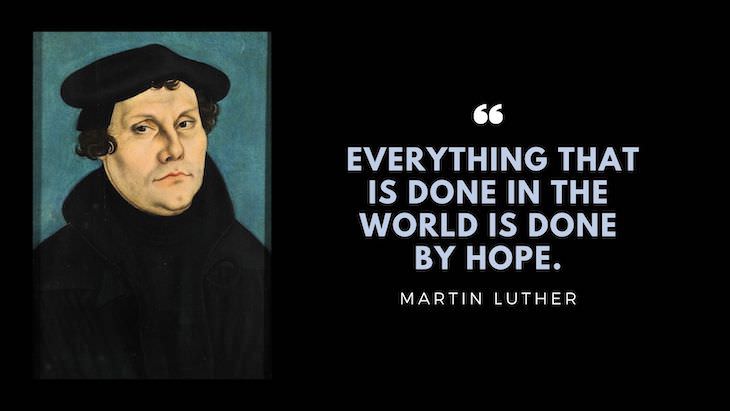 13. "I have never met a man so ignorant that I couldn't learn something from him." - Galileo Galilei
14. "Nature uses as little as possible of anything." - Johannes Kepler
15. "Knowledge is power." - Francis Bacon
Image Source: Wellcome Collection / Francis Bacon
Share these inspirational words with family and friends