Spring rolls are a tasty, easy snack to prepare as part of a buffet at a party. Some recipes use minced chicken or pork, but we prefer them with just mixed vegetables. Spring roll pastry can be hard to come by, but Asian supermarkets will definitely sell it. It comes in various sizes, but we use the 10cm square ones – any smaller than this and it will get a bit fiddly when sealing the filling in.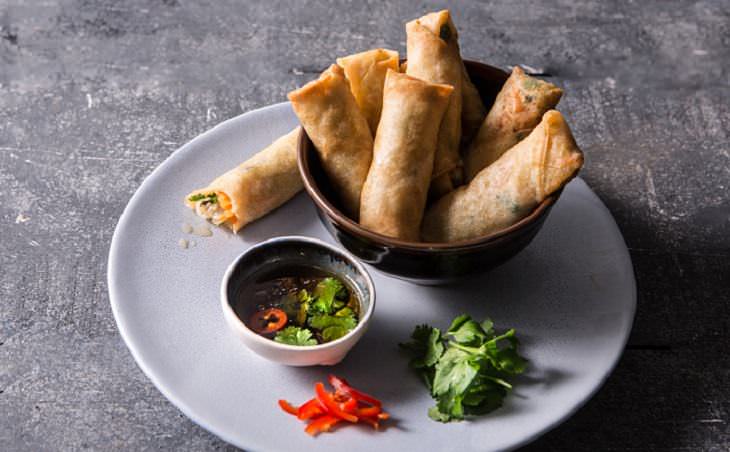 Method of Preparation:
Soak the noodles in warm water for 8-10 minutes.

Heat a wok over high heat with the sesame oil. Add the cabbage, carrots, and beansprouts and cook for 1 minute, stirring all the time.

Add the ginger and garlic and cook for a few more minutes, or until softened. Then stir in the soy sauce, rice wine, and coriander.

Transfer to a bowl to cool slightly and drain off any excess moisture.

To make the spring rolls, place a layer of spring roll pastry onto a clean work surface with a corner facing towards you.

Place 1 tablespoon of the vegetable mixture on the corner of the pastry and begin to diagonally roll the pastry up tightly around the filling. When you reach the middle of the pastry, fold in the corners from either side, and brush a little of the cornflour mixture onto the remaining corner, finish rolling up and press together to seal. Repeat with the rest of the mixture and pastry.

Fill a deep saucepan with oil and heat to 360°F (180°C). Deep-fry your spring rolls in batches for 2-3 minutes, until golden-brown and crispy. Serve immediately.