In this recipe fit for royalty, you'll be making your very own homemade wine-soaked croutons. I feel festive just reading about it! This recipe is full of astringent and rich tones- the combination of the cheese, wine, and mushrooms will be a burst of flavors in your mouth.
Prep Time
1 hour and 10 minutes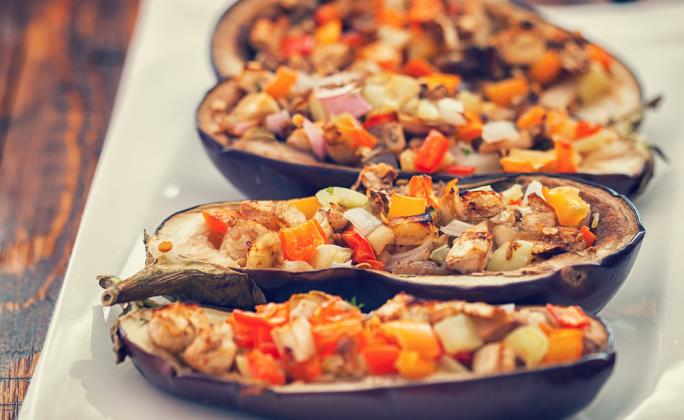 Ingredients for eggplants:
Method of preparing the eggplants:
Let the bread cubes soak in the wine. Strain them, but don't crush them once fully soaked.

Halve the eggplants and scrape out the flesh, leaving a 1/4-inch shell. Dice the flesh and salt the eggplant shells. Let sit for 30 minutes and pat dry.

Preheat the oven to 350°F and line a baking sheet. Oil the eggplants and lay them cut side down on the parchment. Add 1/4 cup of water, cover with foil, and bake for 45 minutes.

Oil a skillet and fry the mushrooms for a minute. Season to taste, cover and cook until tender. Remove from heat and repeat the process with the pepper and the eggplants. They will be tender much quicker. Transfer both into a bowl to cool.

Fry the onion and garlic on low heat, covered, until soft. Add the butter, and once melted, remove from heat and add to the mushrooms.

Add the cheese and broth and season well. Then add the bread.

Increase the oven temperature to 425°F and turn the eggplants. Fill them up, broil for 10 minutes, and serve with parsley garnish.
Chef's Tip:
Our recommendation would be to use oyster mushrooms. They're so full of flavor they're almost pungent, so you can easily season them with just salt and pepper.
Source: Delish