This fantastic restaurant-style chicken fried rice tastes like something straight out a restaurant, but it's so easy to make yourself, that you'll make it again and again. So, the next time you have some white rice left over from a Chinese take-away, you can transform it into a delicious dinner in next to no time.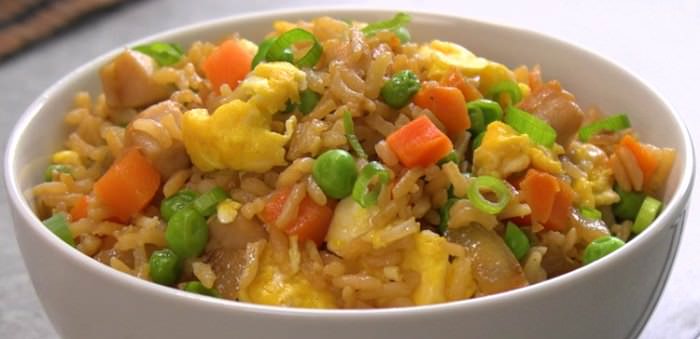 Method of Preparation:
In a large non-stick pan, heat 1 tablespoon of oil over a medium heat. Add the chopped onions and sauté them until they turn a nice brown color, 8-10 minutes. Add the chicken and season with salt and pepper. Cook for a further 3-5 minutes until the meat is nearly cooked through. Remove the meat and onions from the pan, and set them aside for the time being.

Season the beaten eggs with some salt. Add ½ tablespoon of butter and oil to the pan and pour in the eggs. Cook the eggs, stirring occasionally, until they are just cooked. If needed, break the eggs into small pieces using a spatula. Remove the cooked eggs from the pan and set aside.

Increase the heat to medium-high and add the remaining tablespoon of oil to the pan. Once the pan is hot, add the rice, cooked meat and onions, and garlic. Cook, stirring occasionally, until everything is heated through, about 5 minutes.

Add the thawed peas, carrots, and soy sauce to the rice mixture and sauté for one minute, mixing to combine.  Garnish with some chopped green onions, if desired.