Here's a great way to enjoy salmon. This salmon with root vegetable dish is loaded with protein and healthy fats and will keep you full on those hectic days. The great thing about this dish is that you can have it at breakfast, lunch, or dinner!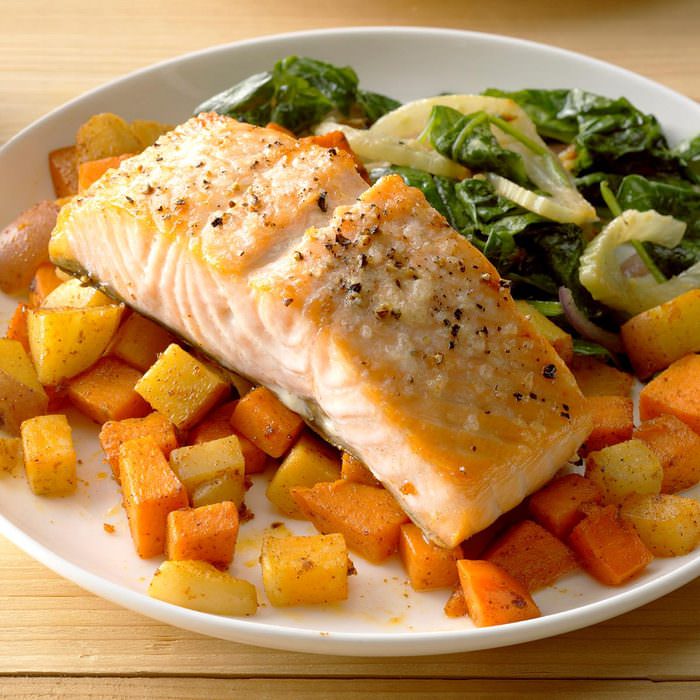 Ingredients for Salmon with Root Vegetables:
Method of preparing the Salmon with Root Vegetables:
Preheat oven to 400°F (200°C). Now, heat oil over medium heat in a large skillet and add potatoes, sweet potatoes, turnips, and carrots. Combine 1/2 tsp salt, chili powder, 1/2 tsp pepper, cinnamon and cumin, and sprinkle over the vegetables.

Cook for 15-20 minutes. Stir frequently until the vegetables are tender.

In a foil-lined baking pan place the salmon, skin side down. Sprinkle with remaining salt and pepper. Bake for 10 minutes. Now, preheat the broiler and broil until the fish just begins to flake easily.

Serve salmon with vegetables.
Chef's Tip:
To add extra protein to the dish, nestle a poached egg in the vegetables.
Source: Taste of Home