A classic Philly cheesesteak sandwich is made with a combination of thinly sliced beef, lots of melted cheese, and a big roll to stick it all in. A classic for a reason, this sandwich has a huge reputation for satisfying hearty appetites. Meaty, gooey, and delightfully messy, Philly cheesesteak is something you'll grow to love.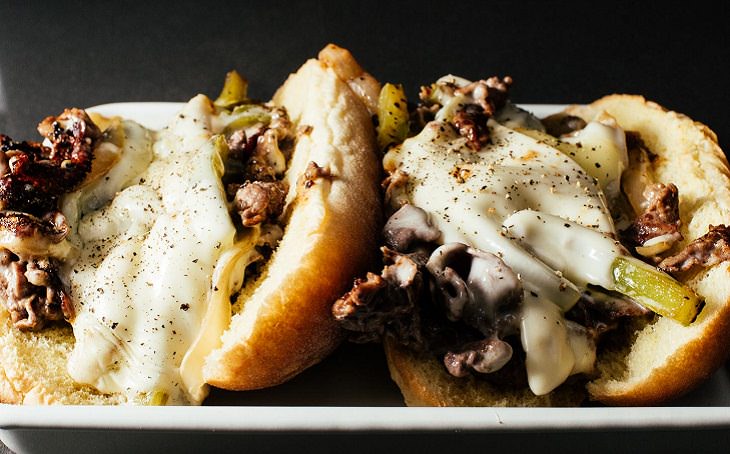 Ingredients for Cheesesteak Sandwich:
Method of preparing the Cheesesteak Sandwich:
Place the beef in the freezer for several minutes, so that it's easy to slice. Cut the beef across the grain into thin slices. Sprinkle with salt and pepper. Using a spoon, remove the brown gills from the underside of the mushrooms. Thinly slice the mushroom caps, then cut each slice in half crosswise.

Heat a large non-stick skillet over medium-high heat. Coat the pan with 1 tsp. olive oil. Add the beef to the pan and sauté until it browns, stirring constantly. Remove the beef from the pan.

Add the remaining 1 tsp. olive oil to the pan. Add the onion, and sauté for 3 minutes. Then add the mushrooms, garlic, and bell peppers, and sauté for 6 minutes.

Return the beef to the pan and sauté for 1 more minute, or until it's thoroughly heated and the vegetables are tender. Remove from the heat and stir in the Worcestershire and soy sauce.

Place the flour in a small saucepan; gradually add the milk, stirring with a whisk until blended. Bring to a simmer over medium heat, and cook for 1 minute or until slightly thickened. Remove from the heat and add the cheeses and mustard, stirring until smooth. Keep warm (mixture will thicken as it cools).

Hollow out the top and bottom halves of the bread, leaving a 1/2 -inch-thick shell. Divide the beef mixture evenly on the bottom halves of the hoagies. Drizzle sauce evenly over the beef mixture, then replace top halves.
Source: Myrecipes