Introducing lamb meat sausage rolls- a healthier version of the ones you already know and love so much. While they do require a bit more elbow grease than the usual recipe (the one with ready-made sausages), it gives you more control over the taste as well as the nutritional profile- no hidden additives here!
This recipe calls for Harissa paste. You can swap it with any hot sauce or buy it from a store. If you'd like to make a batch yourself to control the spiciness, here's a recipe for Harissa.
Prep Time
1 hour and 10 minutes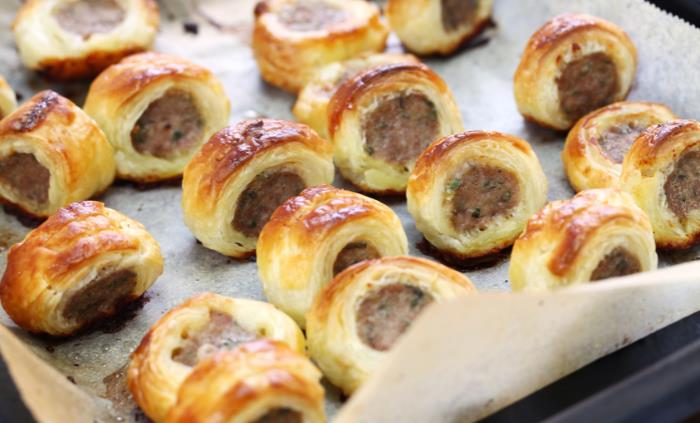 Method of preparing the rolls:
Sauté the onion, garlic, and ginger in oil over low heat for 8-10 minutes. Stir often, and once soft, set aside in a bowl to cool.

Once cooled, add the lamb, oats, currants, chopped mint, pine nuts, harissa, cumin, cinnamon, and 1 egg. Season and combine.

Preheat oven to 360°F and line 2 baking sheets. Whisk the remaining egg.

Cut the pastry sheets in half. Place a quarter of the lamb mixture along the center of each piece. Brush the long edge with the whisked egg and fold the pastry over, pressing to seal.

Cut each roll into 4 pieces. Arrange pieces evenly spaced, seam side down, on the parchment.

Brush with the egg, pierce with a knife, top with some coarse salt or cumin seeds and bake for 30 minutes.

Combine the greek yogurt with extra mint and serve as a dip.
Source: taste.com