In most parts of the world, avocados are a fruit that flourish in the winter, and not the summer like you may think. They are rich in lots of vitamins and minerals as well as oils that will clear your skin and aid digestion. Try this delicious egg and avocado pizza for a quick and healthy breakfast treat.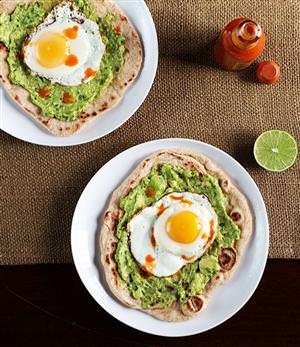 Recipe makes: 4 servings

Ingredients:

1 large avocado
1 tablespoon of finely chopped cilantro
1 1/2 teaspoons of lime juice
1/8 tablespoon salt
1/2 pound pizza dough (try this recipe), homemade or store-bought
4 large eggs
1 tablespoon vegetable oil
Hot sauce (optional)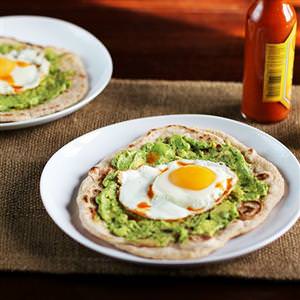 Begin by cutting the avocado in half lengthwise. Remove the pit and with a large spoon scoop the flesh out into a bowl. Add in the cilantro, lime juice and salt, mashing and mixing everything together with a fork. Do this until there are only a few chunks of avocado remaining. Taste and add seasonings, place on the side.

Then, divide the dough into 4 pieces. On a well-floured cutting board, roll out each piece into a 6-inch circle. Heat a well-oiled cast iron skillet over medium-high heat until it is very hot. Place one of the dough circles in the center of the skillet and cook for about 1-2 minutes on each side. Press down with a spatula on the dough if it begins to pop up from the pan. Remove the dough to a plate and repeat with the remaining dough circles.

Once the bread has cooled, spread an equal amount of the avocado mixture on each round, ensuring that they are well covered. Then, heat oil in a skillet over medium heat (the same skillet you used before). Break an egg into the skillet and cook sunny-side up until it reaches the desired doneness. Place one egg on each of the pizzas and serve immediately, with or without a drizzle of hot sauce.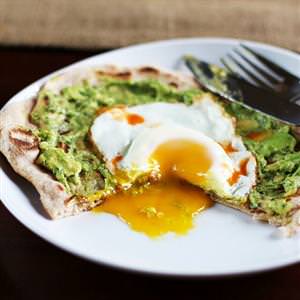 Enjoy this filling and delicious breakfast treat that is ready in only minutes.