This summer tomato pie invites the rustic spirit into your kitchen. Imagine a kitchen garden, a cottage deep in the meadow. A crisp morning in the Mediterranean. Let the preparation be a ritual- this one takes time, but it pays off, plus it's a great recipe if you're stuck with loads of tomatoes!
Prep Time
3 hours and 20 minutes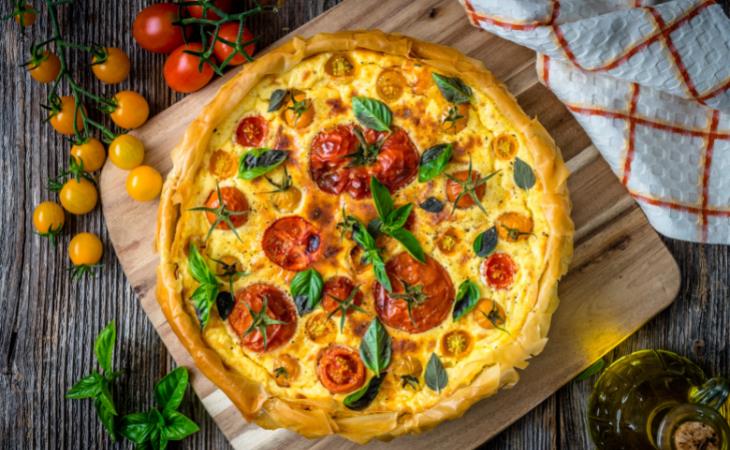 Ingredients for tomato pie:
Method of preparing the tomato pie:
Flour a surface and roll the dough into a 13-inch circle. Lay it on a 9-inch pie pan and trim the edges, leaving a 1/2-inch border.

Chill for 1 hour or freeze for 30 minutes. Meanwhile, remove the seeds from the tomato slices. Arrange them flat on a towel-lined tray, sprinkle with salt and let sit to drain for 30 minutes.

Whisk together the mayonnaise, egg, egg yolk, and hot sauce (if using). Stir in the cheddar cheese, blue cheese, scallions, parsley, dill, and black pepper.

Preheat the oven to 425°F. Sprinkle the cornmeal at the bottom of the crust. Pat the tomatoes dry and using only 1/3 of them, arrange a flat layer on the cornmeal. Overlap the slices so they cover the entire crust. Top with 1/2 of the mayonnaise mixture and repeat- another layer of tomatoes and then mayo mix.

Place the remaining tomatoes on top, pressing the last layer gently into the mayo mixture. Bake for 20 minutes.

Remove the pie from the oven and wrap just the edges of the crust with foil. Reduce the oven temperature to 375°F and bake 30 minutes more, until the center is golden brown.

Let it set for 90 minutes. Garnish with thyme and serve.
Source: https://www.thepioneerwoman.com/