The combination of lush, succulent, deeply flavored lamb meat and the mild yet crispy phyllo dough is the secret to this pie's success. It's a bit more challenging than the user-friendly frozen puff pastry, but we think the effort is worth it. Make it for special occasions, like a Wednesday night.
Prep Time
1 hour and 10 minutes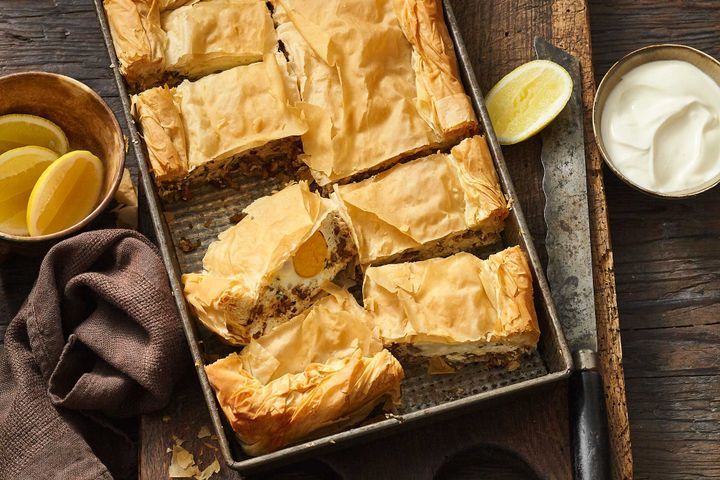 Method of preparing the pastry:
Preheat the oven to 360°F. Grease and line an 1 1/2 inch deep, 8x12 inch baking dish.

Heat the oil over medium-high heat and cook the meat. When it begins to brown, add the onion. Once soft, add the garlic and spices. Cook for a minute.

Remove from heat and let cool for 5 minutes. Then add all the cheese, the 2 beaten eggs, and parsley. Season and combine.

Place 2 dough sheets side by side, slightly overlapping on long sides. Brush with butter. Transfer the dough to the prepared dish, allowing the edges to overhang on all sides.

Repeat with 6 more sheets of phyllo dough. Press the lamb mixture over. Make 6 indents with your finger, and break an egg into each.

Layer the remaining dough sheets on top of each other, brushing with butter between each. Use them to cover the pastry in the dish and fold the edges of dough over everything to close.

Brush liberally with butter and bake 30-40 minutes until golden. Let cool for 5 minutes. You can serve it with lemon and yogurt.
Chef's Tip:
Once the phyllo is thawed, you have to keep it moist, or it will crumble. Do it by covering the dough with a damp towel.
Source: taste.com