If you're looking for a new, tasty and interesting recipe for your upcoming lunch or you just want to cook a good meat dish, you should try this hot pepper and pineapple chicken recipe. This dish will stir your taste buds and let you feel a different flavor in every bite. The added bonus? Prep time for this dish is ridiculously short that it quickly becomes popular with everyone who tries it!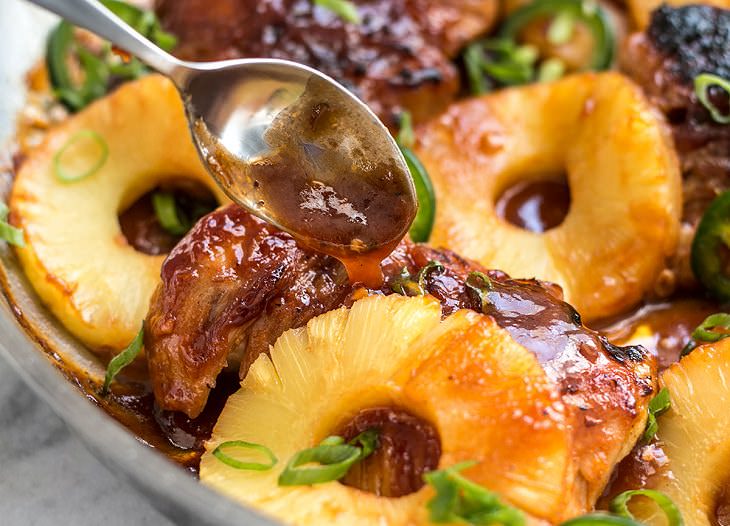 Method of Preparation:
Heat a large pot with a tablespoon of oil over a medium-high flame. In the meantime, until the oil heats up, season the chicken thighs with a little salt and pepper.

Once the oil is hot enough, place the chicken thighs into the pot, fry them and turn until golden brown on both sides. When finished, remove the chicken thighs onto a clean plate.

While the chicken is cooking, drain the liquids from the canned pineapple into a small bowl.

After removing the chicken from the pot, lower the flame to low and pour ½ a cup of the pineapple juice into the pot.

Thoroughly mix the liquid in the pot while scraping the bottom to release the stuck chicken pieces.

After releasing the pieces of chicken that stuck to the bottom of the pot, add the barbecue sauce and mix well until the sauce thickens up. Taste the sauce and season to taste. If the sauce becomes too thick, add a little pineapple juice and stir.

Turn your oven on to grill mode and place a sheet pan on the second to top shelf, about 5 inches away from the heating element.

Now, transfer the sauce to a heat-resistant pan, add in your chicken thighs and pineapple slices, and mix well so that the sauce coats the chicken thighs well.

Place the chicken pan into the oven and roast for about 5 minutes until golden brown. When finished, top with chopped green onion and hot pepper.