I recently found out that I'm better at baking than cooking. Something about the precision of the oven just helps me whip out successful meals every single time! If you're like me and don't want to give up the oven even come summertime, this recipe is the one for you.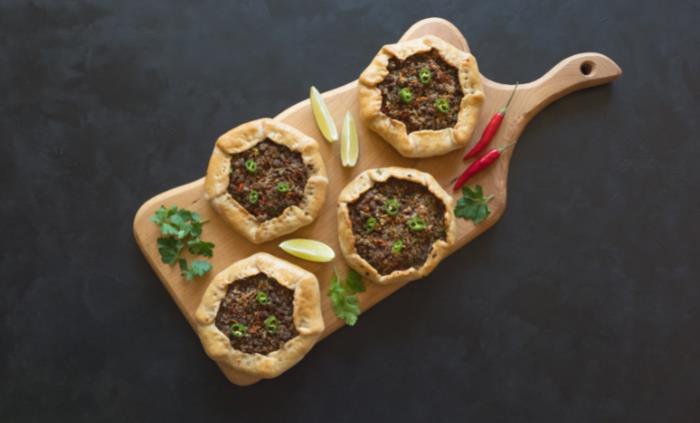 Method of preparing the pies:
Preheat the oven to 410°F. Line a baking dish with parchment.

Sauté the onion for 5 minutes until soft, then add the meat. Cook until browned and the liquid has evaporated. Add the garlic and cumin.

Cook until fragrant, then add the tomato, eggplant, roasted peppers, parsley, and mint. Stir and remove from heat.

Roll the dough out and cut 4 7-inch circles. Divide the lamb mix between the 4, leaving a 1.5-2 inch border.

Fold the borders over as shown in the photo and transfer to the baking sheet. Brush with the egg and pour the remainder on the filling.

Sprinkle with half the fetta and bake for 20-25 minutes, until golden.

Toast the pine nuts in a dry skillet until fragrant. Add the sumac for 1 minute and remove it from heat.

Top the pies with the remaining feta, pine nuts, and parsley. Serve with yogurt and lemon.
Source: Taste.com