Mixing fresh summer cheeses with spinach results in a rich yet sophisticated texture and flavor. This one may be full of cheese, but they all come together to form a light plate that will leave you both satiated and invigorated at the same time. Top with fresh leaves of your choice to bring in crispness.
Prep Time
1 hour and 30 minutes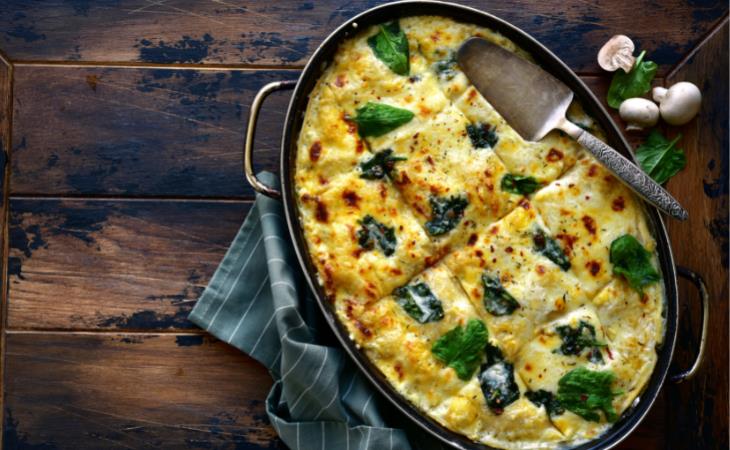 Method of preparing the lasagna:
Preheat the oven to 400°F. Grease a 9-by-13-inch flame-proof baking dish. Bring a large pot of salted water to a boil.

Cook the lasagna noodles for 3 minutes less than what the package says. Drain and rinse.

Melt butter in a dutch oven over medium heat. Add the spinach, season with salt and pepper, and cook until wilted. Add half of the garlic and cook for 1 to 2 minutes.

Drain, let cool a bit and wring out in a towel. Wipe the dutch oven clean and melt the remaining butter.

Whisk in the flour and cook until smooth and thick, about 2 minutes. Add the remaining garlic and some salt. Once everything bubbles, stir in the milk and heavy cream. Bring to a simmer, stirring constantly; cook, stirring, until thickened, about 5 minutes. Whisk in 1 cup parmesan and remove from the heat.

Stir together the ricotta, egg yolks, parsley, scallions, 1/2 cup parmesan, 1/2 teaspoon salt, and some pepper in a medium bowl.

Spread 1 cup of the sauce in the baking dish. Arrange 4 noodles lengthwise in the dish. Spread with another 1/2 cup sauce.

Layer half of the mozzarella over the sauce then spread with half of the ricotta mixture and half of the spinach. Repeat the layering (noodles, sauce, mozzarella, ricotta, and spinach).

Top with the remaining 4 noodles and spread with the remaining sauce (about 1 cup). Sprinkle with the remaining 1/4 cup of parmesan.

Cover with foil and bake for 20 minutes. uncover and bake for another 30-35 minutes. Broil for 1 minute. Let sit 15 minutes before serving.
Source: https://www.thepioneerwoman.com/