Despite looking suspiciously like it's fresh out of the corner bakery, I can guarantee that there's absolutely no flour or eggs involved in this recipe. It's quite simply a baked apple that's not only ridiculously tasty, but also pretty healthy!
Just a single tablespoon of butter and sugar are needed to prepare this mouthwatering dessert, and in my opinion, using just a little butter and sugar is just as satisfying as using heaps!
The best part about this recipe? It takes less than 5 minutes to prepare! Then, you can go ahead and take a quick nap or a relaxing bath, while your oven's busy softening the apples and caramelizing the sauce!
Prep Time
1 hour and 5 minutes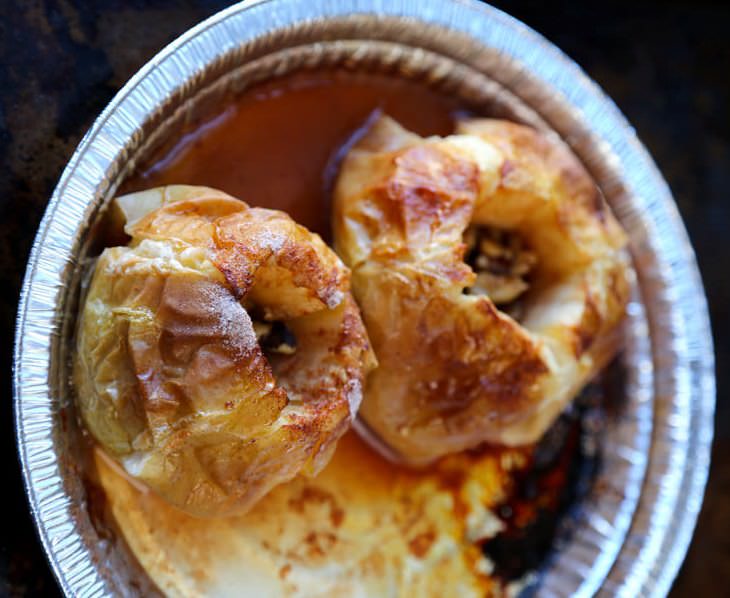 Ingredients for baked apples:
Method of preparing the baked apples:
Preheat your oven to 375ºF.

Core both apples and put them in an aluminum pie plate or oven-proof deep dish pan. Pour apple cider over the apples and sprinkle cinnamon and sugar on top.

Put 1 tbsp. of chopped walnuts in the center of each apple and top it off with 1/2 tbsp. of butter.

Bake in the oven for 50 to 60 minutes. Serve in individual plates or bowls, and finish by spooning the sauce over the baked apples.
Source: Pickled Plum