You definitely won't be skipping breakfast when you've got a freezer full of these delightful treats. These savory bagel balls stuffed with eggs, ham, and gooey melted cheese, are an explosion of delicious breakfast flavors that'll leave you looking forward to the next morning.
Prep Time
1 hour and 30 minutes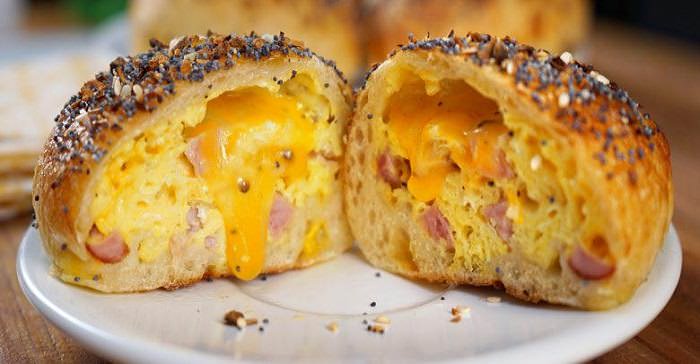 Ingredients for boil liquid:
Ingredients for seasoning:
Method of preparing the bagels:
Divide the pizza dough into 8 even pieces and roll each one up into a ball. Cover with a kitchen towel or plastic wrap, and let them rise for 20 minutes. 

In the meantime, melt the butter in a large nonstick pan over medium heat. Season the eggs with salt and pepper. Cook and scramble the eggs until they are done to your liking, then remove the pan from the heat and add the diced ham and shredded cheese.

Preheat the oven to 425°F, and line a non-stick baking sheet with parchment paper.

Gently flatten the balls of dough with your palm, and put some of the egg mix in the middle. Pull the sides of the dough up and around the filling and pinch the seams to seal. Place the balls, seam side down, on the lined baking sheet and cover them with a paper towel or plastic wrap. Let them sit for 15 minutes.
Method of preparing the boil liquid:
While waiting, fill a large pot with 3 quarts of water and bring it to a gentle boil. Add the salt, baking powder, and honey. Place a few of the dough bundles into the gently boiling water for about 1 minute (turn them over halfway through). Remove them using a spoon and transfer them to a lined baking sheet. Repeat this procedure with the remaining bagel bombs.
Method of preparing the seasoning:
Make the seasoning by tossing the sesame seeds, poppy seeds, dried onion flakes, dried garlic flakes, and salt together in a small bowl. Top each bagel with a sprinkling of seasoning and bake them for 25-30 minutes, or until they're golden brown and cooked through.

Serve warm, or let them cool down to room temperature, wrap them individually, and freeze for later.
Source: Tiphero