In just 30 minutes you can rustle up the best comfort food ever: a mound of egg noodles topped with strips of sirloin steak, all mixed in with a silky sour cream and mushroom sauce. Furthermore, we added two ingredients that we think every beef stroganoff recipe should have – brandy and mustard.
The mustard gives the sauce a kick, while the brandy adds a deep but subtle flavor, and deglazes the pan so that you get all those tasty, savory browned bits in there.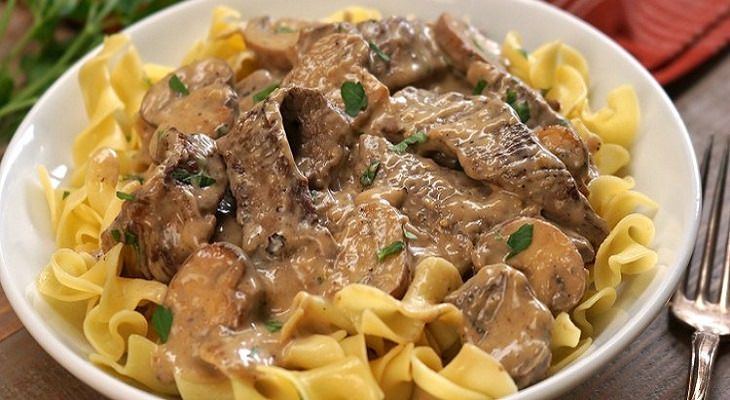 Beef Stroganoff (Serves 4-6)
Ingredients
• 1 pound sirloin steak
• Salt and pepper, to taste
• 1 tablespoon olive oil
• 3 tablespoons butter, divided
• 1 cup diced onion (1 small onion or ½ a large one)
• ½ pound small cremini or white button mushrooms, halved
• 2-3 cloves garlic, minced
• 1/3 cup of brandy
• 1 ½ cups beef stock
• 1 tablespoon soy sauce
• 1 ½ teaspoon of whole grain or Dijon mustard
• 2 tablespoons cornstarch (or 3 tablespoons flour)
• ½ cup sour cream, or Greek yogurt
• ¼ cup chopped parsley (optional garnish)
• Egg noodles, cooked and buttered (for serving)
Method
1. Cut the steak in thin strips and season with salt and pepper.
2. Heat the olive oil and 1 tablespoon of butter in a heavy skillet over a medium-high heat. Add the steak strips in a single layer, and let them cook undisturbed for about 1 minute to get a good sear. Flip them over and cook until browned, another 2 minutes. Remove from the pan and place on another plate.
3. Add the remaining two tablespoons of butter to the skillet. Add the onions and sauté for 2-4 minutes, or until the onions have started to turn translucent.
4. Add the mushrooms, season with salt, and cook for 5 minutes, or until the mushrooms and onions are cooked and nicely browned.
5. Add the garlic and cook for another minute or so, or until fragrant.
6. Add the brandy to deglaze the pan, making sure to scrape the browned bits off the bottom. Let the mixture cook for 2-4 minutes more, until the liquid has reduced by a third.
7. In a large bowl, whisk together the beef broth, soy sauce, mustard, and cornstarch (or flour) until smooth.
8. Add the beef broth mixture to the skillet and stir to combine. Bring the mixture to a simmer and cook for 5 minutes, stirring occasionally, until the sauce has slightly thickened.
9. Turn the heat down to low, and stir in the sour cream (or Greek yogurt) until combined.
10. Return the cooked steak to the pan and cook for 2-3 minutes, or until the steak is heated through. Taste and season if need be.
11. Serve over a bed of cooked egg noodles.
Source: tiphero