If the idea of cooking up a healthy soup for dinner makes your stomach rumble (as in the type of rumble that asks, "How many slices of bread am I going to need to have with this to actually satisfy my hunger?") - then you should think again. This Tuscan white bean and kale soup is as hearty as it is healthy. Furthermore, it only takes 40 minutes to make.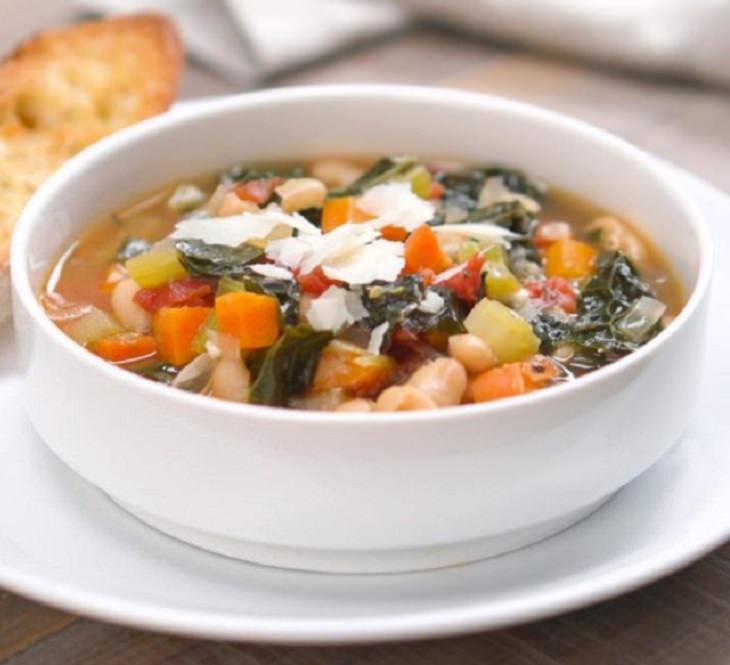 Tuscan White Bean & Kale Soup (Serves 6-8)
Prep Time: 10 minutes
Total Time: 40 minutes
Ingredients
• 1 tablespoon olive oil
• 1 onion, diced
• 2 medium carrots, diced
• 2 medium celery stalks, diced
• ¼ teaspoon chili flakes
• ½ teaspoon dried rosemary
• ½ teaspoon dried thyme
• 6 cloves garlic, minced
• 1 (14.5 oz) can diced tomatoes
• 1 quart vegetable / chicken stock
• 2 (15.5 oz) cans cannellini beans, drained, and rinsed
• 2 teaspoons balsamic vinegar
• 2 teaspoons salt
• ½ teaspoons black pepper
• Parmesan cheese rind (optional)
• 3 cups chopped kale
Preparation
1. In a large stock pot, heat the oil over a medium heat. Add the carrots, celery, onions, and sauté for 4 to 5 minutes.
2. Add the chili flakes, thyme, rosemary, and minced garlic, and cook until fragrant.
3. Add the vegetable broth, tomatoes, beans, salt, pepper, balsamic vinegar, and Parmesan rind, if using.
4. Bring the soup to the boil, reduce the heat to medium-low and add the kale.
5. Cover and cook for around 15-20 minutes (or until the kale has been fully cooked).
6. Serve with Parmesan cheese and crusty bread (if you wish).
Source: tiphero