Whether you waited for the last minute, have your hands full of other things right now, or have it all figured out and you're just looking for an extra-dish inspiration- this Thanksgiving dinner full menu will be of use to you. It includes numerous written and video recipes for the entire dinner, including drinks! Help yourself, this is an open buffet for all!
Appetizers
As the purpose of this course is to open up the appetite, we chose this video full of finger foods that will make sure your guests don't get too full, too soon. Plus, they're so easy and quickly prepared!
if you didn't like the recipes in the video, here is another well-rounded recipe for baked tomatoes with parmesan cheese.
Side Dish
Make-ahead Green Beans Gremolata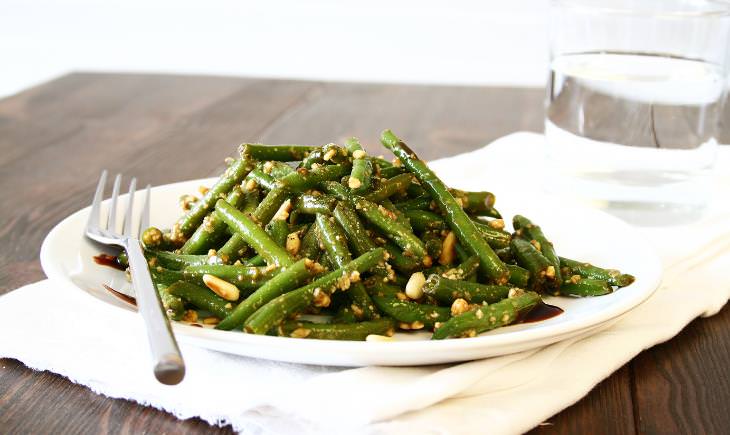 1 pound green beans, trimmed

2 cloves garlic, minced

Grated lemon zest from 2 lemons

3 tbs minced fresh parsley

3 tbs freshly grated Parmesan cheese

2 tbs toasted pine nuts

2½ tbs olive oil

Kosher salt and black pepper
Preparation:
Ahead:
Boil water and pour the beans in for 3 minutes. Immediately put them in ice water.
Toss the garlic, lemon zest, parsley, Parmesan, and pine nuts in a small bowl.
Day of serving:
Drain the beans and heat some olive oil in a pan. Fry the beans and turn them every 2 minutes. Once cooked, remove from the heat and add the seasoning. Add some salt and pepper to taste and serve!
Make-ahead Mushroom & Leek Bread Pudding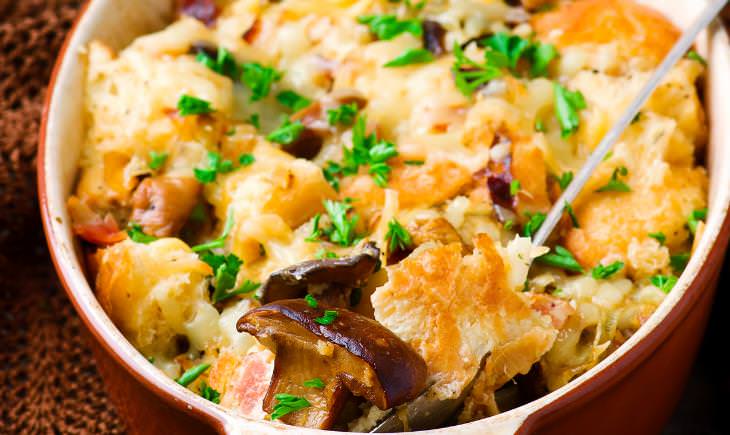 6 cups of ½-inch-diced bread cubes, crusts removed

2 tbs olive oil

1 tbs unsalted butter

2 oz pancetta, small-diced

4 cups sliced leeks, white and light green parts (4 leeks)

1½ pounds cremini mushrooms, stems trimmed and ¼-inch-sliced

1 tablespoon chopped fresh tarragon leaves

1/4 cup medium or dry sherry

Kosher salt and pepper

1/3 cup minced fresh parsley

4 XL eggs

1½ cups heavy cream

1 cup chicken stock

1½ cups grated Gruyère cheese (6 ounces), divided
Preparation:
Ahead:
Preheat the oven to 350 degrees (180 Celsius). Bake the bread cubes for 15 to 20 minutes.
Heat the oil and butter in a pan, give the pancetta a 5-minute cooking and add the leaks. Over medium-low heat, cook until the leeks are tender. Now add the mushrooms, tarragon, sherry, 1 tablespoon salt, and 1½ teaspoons of pepper and cook for 10 to 12 minutes. Remove from the heat and add the parsley.
Day of serving:
Whisk the eggs, cream, chicken stock, and 1 cup of the Gruyère, then add the bread and mushroom mixture. Let sit for 30 minutes, and spread the entire mixture in a gratin dish, sprinkle with what's left from the Gruyère, and bake for 45 to 50 minutes.
Popeyes biscuits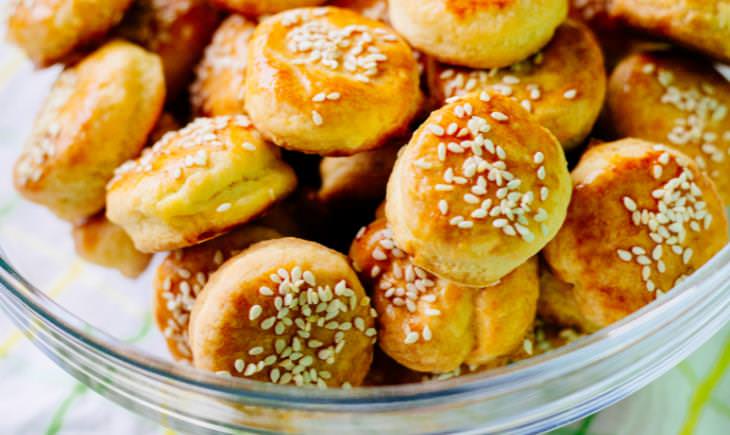 This recipe by Delish tries to mimic the iconic fluffy Popeyes biscuits.
Ingredients:
1 cup all-purpose flour

1 1/4 cup cake flour

2 1/2 tsp baking powder

1/4 tsp baking soda

2 tsp granulated sugar

2 tsp kosher salt

7 tbsp butter, frozen

1 tbsp melted butter

3/4 cup buttermilk
​Preparation:
Some tips before we begin: chill the grater, bowls, rolling pin, and the flours in the fridge, and do anything you can to keep the dough cold. Dust the grater with flour to prevent the butter from sticking to it.

Preheat the oven to 375 degrees (190 Celsius). Whisk the flours, baking powder, baking soda, sugar, and salt. Grate in the butter with the small holes of the grater. Toss and freeze for 5 minutes.
Create a well in the center, add the chilled buttermilk and gently stir 20 times.
Dust the countertop with flour and knead the dough for 3 minutes. Roll it into a 7" x 12" (18 x 30 cm) rectangle, short edge facing closest to you. Now, pay close attention: "fold the bottom half of the dough up over the top half, and rotate 90 °. Roll, fold and rotate twice more, and then roll dough into a 7" x 12" rectangle, no thicker than half an inch."
Line a baking pan with parchment paper. Cut biscuits with a glass, roll the leftovers, and cut a few more from it. Arrange on the baking pan, and make sure they're all touching. This way they will rise together. Bake for 16-18 minutes, brush with melted butter and if you like, some sesame.
Main Dish
Enjoy this guide by Gordon Ramsay, full of insider tips:
Tradition-Breaking Fried Turkey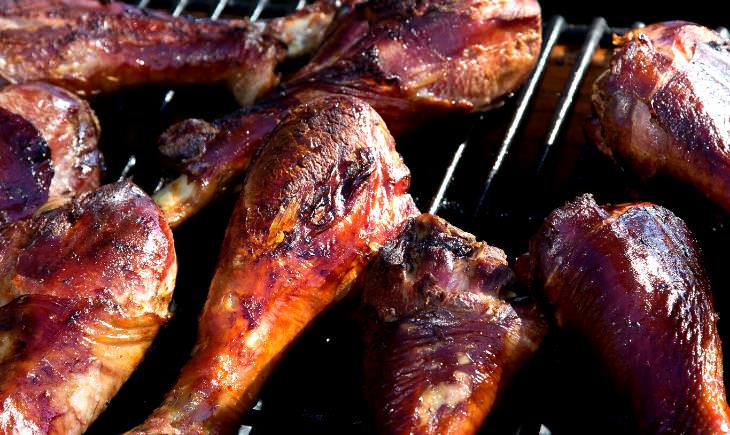 Break traditions and free up some much-needed oven space with deep-fried turkey wings, by Epicurious.
Ingredients:
1-quart buttermilk

Kosher salt and pepper

4 turkey wings, flats, and drumettes separated

1 can of 14 oz jellied cranberry sauce

⅔ cup fresh orange juice

3 tbs soy sauce

Kosher salt and pepper

12 cups vegetable oil for frying

1½ cups all-purpose flour
Preparation:
Stir buttermilk, salt, and pepper to taste and submerge the wings. Cover and chill for 4-12 hours to brine.
Cook cranberry sauce, orange juice, and soy sauce for 8-10 minutes. Add some salt and let cool.
Pour in 3'' oil and heat steadily. Whisk flour, pepper, and salt with 2 tbs of the brine mixture. Discard the remainder.
Coat the wings in the mixture and deep fry. Let cool slightly, dip in the cranberry glaze, and sprinkle some parsley to serve.
Drinks
This Thanksgiving drink can be both an alcoholic beverage and a mocktail for the entire family. Here's how:
Dessert
Chocolate tart cake:
Pumpkin Cream Cheese Bundt Cake:
Cabernet-Cranberry Sauce with Figs, by Epicurious:
Ingredients:
1 cup Cabernet Sauvignon

1 cup ounces dried stemmed figs, coarsely chopped

1 (12-ounce) bag fresh or frozen cranberries

3/4 cup sugar

3 strips orange zest
Preparation:
Boil the wine with the figs. Remove from heat, cover for 30 minutes.
Remove the figs, and add to the wine cranberries, sugar, and orange zest. Simmer until sugar dissolves and then for another 10-15 minutes. Discard the orange zest, add the figs back in and let cool completely.