Often called France's greatest and fastest steam locomotive, the SNCF Class 242 A1 was the brainchild of French engineer André Chapelon. It was designed as a three-cylinder 4-8-2 "Mountain" type for "new generation" steam locomotives that never materialized. However, Chapelon's design finally proved to be an efficient and powerful vehicle that would have an indelible impact on the history of the steam locomotive.
Its peak power was 5,500 horsepower, and it had been tested at 94mph (151km/h).
17. LNER Class A3 4472 Flying Scotsman - 100mph (161km/h)
The slowest steam locomotive on this list is arguably the world's most famous. In November 1934, it became the very first train of its kind to be officially verified as capable of reaching 100mph. It covered more than 2 million miles before it was retired from regular service in 1963.
16. South African Red Devil - 100mph

(161km/h)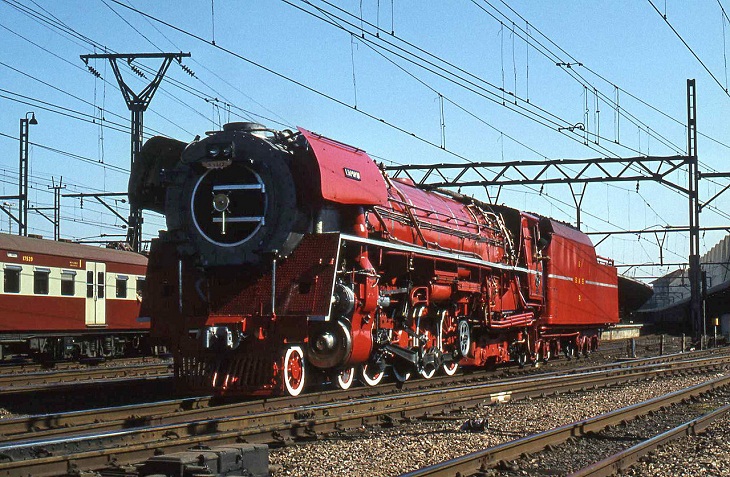 This stunning train, affectionately known as the "Red Devil", was constructed from a Class 25NC locomotive by mechanical engineer David Wardale of England while working for South African Railways. It was rebuilt at the Salt River Works in Cape Town, South Africa, using the work of Argentinian engineer L.D. Porta. These locomotives featured one-piece cast steel frames with integral cylinders, roller bearings on all axles, and motion, along with mechanical and pressure lubrication.
15. GWR 3700 Class 3440 City of Truro - 102mph (164.1km/h)
The City of Truro was timed at 100mph (161km/h) no less than 30 years before the aforementioned Flying Scotsman, albeit unofficially. Built in 1903, the locomotive was taken out of service in 1931.
14. LNER Peppercorn Class A1 60163 Tornado - 102.3mph (164.6km/h)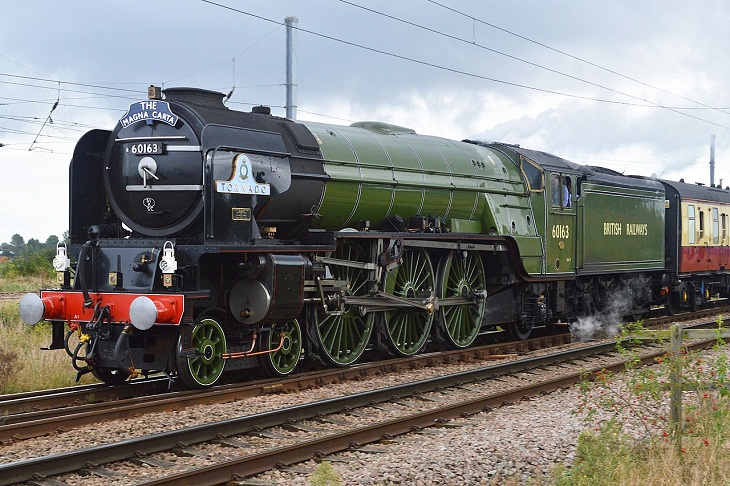 Completed in 2008, Tornado is a main-line coal-fired steam locomotive built in Darlington, County Durham, England. Back then, it was the first such locomotive built in the United Kingdom since British Railways' Evening Star in 1960. The engine made an impression very quickly, hauling royal trains, and appearing on the big screen and in several television programs. By achieving 100mph (161km/h) on a test run in 2017, Tornado became the fastest steam train to operate since the 1960s. It has achieved a maximum speed of 102.3mph (164.6km/h).
13. Santa Fe 3751 - 103mph (165.7km/h)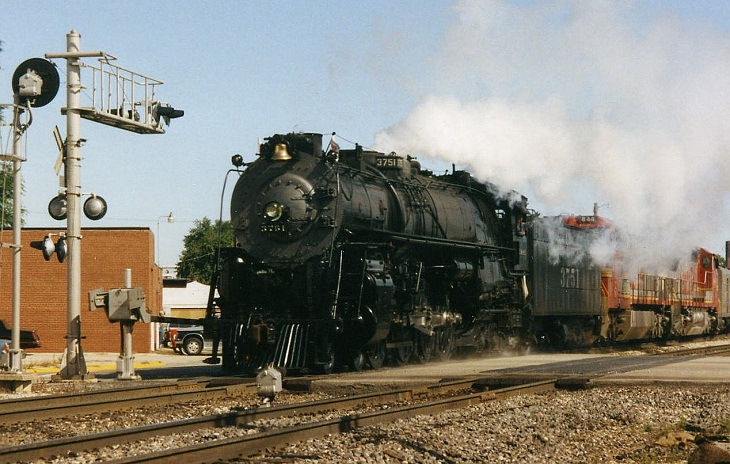 Santa Fe 3751 is a steam locomotive owned by the San Bernardino Railroad Historical Society. This large steam locomotive was built in 1927 by Baldwin Locomotive Works for the Atchison, Topeka, and Santa Fe Railway (ATSF). At that time, it was up to 20% more powerful than the most advanced locomotives in ATSF's fleet.
Unlike many other retired steam locomotives, Santa Fe 3751 was donated to the City of San Bernardino, where it remained on display for several years. The locomotive was purchased by the San Bernardino Railroad Historical Society in 1984 and restored in 1991.
12. Milwaukee Road class F6 #6402 - 104mph (167.3km/h)
Number 6402 was one of 14 Milwaukee Road Class F6 steam locomotives built between January and March 1930. It set its speed record during a test run to determine the feasibility of a high speed service between Chicago and Milwaukee. All of these locomotives were scrapped.
11. LNER Class A3 2750 Papyrus - 105mph (168.9km/h)
The A3 class of LNER steam locomotive actually evolved from the same manufacturer's A1 class. Over 50 of them were built between 1922 and 1935. Papyrus hit its top speed hauling 243 tons of cargo behind it, which is an incredible feat. One of the surviving examples of the A3 class locomotives is pictured.
10. New York Central 4-6-4 "Hudson" - 110mph (177km/h)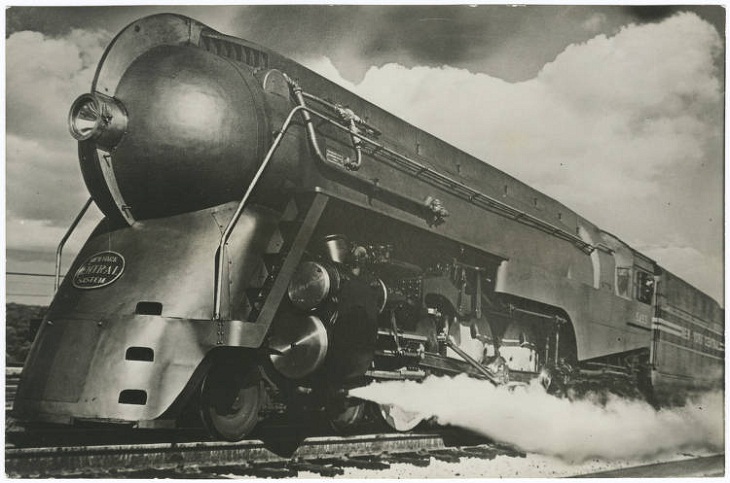 Here's another worthy addition to the fastest steam train list. The 4-6-4 Hudson was a steam locomotive with four pilot wheels, six driving wheels, and four trailing wheels. It was first developed in North America in 1927 for the New York Central (NYC) Railroad by the American Locomotive Company (ALCO). The name 'Hudson' was given to the train in the United States because of its closeness to the Hudson River in New York City. It was fast, powerful, popular, well-proportioned, and handsome. In fact, it might have been the best-known steam locomotive during its time.
9. Norfolk & Western (Class J) – 110mph (177km/h)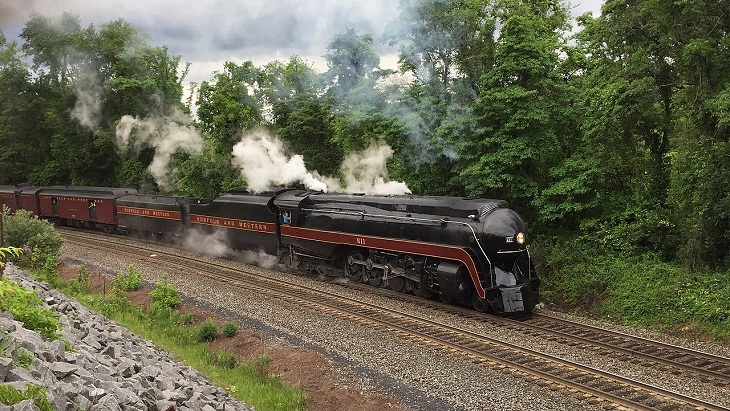 The Norfolk and Western Class J is considered one of the most powerful locomotive classes ever built. In addition to their elegant and stunning design, these machines were also incredibly fast, reaching speeds of 110mph (177km/h). What's more, they could pull a passenger train weighing more than 1000 tons! They had a 4-8-4 wheel arrangement, commonly referred to as "Northern" type locomotives. The Class J locomotives didn't have a long run and were officially retired between 1958 and 1959 before most were sent off to be scrapped.
8. Southern Pacific 4449 - 110mph (177km/h)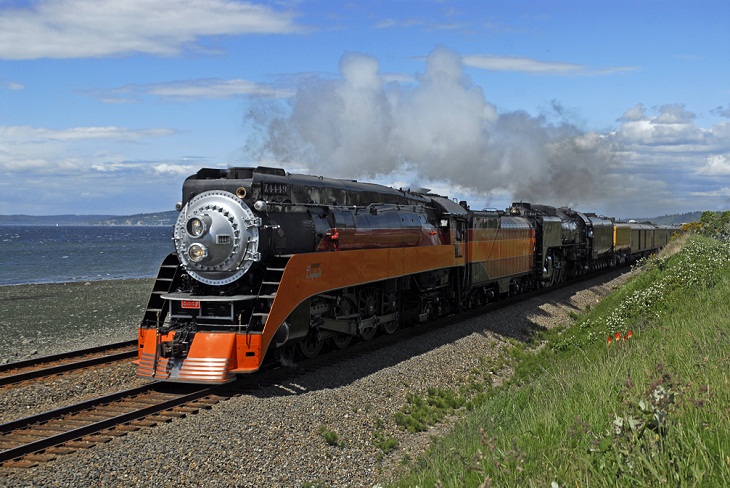 The Southern Pacific 4449 was designed primarily for passenger service. Built in 1941 by Lima Locomotive Work with a 4-8-4 (Northern) wheel arrangement, it truly deserved the fastest steam locomotive tag as it could reach a top speed of 110mph (177km/h). The locomotive, also known as "Daylight," was retired and stored in 1957 but was donated to the City of Portland, Oregon, a year later.
The SP #4449 was chosen in 1974 to pull "The American Freedom Train" for America's Bicentennial Celebration, which was to take place two years later. It is the sole surviving member of the Southern Pacific Railroad's "GS-4" class of 4-8-4 "Northern" steam engines.
7. LNER Class A4 2509 Silver Link - 112mph (180km/h)
The is the first of two LNER Class A4 locomotives to be found on this list. Silver Link was actually the very first Class A4 locomotive to be built. It reached 112mph (180km/h) on its very first run, breaking all previous speed records. It was in service until 1963 and scrapped in 1965. A surviving Class A4 locomotive called Bittern, which is pictured, was once painted in the Silver Link's original silver and grey color scheme.
6. Milwaukee Road class A #2 - 113mph (181km/h)
The Class A was the very first steam locomotive built to operate regularly at over 100mph (161km/h). Only four of them were built, and the number two train registered its 113mph (181km/h) top speed over a 12.5-mile (20km) run, which was completed in 1935. Sadly there are no trains of this type left in existence - all were scrapped after 1951.
5. DR 18 201 - 113mph (181km/h)
This train is the fastest operational steam locomotive in the world. It first appeared in the early 1970s, and is essentially the sum of a combination of various parts from old German locomotives. It managed a 113mph (181km/h) top speed during a trial run in 1972.
4. Pennsylvania Railroad E7 7002 - 115mph (185km/h)
The train pictured is the only survivor of its class, and resides in the Railroad Museum of Pennsylvania. It is a replica of the record-setting 7002 train, which managed a claimed 115mph (185km/h) in 1905. The train was scrapped in 1935.
3. Union Pacific 844 - 120mph (190km/h)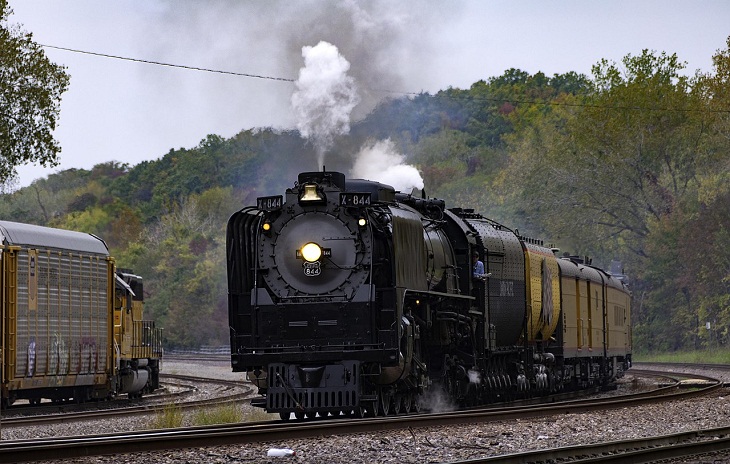 Union Pacific 844 is the last steam locomotive built for the Union Pacific Railroad. This high-speed passenger engine, completed in 1944, hauled well-known trains such as the Overland Limited, Los Angeles Limited, Portland Rose, and Challenger. As diesels took over all passenger train duties in the late 1950s, the Union Pacific 844 was saved from scrapping and used for promotional tours and public relations.
Hailed as Union Pacific's "Living Legend," the engine could reach speeds of 120mph (190km/h) and deserves its entry in the fastest steam train list. This is one of UP's oldest locomotives and the only steam locomotive owned by a North American Class I railroad that has never been retired.
2. Borsig DRG Series 05 002 - 125mph (201km/h)
The second of only three steam locomotives of this kind ever built set the world speed record in 1936. It did so while hauling 217 tons behind it traveling between the German cities of Berlin and Hamburg. The train pictured here is train 001; 002 and 003 were scrapped in 1960.
1. LNER Class A4 4472 Mallard - 126mph (202.7km/h)