There's nothing fancy about this Pineapple Dessert, but that's part of the beauty of it! Juicy pineapple, fresh whipped cream, and sweet wafer cookies make up this light and refreshing treat. Give it a try, and it's bound to become a family favorite!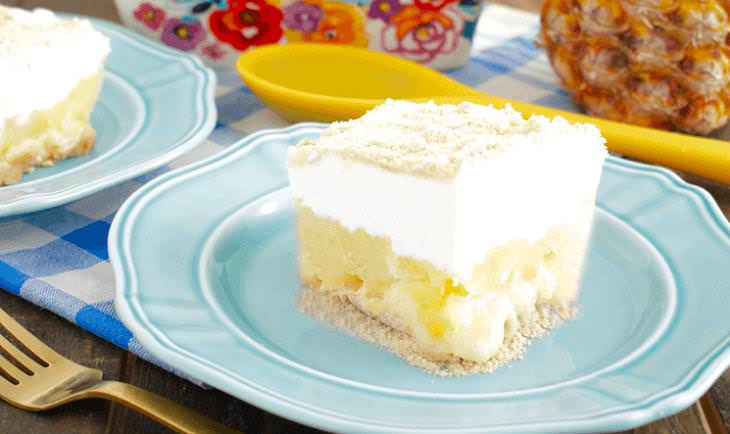 Ingredients for Pineapple Dessert:
Method of preparing the Pineapple Dessert:
Crush the wafers into small pieces. This can be done by placing the cookies in a ziplock bag, sealing it, then hitting it lightly with a rolling pin. Keep half a cup of the wafer pieces for later use, and mold the remaining wafer pieces into the bottom of a baking dish.

Beat together the sugar, eggs, and melted butter until well mixed. Then pour this mixture over the top of your crushed wafers in the baking pan.

Now, add the crushed pineapple. You'll want to make sure that the pineapple has been drained thoroughly before adding it – the slightest bit of extra moisture will make the dessert soggy. Spread the crushed pineapple in an even layer.

Whip up your cream until it forms stiff peaks, then spread over the pineapple layer.

Sprinkle the reserved wafers over the top of the whipped cream layer.

Place in the fridge for 30 minutes, then serve and enjoy.