KFC have jealously-guarded their fried chicken recipe since 1940. Everyone has wanted to know just how they make such tasty chicken. But, recently, the Chicago Tribune have published the secret. After all these years, Colonel Sanders' second wife's handwritten notes were found by the nephew of the great face of KFC and given to the paper. This original recipe of 11 herbs and spices went on to make the most famous chicken in the world. Here is that notoriously yummy recipe. Enjoy!
Ingredients (serves 4)

• 2 cups flour
• 2/3 tbsp. salt
• 1/2 tbsp. dried thyme
• 1/2 tbsp. dried basil
• 1/3 tbsp. dried marjoram
• 1 tbsp. celery salt
• 1 tbsp. ground black pepper
• 1 tbsp. dry mustard
• 4 tbsp. bell pepper powder
• 2 tbsp. garlic salt
• 1 tbsp. ground ginger
• 3 tbsp. ground white pepper
• 1 cup low-fat cream
• 1 beaten egg
• 1 sliced chicken
• canola oil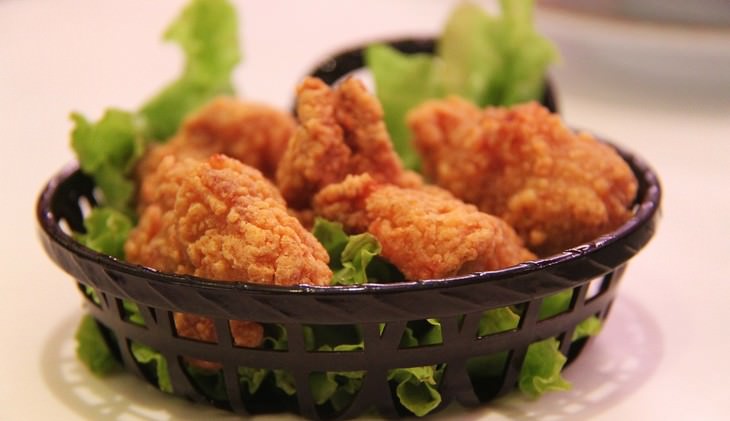 1. Take a cup, and mix all the spices and flour into it.
2. Then take a second cup, and mix the low-fat cream and the egg into it. For 20 to 30 minutes, soak your chicken pieces in the egg and cream mixture (at room temperature).
3. Remove the chicken from the cream, and let the extra cream drip off. Then dip the chicken into the flour and spice mixture, covering the pieces. Give them a shake. Then put the chicken on a rack, leaving them for about 20 minutes.
4. Using a pot with thick and high sides, or a Dutch oven, pour in 7-8 cm of oil and put on a medium-high heat of 347°
F. Using a thermometer, keep a close eye on the temperature. When you hit 347°
F, turn the heat onto medium. Now fry the chicken pieces for 15-18 minutes, or until golden brown. Turn them over only once.
5. Cover a plate with kitchen paper, and lay the cooked chicken onto it.