2017 was supposed to be the year of new beginnings for a certain Portuguese man. He was planning on starting construction works on his property in northwestern Portugal. Everything was going smoothly until his team found fragments of fossilized bones. The dream of constructing his dream home was lost and replaced with another new beginning: excavating and unearthing what is now estimated to be the largest dinosaur fossil found in Europe.
The excavation team with the ribcage fossils
Upon discovery, the man immediately contacted a local excavation team. They started unearthing the skeleton. As with every archaeological excavation, the team cannot know the full magnitude of the project, but it has been steadily ongoing since 2017. Recently, a breakthrough in the unearthing process took place when a team of Portuguese and Spanish paleontologists finished the discovery and identification of the dinosaur's vertebrae and partial rib cage.
The dinosaur found at the site is an exceptionally preserved sauropod - an umbrella term used to describe certain types of herbivores that surpassed any other species that walked the earth, both in size and weight. They lived approximately 160-100 million years ago and had an unusually long neck and tail, as illustrated in the image below:
The sauropod's size compared to humans, deer, and elephants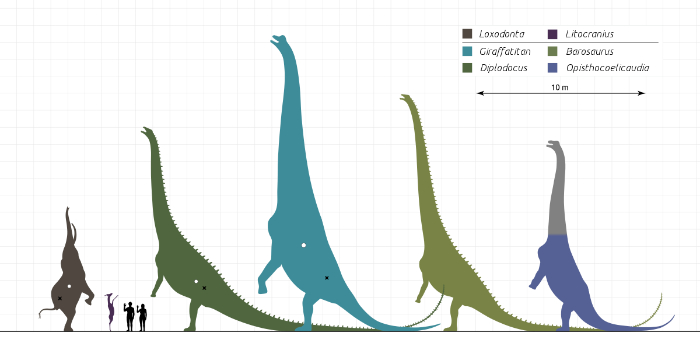 Source
At this point, excavations have temporarily halted. The fossils will be taken to be examined at a laboratory, and later on, they will be displayed in a museum.
Read another astonishing story of an entire city found in a Turkish man's backyard. This city was also found while doing construction work - amazing! Click here for the full story.