There are few things more satisfying than a good fish pie. Packed full of flavor and hearty, fish pies are the epitome of comfort food. Not only are they absolutely delicious, but they're also extremely easy to make. This dish is perfect for a winter dinner party.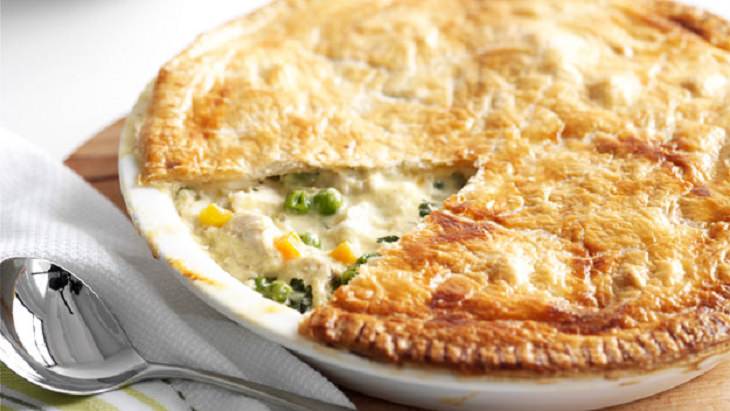 Method of preparing the pie:
Pour the milk into a large pan and add the bay leaf, sliced onion, peppercorns, and a pinch of salt. Place on medium heat, and bring to a simmer.

Place the haddock in the milk and poach lightly for 5 minutes, then add the prawns for 2 minutes. Take off the heat, and remove the haddock and prawns to a plate and set aside. Allow the milk to cool and infuse for 10 minutes, then strain through a sieve into a jug.

In a separate pan, wilt the washed spinach leaves over medium heat for 1-2 minutes, then set aside. Preheat the oven to 392°F (200°C).

Using the original poaching pan, place back over medium heat and melt the butter. When the butter starts to bubble, remove the pan from the heat and stir the plain flour in to create a roux. Once thickened and smooth, place back over medium heat and continue to stir for a few minutes to cook out the flour. Gradually add the infused milk, stirring continuously to create a rich white sauce.

When all the milk has been added, remove from the heat and flake in the haddock, then the hot-smoked salmon. Add in the prawns and wilted spinach then finish by stirring in the cream and a good grating of fresh nutmeg.

Pour all of the mixture into a shallow pie dish, making sure that the fish and spinach are evenly distributed. Roll out the puff pastry on a lightly floured surface so that it's large enough to cover the dish. Layover the top of the filling and gently press down the edges to seal, then trim off the excess pastry.

Gather these excess trimmings into a ball, and re-roll to create a flat sheet. Use a sharp knife to cut out a fish shape (as large as you can) and place it on top of the lid.

Brush the whole pastry lid with the beaten egg to glaze, and bake in the preheated oven for 30-35 minutes, or until the pastry has puffed up and is golden on top and the filling is bubbling underneath.
Chef's Tip:
If you can't find Haddock fish, Cod works just as well.
Source: Great British Chefs