Curried pumpkin soup is an absolute classic, but this recipe takes it up a notch by using homemade curry powder which is such a huge step up from the shop-bought stuff. Freshly ground whole spices are intensely more fragrant and flavorsome than pre-ground spices, which go stale quickly when sitting there on the shelf.
The soup is very simple to make - all you need is a pumpkin, onion, oil or butter, water, and of course, the curry powder. If you would like to add a bit more heat to your soup, simply add some cayenne or chopped red chili.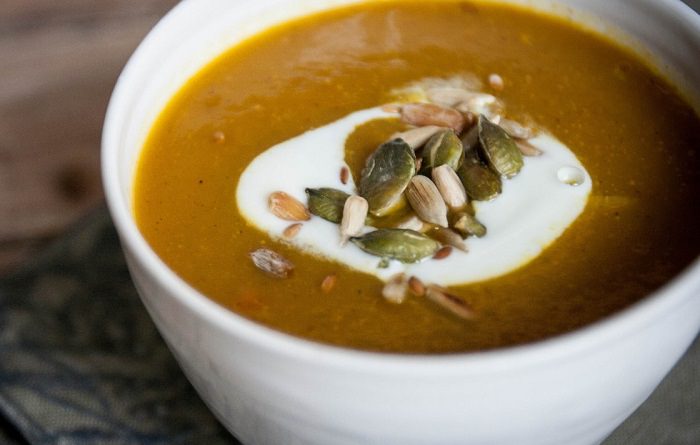 Spiced Pumpkin Soup (Serves 8)
Ingredients
• 3 1/16 lb of pumpkin, peeled and cut into 2-3cm cubes
• 1 onion, chopped
• 3 tablespoons of butter, coconut oil, or a neutral oil like grapeseed
• 1 tablespoon of curry powder (see below)
• 2 1/3 pints of vegetable stock, or water
Homemade Curry Powder
• 1/4 nutmeg, broken into smaller pieces
• 5 cardamom pods, seeds only
• 3 cloves
• 1 cinnamon stick, 3cm in length
• 1 tablespoon of black peppercorns
• 2 tablespoons of cumin seeds
• 4 tablespoons of coriander seeds
• 2 bay leaves
• 2 curry leaves, dried
• 1 teaspoon of ground fenugreek
Method
1. To make the curry powder, place all of the ingredients (apart from the fenugreek) into a medium frying pan over a medium heat. Cook for a couple of minutes, shaking the pan occasionally, until lightly toasted and fragrant. During the last few moments, chuck in the fenugreek.
2. Allow everything to cool and then grind to a fine powder. Store in a well-sealed container.
3. To make the soup, place the butter or oil into a large pan over medium heat. When hot, add the pumpkin and the onion and cook, stirring occasionally, until the onion has turned soft.
4. Add 1 tablespoon of curry powder and sprinkle with some salt and pepper. Stir and cook until fragrant - around a minute or so. Add the stock, bring to the boil, then lower the heat and simmer until the pumpkin is totally soft (roughly 30 minutes).
5. Blitz the soup with an immersion blender or jug blender. If using a jug blender. Allow the soup to cool a little as hot liquids can be explosive when blended. Serve hot with garnishes of your choice.

Source: greatbritishchefs