"A picture is worth a thousand words", they say. That is indeed quite true. Some photographs have the power to leave a lasting image on our minds. They tell inspiring, moving, heartbreaking, and unforgettable stories without the need for words. The world has been gifted many such great photographs courtesy of the famous Pulitzer Prize Photographs.
Since the early 1940s, the competition has awarded many iconic and stunning photos. Here, we have featured some of the best award-winning Pulitzer photographs that had a deep impact on the world. These thought-provoking images were captured by some of the most famous photographers in history and have some incredible stories behind them. Read on.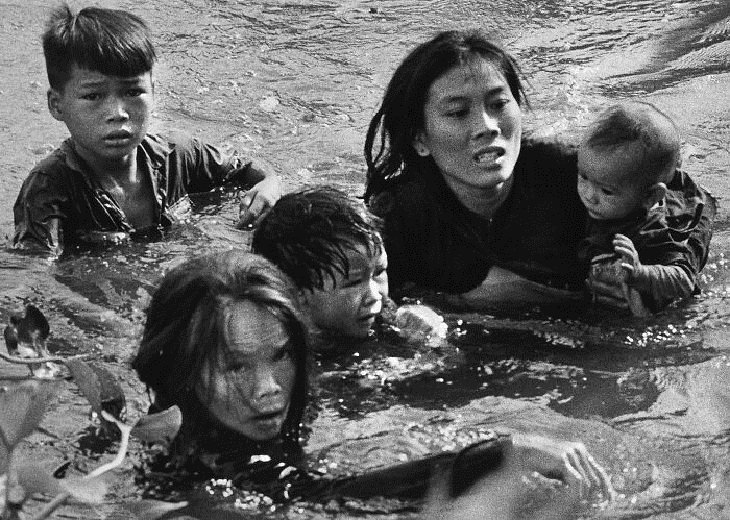 This powerful image shows a South Vietnamese mother and her children trying to swim across the river to escape the assault during Operation Piranha (a US Marine Corps operation that took place on the Batangan Peninsula southeast of Chu Lai in 1965). After the photographer Kyochi Sawada won the award, he found the families in the photo and shared half of his prize money with them.
2. "Faith And Confidence" (1958)
Photographer: William C. Beal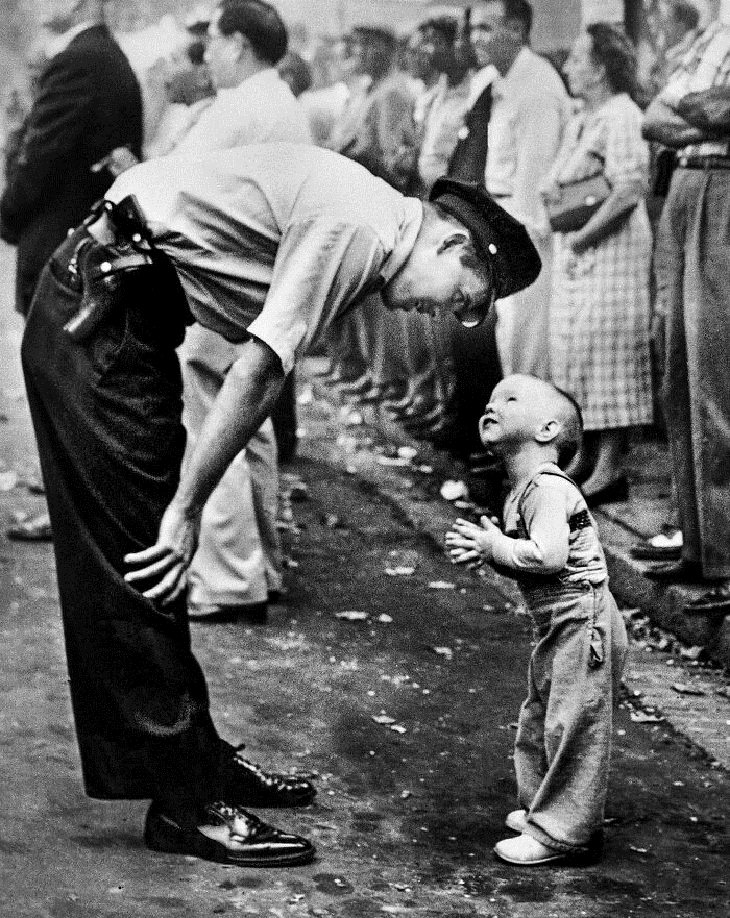 Police officer Maurice Cullinane speaks with a two-year-old boy named Allen Weaver during a parade in Chinatown, Washington, DC. The policeman was warning the little boy against getting too close to the fireworks when the photograph was taken.
3. "Homecoming" (1944)
Photographer: Earle Bunker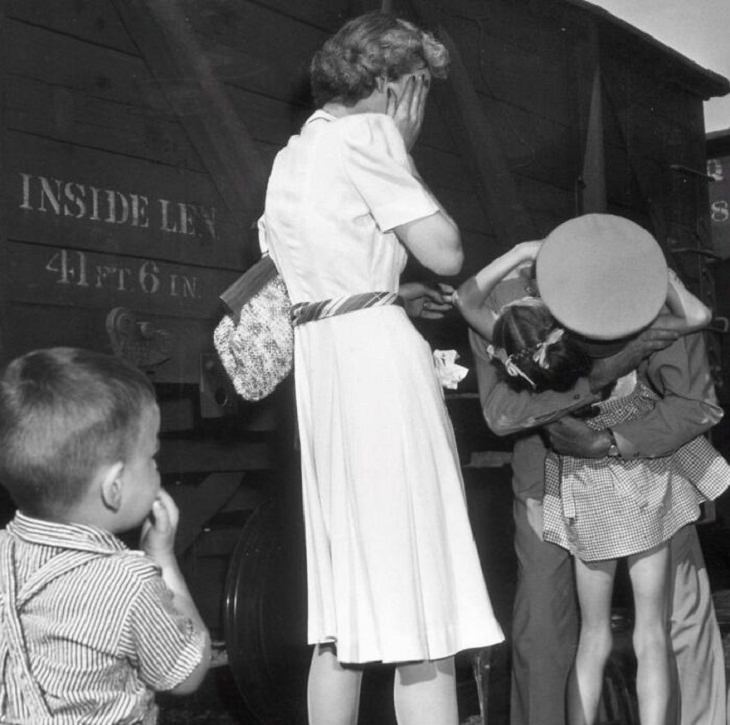 This heartwarming moment is of a World War II soldier, Lieutenant Colonel Robert Moore, returning home to greet his family at the station in Villisca, Iowa. Moore had been away from his family for 16 months and was understandably delighted at being reunited with them. The photographer waited for over 24 hours at the station so he could capture this precious moment.
4. "Rescue On Pit River Bridge" (1954)
Photographer: Virginia Schau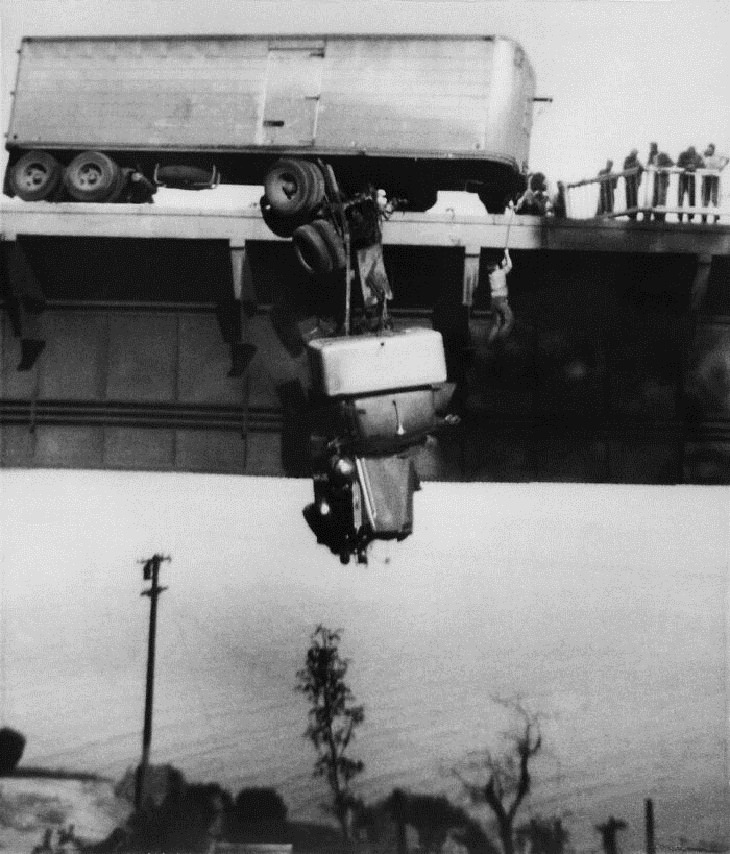 This dramatic image is of a truck driver being rescued from his cab as it dangles precariously over the edge of a bridge in California. Virginia Schau, an amateur photographer, took the shot with her Kodak Brownie. Amazingly, one of the people who helped save the driver was Virginia's husband.
5. "Babe Ruth Bows Out" (1949)
Photographer: Nathaniel Fein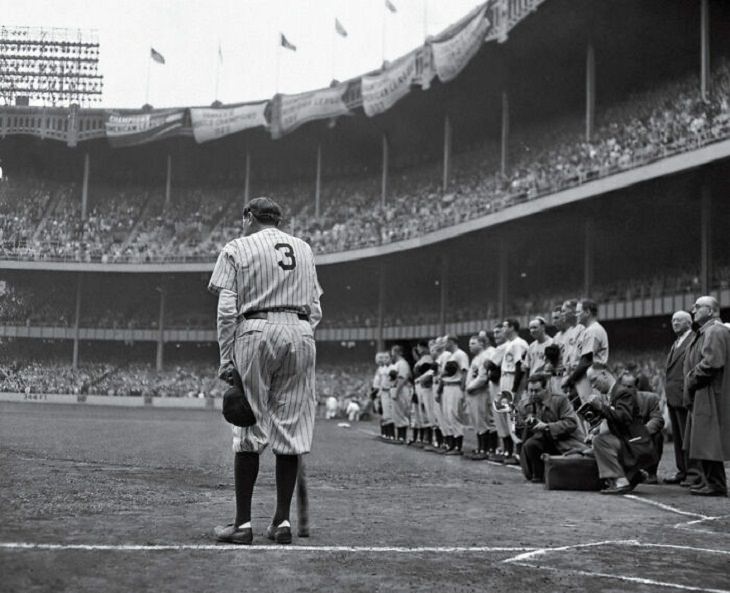 Babe Ruth, arguably the greatest baseball player of all time, leans on his bat while wearing his famous number 3 shirt. This poignant moment is from a ceremony at the Yankee Stadium in New York to retire his number.
6. "Water!" (1943)
Photographer: Frank Noel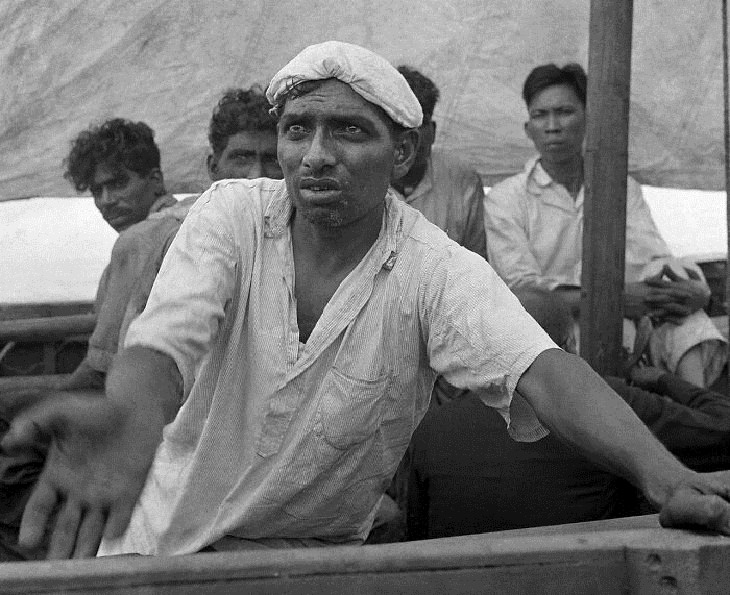 A striking image of an Indian sailor pleading for some water on a lifeboat drifting in the Indian Ocean in 1942. The photographer was in another lifeboat nearby as his ship had been torpedoed.
7. "Fire Escape Collapse" (1976)
Photographer: Stanley Forman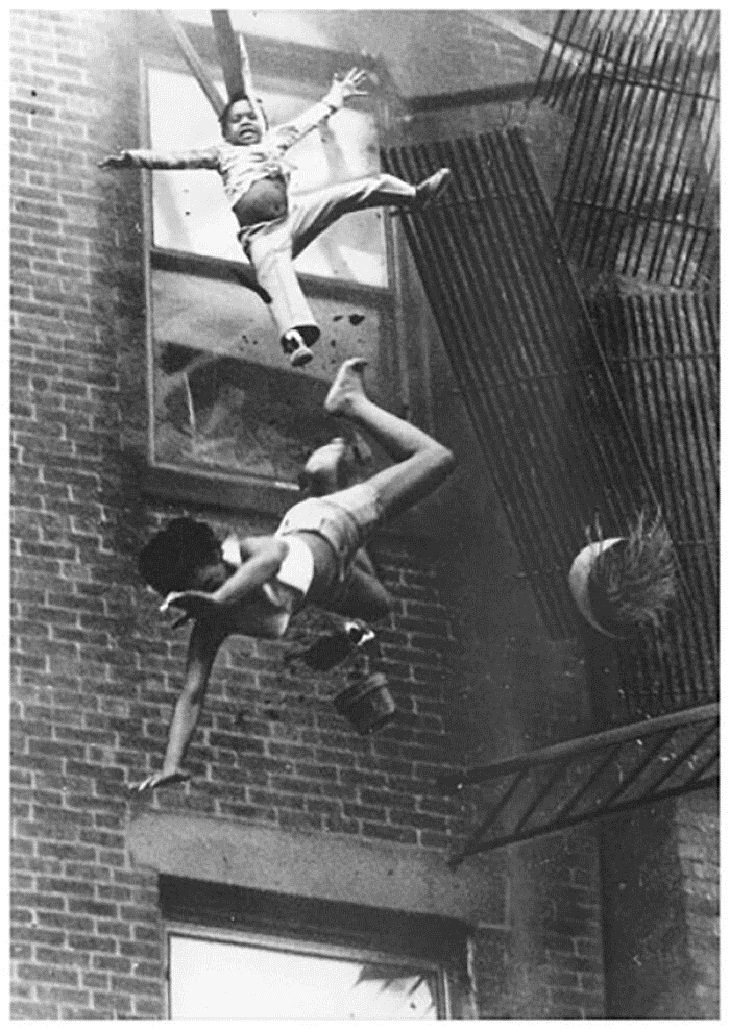 This heart-breaking photograph shows a 19-year-old girl, Diana Bryant, and her two-year-old goddaughter, Tiare Jones, falling from the fire escape of a burning apartment in Boston. Before they fell, a fireman had set out to help them and Stanley Forman, a well-known photographer for a newspaper, was under the impression that he was shooting a standard rescue. Unfortunately, the fire escape suddenly gave way, and both Diana and Tiare came falling down. Stanley was shooting the pictures as they were falling but immediately stopped when he realized what was happening. Diana died from the fall but her body cushioned the blow for her goddaughter, who survived.
8. "Near Collision At Air Show" (1950)
Photographer: Bill Crouch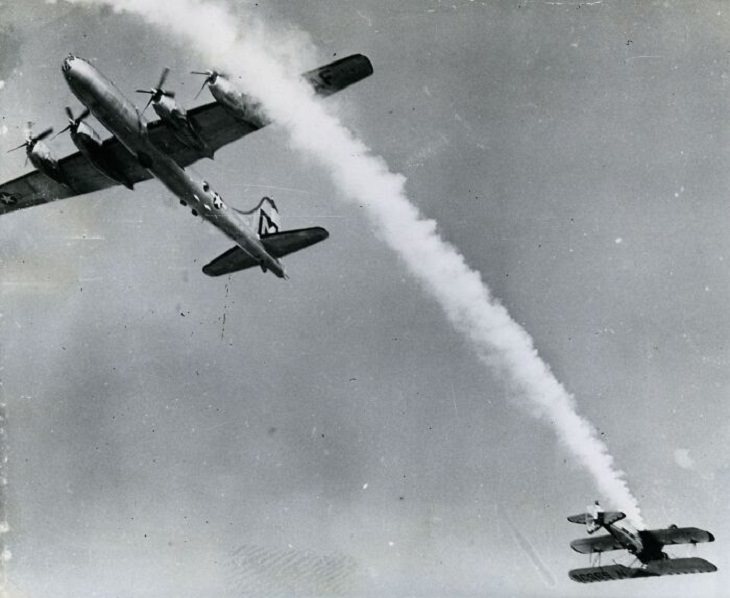 A stunning photo of a stunt plane closely avoiding a collision with a B-29 bomber (on the top left) during an air show at Oakland Airport, California. The pilot, Chet Derby, was carrying out his stunt in a biplane in front of a crowd of 60,000. The B-29 bomber was supposed to fly through the biplane's smoke trail but came in too early and the two almost had a disastrous collision.
9. "Andrea Doria sinking" (1957)
Photographer: Harry Trask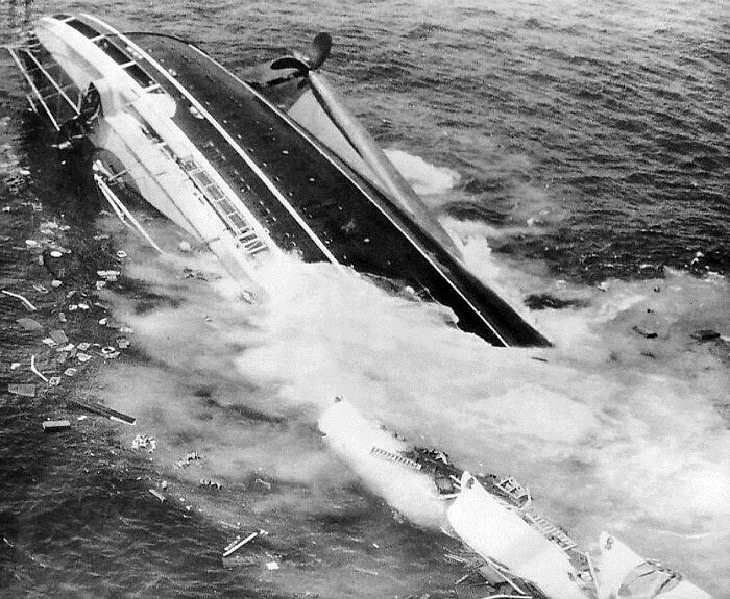 The SS Andrea Doria, an Italian passenger liner, is seen half-submerged after it collided with the Swedish ship Stockholm off the coast of Nantucket Island, Massachusetts in July 1956. The disaster resulted in the deaths of 51 people - 46 from the Andrea Doria and 5 from Stockholm. When Harry Trask won the 1957 Pulitzer Prize for Photography for his photographs of the sinking ship, this particular image was referred to as the "key photograph" in the sequence.
10. "Kiss Of Life" (1968)
Photographer: Rocco Morabito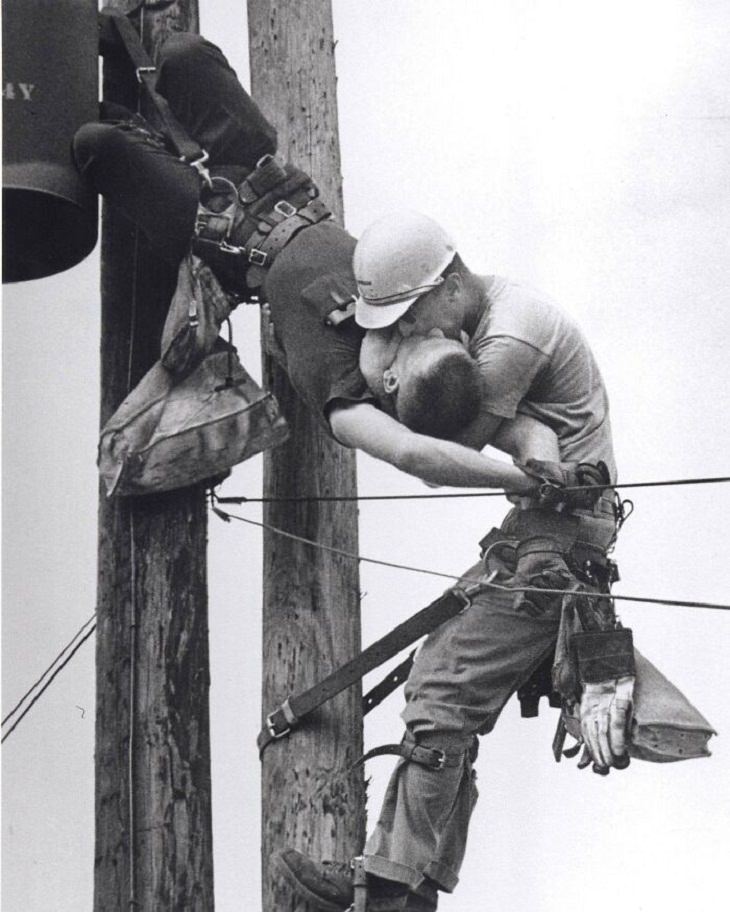 This incredible photograph shows utility lineman Jimmy Thompson giving mouth-to-mouth resuscitation to fellow worker R. G. Champion after the latter became unconscious following contact with a low voltage line. Thompson was unable to perform CPR at that moment, given how both of them were positioned. However, he kept breathing into Champion's lungs until he felt a pulse. He then unbuckled his unconscious colleague's harness and brought him down. On the ground, Thompson and another worker administered CPR on the man until he was slightly revived. Thankfully, the paramedics arrived on time and Champion made a full recovery.
Share these thought-provoking photos with others