Brussels sprouts are increasing in popularity, but we're aware that they are still a lot of people who aren't convinced of their tastiness yet. So, what about if we served them up with cheese. That's correct! They're cheesy, they're creamy, and they've got a golden-brown crust. If this wasn't enough, there's also bacon! This Cheesy Brussels Sprouts Gratin is the perfect dinnertime companion for chicken, pork, or any other roasted meat dinner.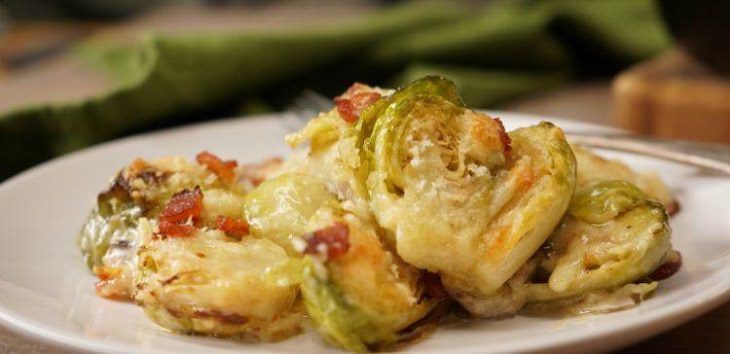 Cheesy Brussels Sprouts Gratin (4 Servings)

Ingredients
• 2 pounds Brussels sprouts, trimmed and cut in half
• ¼ red onion, cut in half and sliced
• Salt and pepper to taste
• 2 tablespoons olive oil
• ¼ pound bacon, cooked and diced, divided
• 1 cup shredded cheddar cheese, divided
• ¾ cup heavy cream
• 2 tablespoons Panko breadcrumbs
Directions
1. Preheat the oven to 425F/220C.
2. To a 2-quart baking dish, add the prepared Brussels sprouts, red onion, salt, pepper, and olive oil. Toss to coat, and bake for 20 minutes.
3. Remove the dish from the oven. Sprinkle the sprouts with half of the cooked bacon, half the shredded cheese, and all of the heavy cream. Stir to mix.
4. Cover the sprouts with the remaining cheese, and then top with the breadcrumbs and the remaining cooked bacon.
5. Return to the oven and bake for 15 minutes, or until the dish is bubbling and the top has begun to brown.
Source: tiphero