The world of sports has always been filled with truly remarkable personalities who have carved their way to the top in the most inspirational ways. Many of these iconic athletes have the power to inspire us through their incredible journeys. Indeed, the story of an athlete's struggle can motivate us to stay strong during the hard times of life. Many of them overcome massive challenges and several roadblocks to achieve their goal and become heroes for millions of people. The amazing thing about this is that you need not be a sports fan to appreciate and acknowledge the inspiring stories of these wonderful sportspersons.
Today, we will share the challenging and powerful journeys of five legendary athletes. If you are ever feeling down in your life, their stories might serve as the perfect encouragement to you.
Related Article: These Inspiring Sports Movies Will Surely Lift Your Mood
1. Muhammad Ali (Boxer)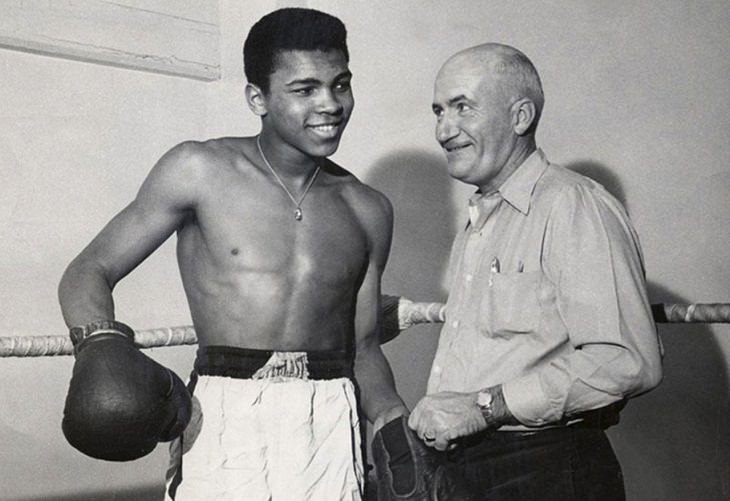 Image source: Wikimedia Commons/The Courier-Journal
Best motivational quote: "Float like a butterfly, sting like a bee."
Even if you don't follow boxing, it is more than likely that you have heard the name of the late Muhammad Ali. He is not just considered one of the best boxers ever but is also highly regarded as one of the greatest ever sportsmen. The 1956 Golden Glove and an Olympic Gold medal at the 1960 Games in Rome are not the only highlights of his illustrious career. He was the world heavyweight boxing champion three times and defeated almost every known boxer in his era. It won't be an overstatement to say that Ali achieved almost every title that a boxer can.
Born on January 17, 1942, in Louisville, Kentucky, Ali's birth name was Cassius Marcellus Clay Jr. From a very early age, Ali showed glimpses of his skills. Interestingly, though, he discovered his talent for boxing through a weird twist of fate. Once, when Ali was 12 years old, his bike was stolen. He told a police officer, Joe Martin, that he wanted to beat up the thief. "Well, you better learn how to fight before you start challenging people," Martin reportedly told him at the time. Incidentally, Martin also trained young boxers at a local gym and after seeing the potential in Ali, he began training him. The rest, as they say, is history.
In 1984, Ali announced that he had Parkinson's disease, a degenerative neurological condition. After retiring from the ring, Ali devoted his life to philanthropy and charities and even helped several organizations connected with Parkinson's disease.
Muhammad Ali is indeed a boxing legend whose inspiring tale has stood the test of time.
2. Nadia Comaneci (Gymnast)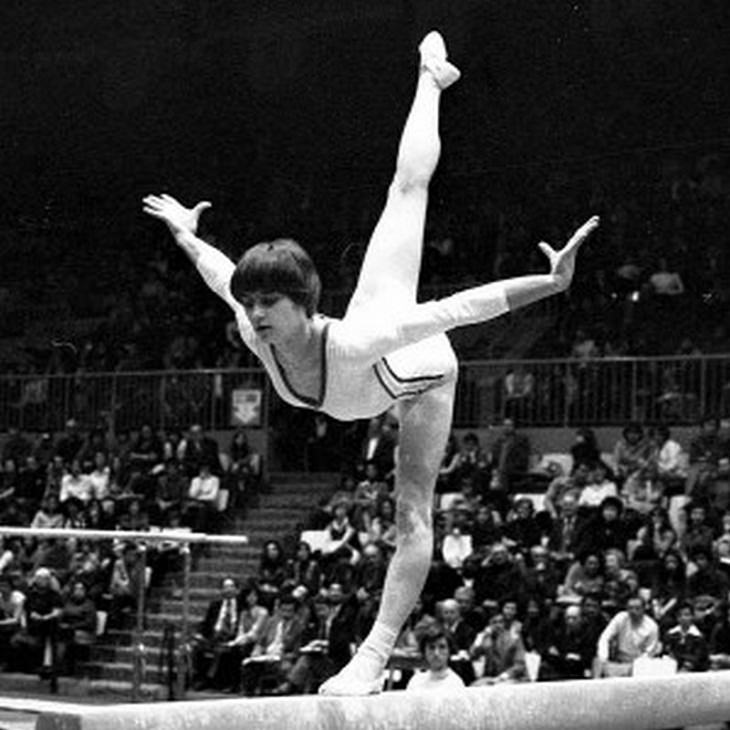 Image source: Wikimedia Commons
Best motivational quote: "I don't run away from a challenge because I am afraid. Instead, I run toward it because the only way to escape fear is to trample it beneath your feet."
Nadia Elena Comaneci was only 14 years and 8 months old when she became the first female gymnast ever to receive the perfect score of 10 in an Olympic event. This was during the 1976 Montreal summer Olympics where she was also the youngest Olympic gymnastic all-around champion ever and even clinched 3 gold medals. The world knew then that they were witnessing the emergence of a very special talent and Nadia did not disappoint, going on to become one of the most gifted gymnasts sports has ever seen.
Born on November 12th, 1961 in Onesti, Romania, Nadia Comaneci started with humble beginnings – her father was an auto mechanic and her mother was a prima ballerina. Comaneci's talents were discovered by gymnastics coach Bela Karolyi when she was just 6. Once she was trained, Nadia excelled and soon won the Romanian National Junior Championships followed by the European Championships in 1975 and the American Cup in 1976.
After her amazing 1976 Montreal summer Olympics performance, Nadia won gold medals for the balance beam and floor exercise at the 1980 Olympics in Moscow. She retired from competition in 1984 but her feats at the 1976 Olympics changed people's outlook towards female athletes forever.
Related Article: A Gymnastics Show You Won't Soon Forget
3. Michael Jordan (Basketball)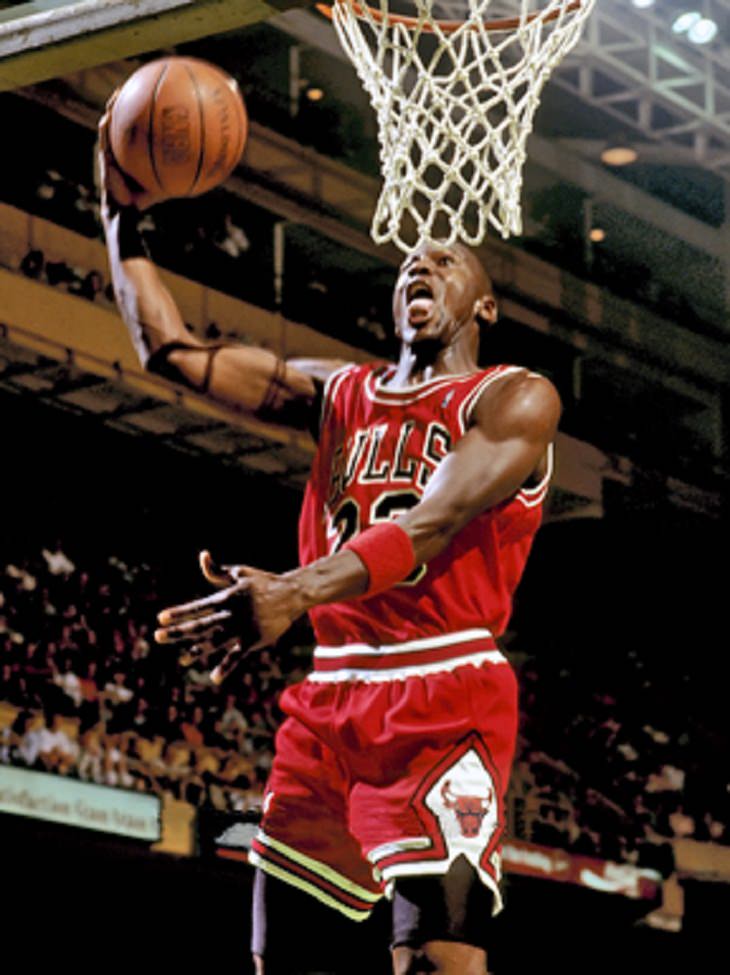 Image source: Wikimedia Commons/ Steve Lipofsky
Best motivational quote: "I've failed over and over and over again in my life and that is why I succeed."
Michael Jeffrey Jordan is a well-known former professional American basketball player and Olympic athlete. Regarded as one of the best basketball players ever, Jordan led his team, the Chicago Bulls, to six NBA championships, and won the Most Valuable Player Award five times. He also helped the USA to 2 Olympic gold medals, won 12 All-Star championships and dominated the sport from the mid-1980s to the late 1990s. Interestingly, though, Jordan once didn't even make the university basketball team. While that may sound absurd now, it makes his achievements today even more noteworthy.
Born on February 17, 1963, in Brooklyn, New York, Jordan had a competitive streak in him from a very early age. Even though his basketball talent become noticeable during his formative years, his name wasn't considered in the list of the members for the university team as he wasn't tall enough. Jordan didn't give up and took the failure in stride. He worked hard to make a comeback and soon found his way in. However, even when he became a famed basketball player, he never forgot his early failure. In fact, every time Jordan faced a challenge in his career, he remembered the list and that failure triggered him to overcome the phase.
Later in his life, Jordan once revealed that he had made a list of the shots he had missed (more than 9,000) and the games he had lost (more than 300). These failures egged him on always to never give up and become better. He was truly an inspiring champion in more ways than one.
Related Article: Basketball Legend: Top 50 Michael Jordan Moments
4. Pelé (Football)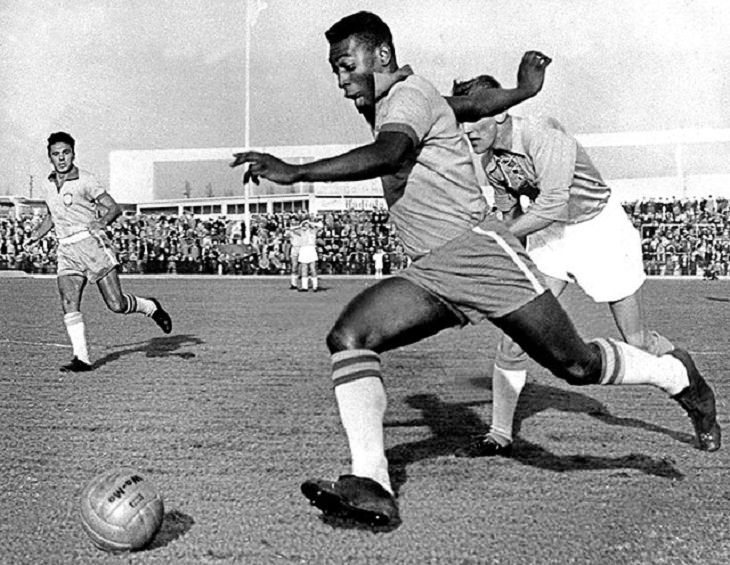 Image source: Wikimedia Commons/ AFP/SCANPIX
Best motivational quote: "Success is no accident. It is hard work, perseverance, learning, studying, sacrifice and most of all, love of what you are doing or learning to do."
Soccer legend Pelé's name is synonymous with the sport. Born Edson Arantes do Nascimento on October 23, 1940, in Três Corações, Brazil, Pele grew up in poverty and used to polish shoes to help his family financially. As a young boy, Pele had a keen interest in soccer and got his first break when he got to play for a local minor league club. When he was just 11, his aptitude for football was noticed by Waldemar de Brito, a former member of the Brazilian national soccer team. Brito boldly declared then that Pelé would be the greatest soccer player in the world. Little did anyone know how true his words were going to be!
Pelé became a sensation with his performance in the 1958 World Cup where, as a 17-year-old, he led Brazil to their first title victory. In the following two decades, he registered his name in the annals of football history after winning three World Cups and producing countless extraordinary performances along the way. Pelé was an incredible raw talent and his command over the ball is something the game has rarely seen. Such was his craze at his peak that Brazil declared its star soccer player a national treasure.
His was a literal rags-to-riches story and it will continue to inspire people for generations to come. The football legend is currently a United Nations (UN) ambassador for ecology and the environment.
5. Michael Phelps (Swimming)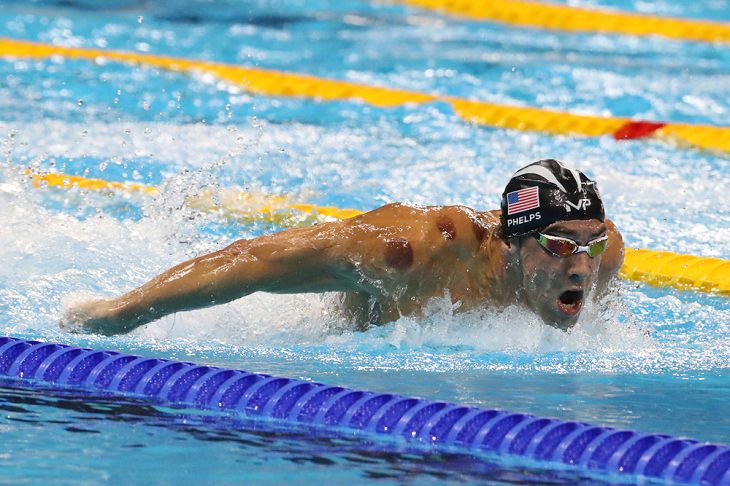 Best motivational quote: "I think everything is possible as long as long as you put your mind, work and time into it."
Michael Phelps is considered the greatest Olympian ever swimmer for good reason. The swimmer is the most decorated Olympian of all time with a total of 28 medals, including 23 gold medals and 13 individual golds. Born on June 30, 1985, in Baltimore, Maryland, Phelps competed in his first Olympics at the age of 15, as part of the U.S. men's swim team and rose to instant stardom after finishing fifth in the 200m butterfly final at Sydney 2000. Ever since he hasn't looked back and has perhaps already become the best swimmer of all time.
What makes Phelps' journey even more special is that he suffered attention deficit/hyperactivity ­disorder as a child. To control his energy, experts suggested that he take up swimming at the age of seven. Phelps soon discovered he was a natural at swimming and within no time he made his way to the top in the field. He beat record after record in every age category in which he competed and is still hungry for more. In fact, he looks set to finish off with a record-breaking haul that is unlikely to be bettered for many years to come.
Phelps is now an inspiring example to anyone who suffers from a mental disorder or other disabilities. He's shown that there are no limits to success once you put your mind to it.
Related Article: You Must Read These Safety Tips Before Going For a Swim
Share this story with other sports lovers you know...