Halloween candy doesn't have to be store-bought to look impressive! These cursed candy apples look quite pretty, and they're fairly easy to make with the little ones too.
Prep Time
1 hour and 30 minutes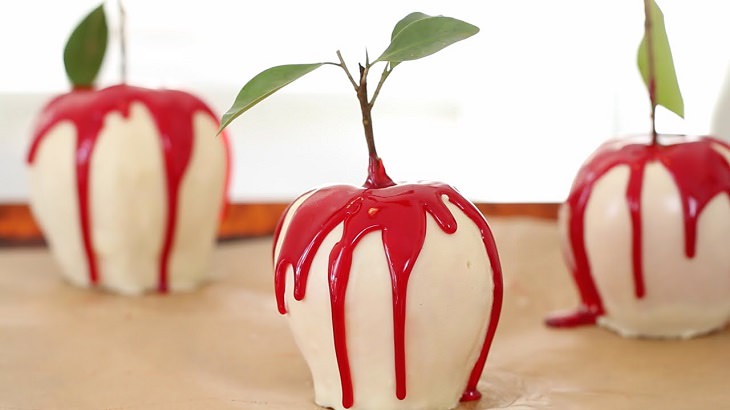 Ingredients for Cursed Candy Apples:
Method of preparing the Cursed Candy Apples:
Wash your apples, then place a lollipop stick or twig inside each one.

Gently melt the white chocolate in the microwave. Once melted, spoon over the apples and allow the excess to drip off.

Place them on a tray lined with parchment paper and allow them to dry for an hour. The chocolate needs to be completely set before you can add the blood caramel.

To make the blood caramel, place the sugar and water into a heavy-bottomed saucepan. Heat on a low/medium heat until the sugar has dissolved. Once dissolved, turn up to medium heat and let it simmer for 4-5 minutes until you start to see a light caramel color. Turn off the heat, and whisk in the red food dye to reach your desired blood color.

Spoon the caramel over the top of your apples and let it drip down the sides for added effect. You need to work fast here as the caramel hardens quickly.

Let your apples cool and set, then enjoy.