I usually crave a chicken pot pie at the end of a long and busy day, which is exactly when I don't have any time to make it. Thankfully, this recipe is the answer to all of our prayers. It relies on a handful of store-bought conveniences and comes together in one skillet, making it a delicious chicken pot pie that you can pull off on one of the aforementioned nights.
A Chicken Pot Pie for the Rest of Us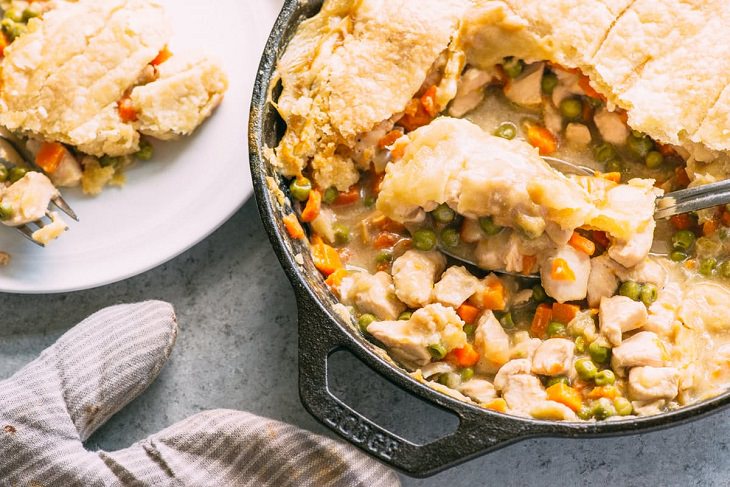 Traditional chicken pot pie, with its homemade crust and slow-simmered filling, is undoubtedly delicious, but it requires a significant chunk of the afternoon to assemble. This version simplifies matters a bit, calling for bite-sized pieces of boneless, skinless chicken breasts along with store-bought chicken broth and a bag of frozen carrots and peas. The filling quickly comes together in a skillet and instead of getting transferred to a pie pan to bake, it is topped with a store-bought crust and baked in the skillet. Although this is a simplified recipe, do not worry as the end result is still very tasty and will be enjoyed by everyone.
Easy Skillet Chicken Pot Pie (Serves 6)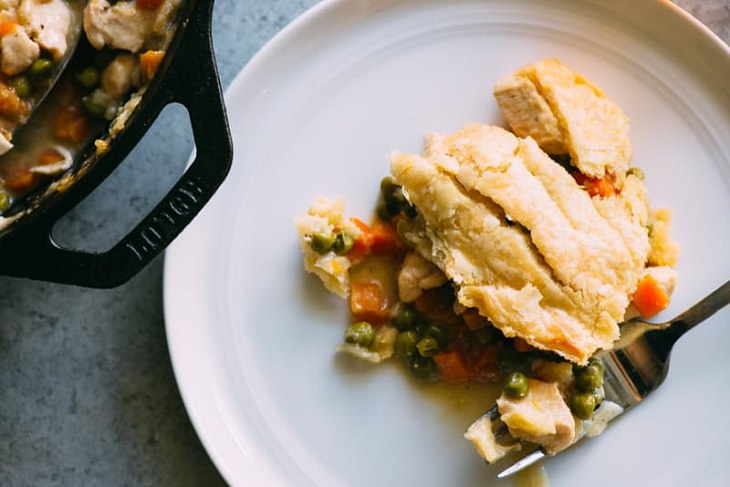 Ingredients:
1 tablespoon olive oil

1 1/2 pounds boneless, skinless chicken breasts, cut into 1-inch pieces

1 medium onion, chopped

1 (16-ounce) bag frozen peas and carrots

2 cloves garlic, minced

2 cups low-sodium chicken broth

3 tablespoons all-purpose flour

1/2 cup whole milk

Salt

Freshly ground black pepper

1 store-bought pie crust, thawed if frozen
Method:
1. Preheat your oven to 400°F.
2. Heat the olive oil in a 9 or 10-inch cast-iron skillet over a medium to high heat. Add the chicken breast pieces, season with salt and pepper, and sauté until cooked through - should take roughly 5-6 minutes. Transfer the chicken to a plate when cooked.
3. Add the onions to the skillet and sauté until they are tender and lightly browned, 3 to 4 minutes. Add the carrots, garlic, and peas and cook for 1 more minute. Sprinkle in the flour and stir until it has all dissolved. Add the chicken broth, bring to a simmer, and stir until it has thickened - roughly 8 to 10 minutes. Turn off the heat, stir in the milk and season using salt and pepper.
4. Add the chicken to the skillet and stir to combine. Unfold the pie crust and place over the top of the filling, tucking any excess edges inside the pan. Using a sharp knife, cut 4 (1 inch) slits in the top of the crust to create a vent.
5. Bake until the crust is a nice golden-brown - should take about 20 minutes.
Recipe Notes
Source
Photos: Maria Siriano