Sweet and sour pork is arguably the most well-known Chinese recipe in the world. This classic Cantonese dish is very pleasing on the palate thanks to the flavorsome sauce with the crispy fried pieces of pork. The red and green bell peppers and chunks of pineapple are just the icing on top of a delicious cake.
When making this dish, it's not about your stir-frying technique nor the use of the freshest ingredients available (although both are important) - it's all about the sauce. The secret of an authentic sweet and sour pork dish lies in the perfect balance of the sweet and sour. If the sauce fails, your dish will fail. Thankfully, this recipe will show you how to make a perfect sweet and sour sauce.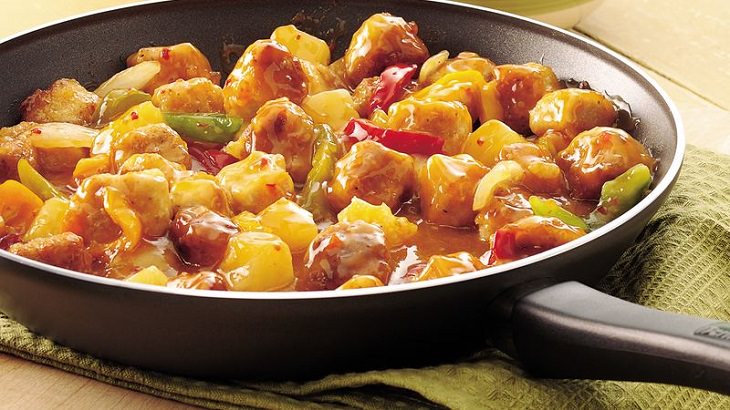 Sweet and Sour Pork
Ingredients
• 1/2 lb. pork tenderloin (cut into bite size pieces)
• 1/2 green bell pepper (about 2 oz. and cut into pieces)
• 1/2 red bell pepper (about 2 oz. and cut into pieces)
• 2 stalks scallions (only the white part, cut into 2 inch length)
• 1 piece fresh/canned pineapple ring (cut into small pieces)
• 1 clove garlic (finely chopped)
• Oil for frying
Marinade
• 1 teaspoon soy sauce
• 1/2 teaspoon corn starch
• 1/2 teaspoon rice wine
Frying Batter
• 1 1/2 tablespoons tomato ketchup
• 1 teaspoon plum sauce
• 1/8 teaspoon Chinese rice vinegar (transparent in color)
• 1/2 teaspoon Lea & Perrins Worcestershire Sauce
• 1 teaspoon oyster sauce
• 1 teaspoon corn starch
• 1 teaspoon sugar
• 2 tablespoons water
Method
1. Cut the pork tenderloin into bite-sized pieces and marinate with the soy sauce, corn starch, and rice wine for 15-20 minutes.
2. Mix the sweet and sour sauce ingredients very well and set aside for the time being.
3. Add the dry ingredients of the frying batter to a bowl and mix well. Then mix in the egg, water, and cooking oil to form a nice thick batter.
4. When the pork is well-marinated, transfer the pork pieces into the batter and make sure that they are well-coated. In a deep skillet, add enough cooking oil for deep-frying. Once the oil is hot, deep fry the pork pieces until they have turned golden brown. Fish out and drain on some paper towels.
5. Heat up a wok and add some cooking oil. Add the chopped garlic and stir fry until light brown, then add the bell peppers and pineapple pieces. Stir fry until you can smell the peppery aroma from the peppers and then add in the sweet and sour sauce. As soon as the sauce has thickened, transfer the pork into the wok and stir well. Add in the chopped scallions, stir for a bit, and serve on a bed of hot steamed white rice.

Source: rasamalaysia