Not only are these spinach lasagna roll-ups absolutely delicious, but they are also very simple to make and are chock full of nutritional value. This is one of the easiest ways to get some tasty lasagna on the dinner table during the week. If you're a pasta-lover, this is the dish for you!
Spinach Lasagna Roll-Ups (Makes 4 2-roll Servings)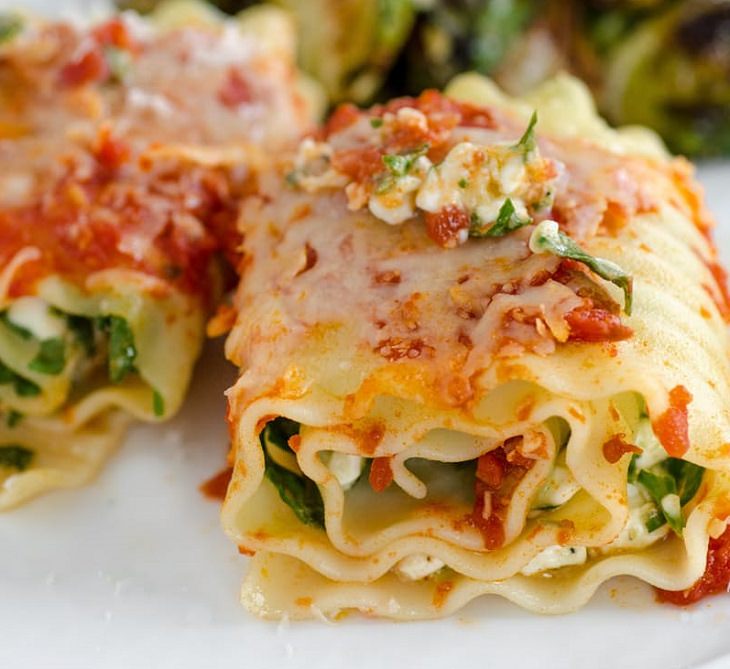 Ingredients
• 8 lasagna noodles
• 2 cups finely chopped baby spinach, from about 3 ounces
• 1 cup low-fat cottage cheese
• 2/3 cup shredded cheese, such as mozzarella, Romano, or a blend, divided
• 1/3 cup grated Parmesan cheese
• 2 garlic cloves, finely minced
• 1/2 teaspoon salt
• Freshly ground black pepper
• 1 cup spaghetti sauce
Method
1. Preheat the oven to 350°F and lightly grease a 9x9" baking tray.
2. Cook the lasagna noodles in plenty of salted boiling water. remove when they are al dente and lay them out on a clean towel to dry and cool.
3. Mix the spinach, cottage cheese, Parmesan cheese, 1/3 cup shredded cheese, garlic, salt, and a generous amount of black pepper.
4. Divide the spinach and cheese mixture evenly between the noodles, spreading it over the entire length of each noodle. Roll up the noodles from bottom to top, and place in a pan, side by side, touching. Pour the spaghetti sauce over the rolls, and sprinkle the remaining shredded cheese over the top.
5. Bake in the oven for 20-25 minutes, or until heated through and the sauce is bubbling.
Source: thekitchn
Photos: Faith Durand