If you happened not to hear about the DASH diet, here is the gist: DASH stands for Dietary Approaches to Stop Hypertension. The dash diet is a healthy eating plan, that's meant to help lower blood pressure without the need for medication. To do so, it promotes low-sodium meals that include lots of fruit, vegetables, whole grains, and lean proteins. It reduces foods that contain high levels of saturated fats (fatty meat and full-fat dairy products etc.) and sugar-sweetened beverages and sweets. The DASH diet is very well balanced and thus possible to stick with for a long period of time, and making it a lifelong approach to food rather than a temporary diet.
For the cold winter days, we comprised a list of 3 DASH approved warm and comforting soup recipes.
If you'd like to find out more about the DASH diet click here: The Dash Diet
Minestrone Soup with Red Wine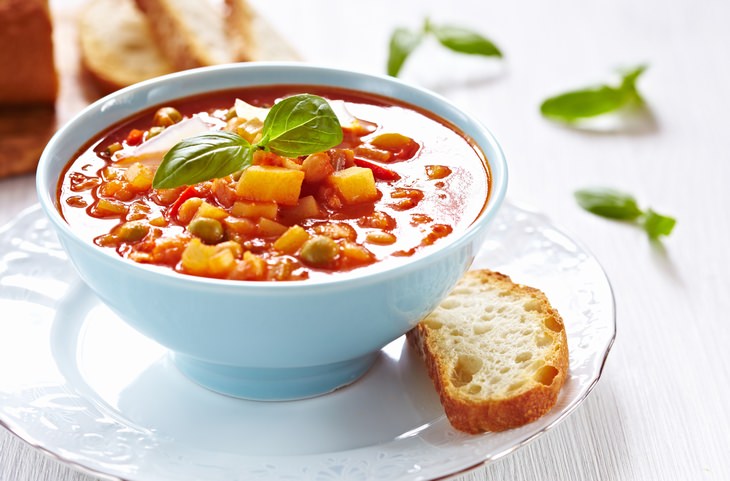 Ingredients:
• 1 tbsp olive oil
• 1\2 cup sweet onion, chopped
• 1\3 cup celery, chopped
• 1 carrot, diced
• 1 garlic clove, minced
• 4 cups fat-free, unsalted chicken broth
• 2 large tomatoes, seeded and chopped
• 1 cup spinach, chopped
• 1 can (about 1.5 cups) canned chickpeas or red kidney beans, drained and rinsed
• 1\2 cup uncooked whole grain pasta (preferably shell-shaped)
• 1 small zucchini, sliced and diced
• 2 tbsp fresh basil, chopped
• 1\2 cup red wine (optional)

Instructions:
1. Heat the olive oil in a large saucepan, over medium heat.
2. Add the onion, celery, and carrots and sauté for about 5 minutes until softened. Add garlic and stir for another minute.
3. Stir in the broth, tomatoes, spinach, beans, and pasta and bring to a boil over high heat.
4. Reduce heat and simmer for 10 minutes.
5. Add Zucchini, cover and cook for 5 more minutes.
6. Remove from the stove and stir in basil.
7. Serve immediately.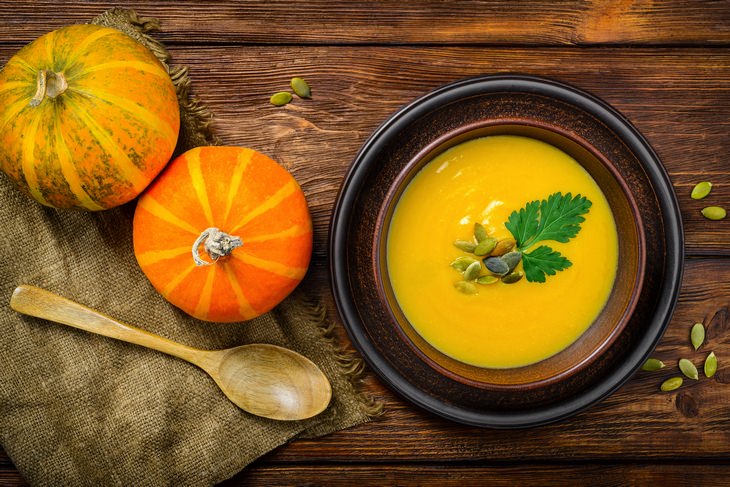 Ingredients:
• 1 Butternut Squash, cut into cube pieces
• 2 tsp. Canola Oil
• 1 Cup Celery, diced
• 1 ½ Cup Yellow Onion, diced
• 1 ½ Cup Fresh Spinach
• 2 Cloves Garlic, minced
• 1 Cup Carrots, diced
• 3 Cup low-sodium Vegetable Broth
• 1 Cup Water
• 1 tsp. Sage
• ½ tsp. Nutmeg
• Black Pepper to your liking
Instructions:
1. Roast the squash in a pan with one teaspoon of oil
2. Move the squash into the oven and continue to roast at 400 °F (200 °C) for 40 minutes or until brown.
3. Let the squash cool for a few minutes then mash it into a puree using a blender or food processor. Set aside for now.
4. Add the remaining oil into a pot and sauté the celery, onion, spinach, garlic, and carrots over medium heat until soft.
5. Add broth, water, spices, and the squash puree to the pot and simmer for 10 minutes before serving.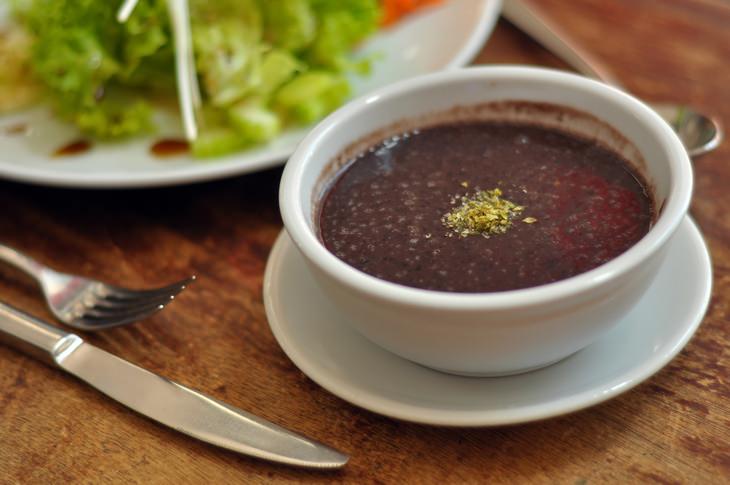 Ingredients
• 2 Tbsp olive oil
• 1 cup yellow onion, chopped
• 1/4 cup green bell pepper
• 3/4 cup celery, chopped
• 1/2 cup carrot, chopped
• 2 Tbsp garlic, minced
• 2 tsp chili powder
• 1/2 tsp cumin
• 1/2 tsp smoked paprika
• dash cayenne as desired
• 1-2 tsp sea salt
• 6 cups cooked black beans
• 4 cups of water
• 2 Tbsp apple cider vinegar
• 3 Tbsp cilantro chopped
• Cheddar cheese and sour cream for topping (optional)

Instructions:
1. Heat the oil in a large pot, then add in the onion, bell pepper, celery, carrot and garlic with one teaspoon of sea salt.
2. Sauté for 10 minutes or until soft
3. Add in the spices, beans, and water.
4. Bring everything to a low boil and lower the heat to a simmer. Leave cooking for 20 minutes.
5. Stir in the vinegar and cilantro.
6. Puree the soup using a blender or food processor
7. Season to your liking and serve with toppings to your choice (you can garnish with cheddar cheese and sour cream to serve).