For the occasional social or the momentary indulgent drinker, it isn't completely out of character to pay a pretty penny for a great bottle of the spirit of your choice, like a well-aged whiskey to cleanse your palate during a celebration, party or social gathering of any kind. These 15 liquors wouldn't be at the top of that list, they'd need a separate list of their own entirely. While to the average spender, these liquids cost an arm and a leg, to the extreme elite, it's simply an added luxury. Nonetheless, from their art-like bottles to the masterfully crafted spirits stored within them, these liquors are sold at these incredible prices for a reason, in ascending order! Just take a look and drink them all in!
1. LEGACY BY ANGOSTURA, $25,000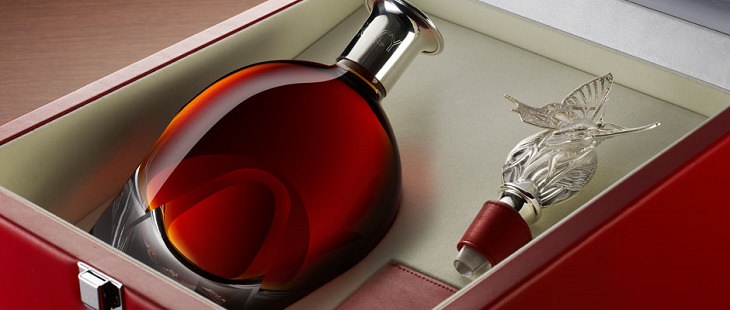 (Source)
This is the world's most expensive rum, of which only 20 decanters were released and distributed in 2012, in celebration of the 50th Anniversary of Trinidad's Independence. Aged 17 years, the price of this rum includes a 500 ml crystal and silver decanter, which was created especially by the jewelers to Prince Charles, Asprey of London, along with sterling silver stopper depicting the rare Trinidadian butterfly resting on sugar cane, all held in a beautiful wooden box, lined with velvet and silk and covered with soft red calf leather.

2. 1926 MACALLAN FINE AND RARE COLLECTION, $75,000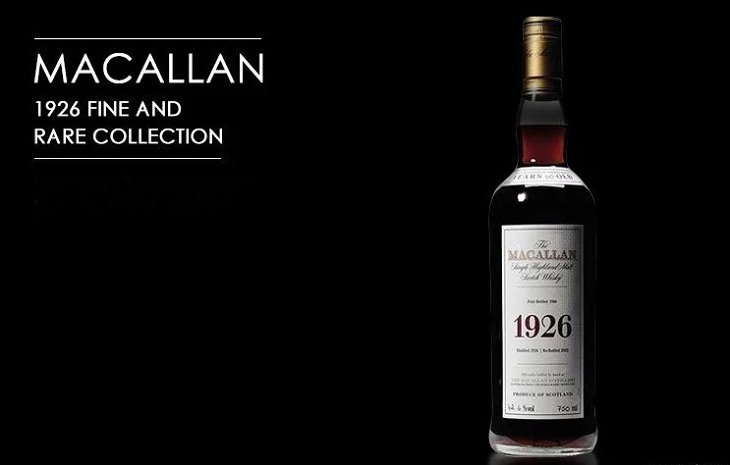 (Source)
This beautiful scotch whiskey was set for distillation in oak barrels, in 1926 and then bottled finally 60 years, in 1986 and prepared for sale. It is widely acknowledged as one of the few rare whiskeys that could be left to mature to such a great age while still maintaining its flavor and character. Only 40 bottles of this fine liquor were produced.
3. 1811 CHÂTEAU D'YQUEM, $130,000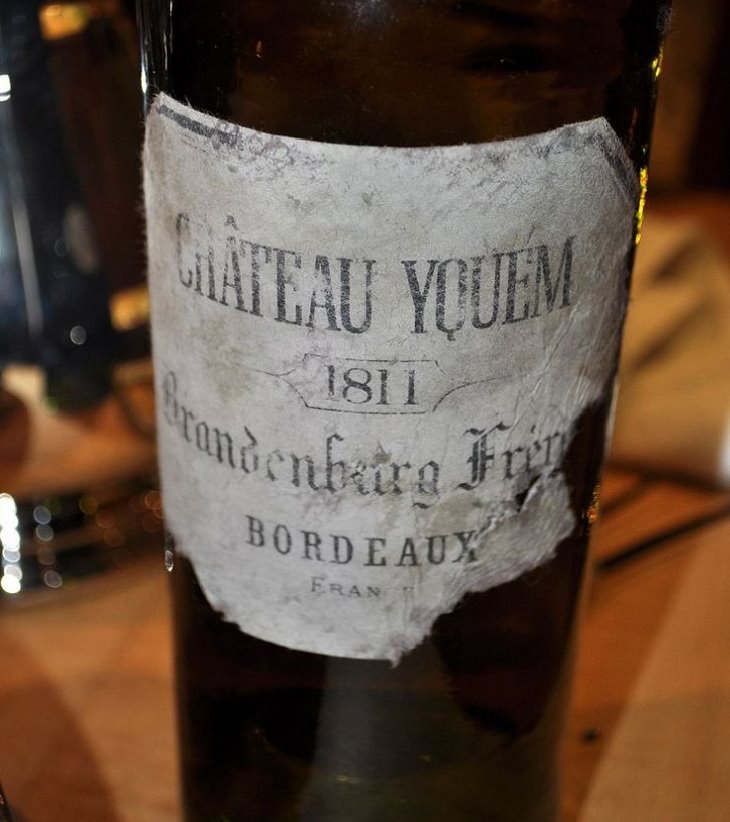 (Source)
Most wines cost anywhere between $12 and $200. This particular bottle, however, broke world records for the most expensive bottle of wine. It is currently owned by wine connoisseur, Christian Vanneque, and is one of the few wines that has incredible staying power and if stored properly, will not expire. There are only 10 bottles of this wine left in existence.
4. DALMORE 64 TRINITAS SINGLE MALT WHISKY, $160,000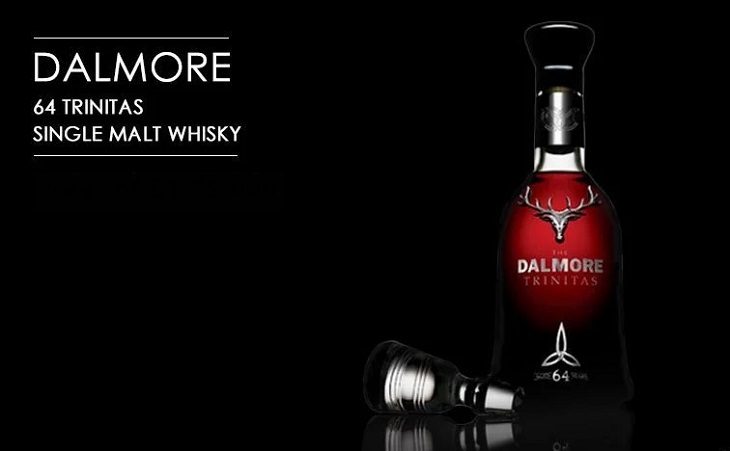 (Source)
This whiskey is truly extraordinary and contains spirits dating as far back 1868, created by the Highlands most distinguished distillery. Only 3 bottles of this whiskey were created and one was sold at an auction in 2002, another to a private collector and finally the last one to a fancy hotel in Surrey.
5. DIAMOND JUBILEE BY JOHNNIE WALKER, $165,000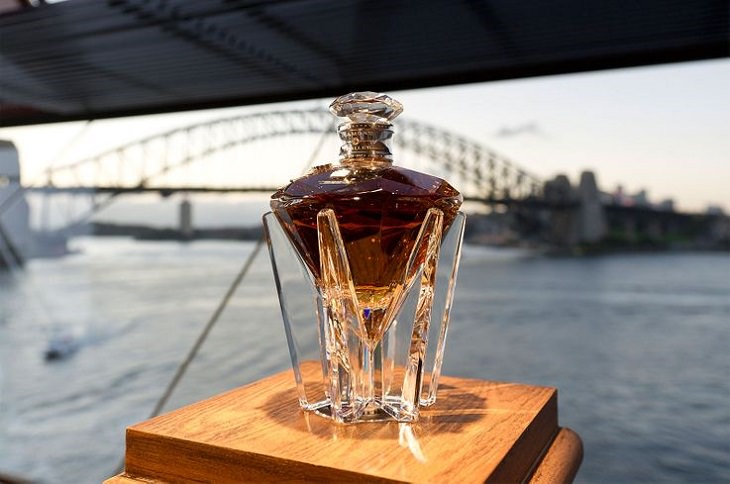 (Source)
Here's a lovely liquor brought to you by the makers of Gentleman Jack, which included the master blender, John Beveridge. It was created in 1952 in honor and in celebration of Queen Elizabeth inheriting her crown. Though numerous barrels of this whiskey were distilled, only 3 barrels passed the rigorous tests. There are only 60 bottles of this fine whiskey in circulation.
6. REMY MARTIN'S BLACK PEARL LOUIS XIII ANNIVERSARY EDITION - $165,000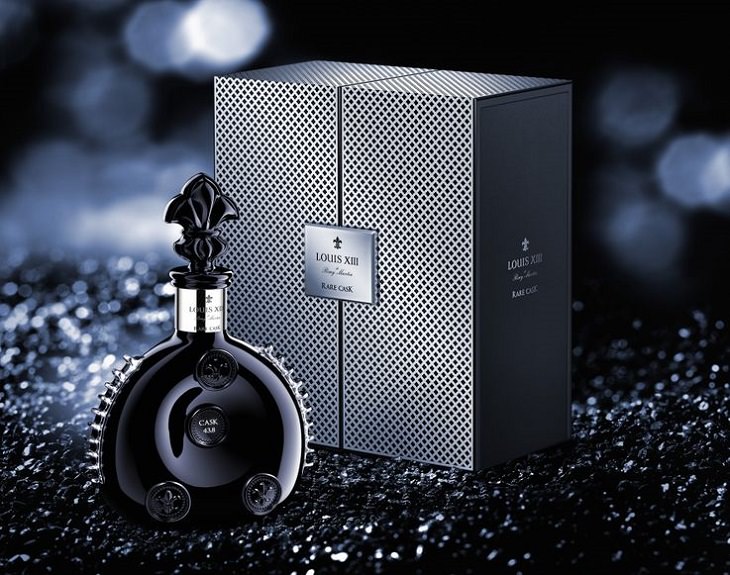 (Source)
Louis XIII is a cognac brand created by Remy Martin in tribute to King Louis XIII who was the reigning monarch at the time of the Remy Martin family settling in France. This fantastic cognac was created to celebrate the 140th anniversary of the Louis XIII cognac brand. Over 1200 spirits were distilled to create this cognac, which were aged between 40 and 100 years bringing forth a powerful fruity flavor. The decanter in which this liquor is sold is also a tribute to the Louis XIII original decanters.
7. BOMBAY SAPPHIRE REVELATION, $200,000
(Source)
Bombay Sapphire is one of the better known high-end gin production companies. However, in 2008 they created an alliance with one of London's premier jewelry houses, who hired Karim Rashid, an in-house designer of theirs to create a bottle of sheer luxury for these extravagant spirits designed to satisfy any taste. This creator brings forth a design of sapphire and diamonds to make a bottle almost as enjoyable as the fantastic liquor it holds.
8. ROYAL SALUTE TRIBUTE TO HONOUR, $215,000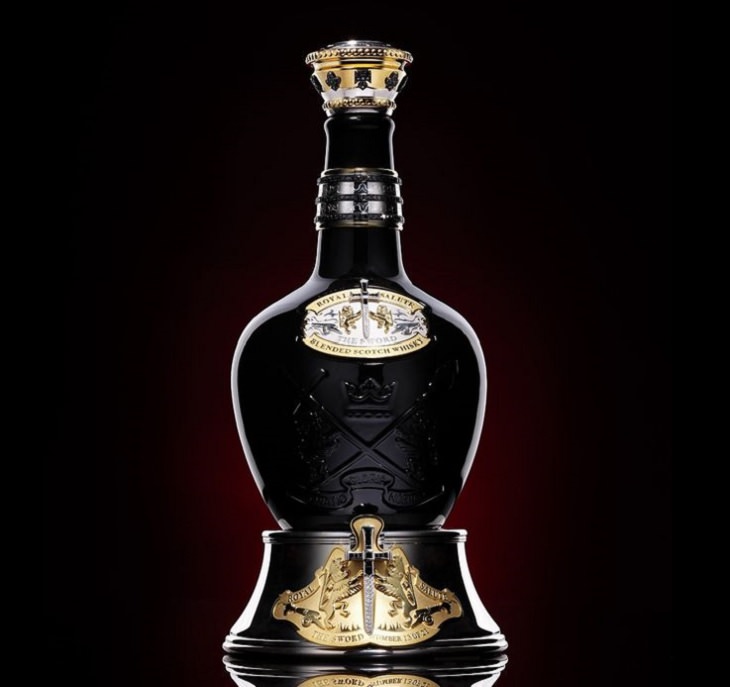 (Source)
Rich, smooth, royal. Three words that very well describe this incredible liquor that has been sold for between $200,000 to $215,000, created as a tribute to the Honors of Scotland, the famous oldest jewels in the British Isles. Aged for at least 45 years, this whiskey is one of the greatest drinks available for offer, and to add to each bottle's value, there are over 400 white and black diamonds as well as 22 carats worth of gold and silver.
9. 64-YEAR-OLD MACALLAN SINGLE MALT SCOTCH WHISKY IN LALIQUE: CIRE PERDUE, $460,000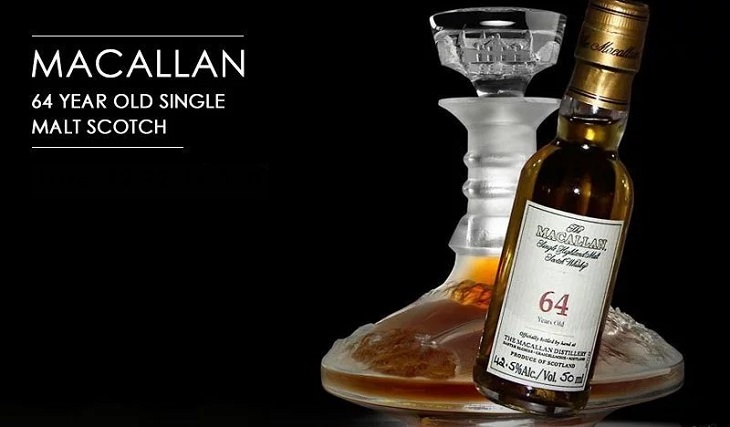 (Source)
To celebrate the 150th anniversary of the birth of a famous artisan skilled in the craft of crystal named Rene Lalique, this iconic scotch brand chose to create a unique and stunning crystal bottle, to house an even rarer and more stunning whiskey aged 64 years. With only one bottle of this fine liquor having been made, it's no wonder it was sold for just under half a million dollars in 2010.
10. THE MACALLAN 'M' CONSTANTINE SIX LITRE IN LALIQUE, $628,000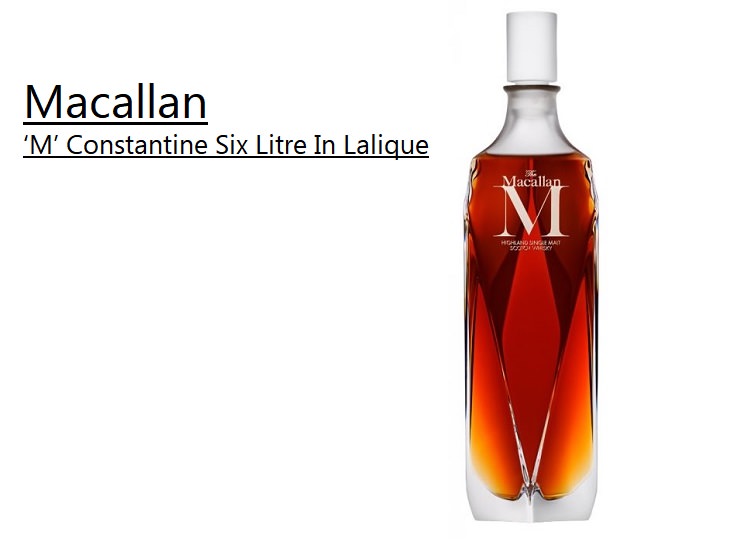 (Source)
5 years after the record-setting sale of the 64-year-old Macallan, this evergreen scotch-maker created yet another incredible whiskey, auctioned off in Hong Kong for the wild price of $628,000, setting a new world record for the most expensive whiskey sold. This six-liter decanter was designed by Lalique, and of the 3 bottles produced, only 1 was held for auction while the other 2 were preserved and archived by the producer.
11. DIVA VODKA, $1 MILLION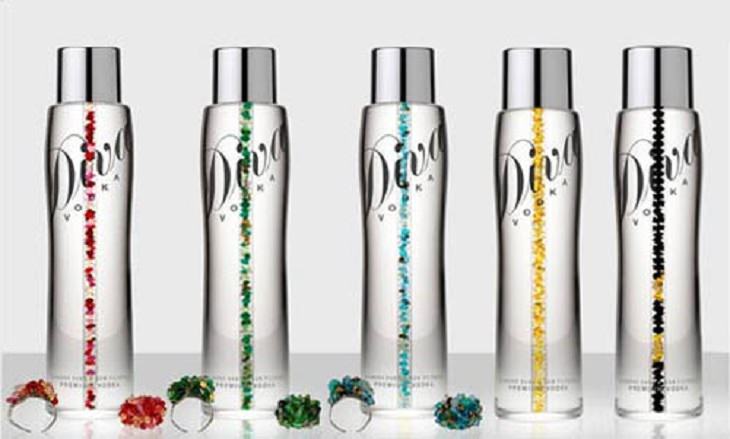 (Source)
There are numerous reasons why this particular vodka is sold for such a high price. The process of its creation is beautiful and unique, making use of natural spring water, which is first triple distilled. Following this, it is filtered through charcoal and then through sand made from diamonds. However, being diamond-filtered is not the only thing that makes this liquor expensive. The bottle of this fine vodka has a glass center, which is also adorned with diamonds.
12. MENDIS COCONUT BRANDY, $1 MILLION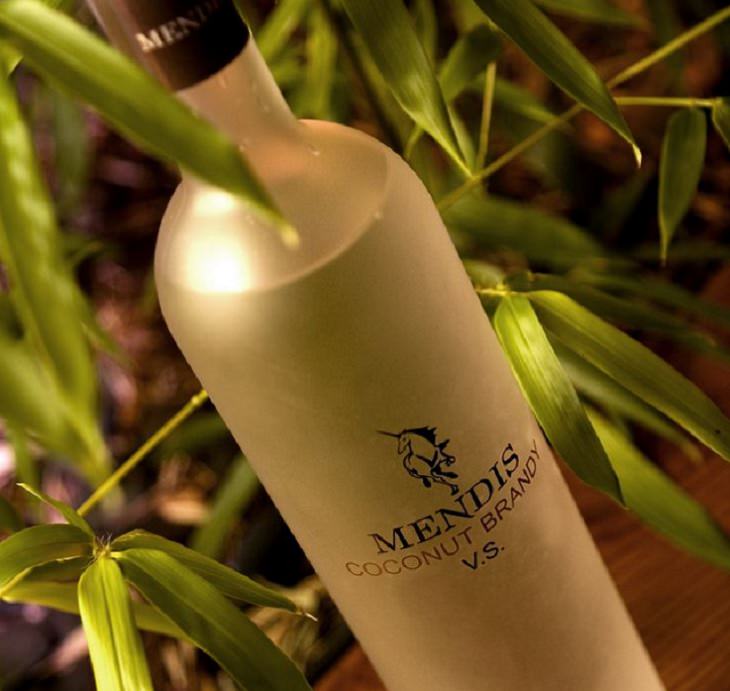 (Source)
Who has ever heard of such a thing as clear brandy? Well, the fine producers from the House of Mendis brought it to life. Using a unique method of distillation in casks made from the special Halmilla Wood, and coconuts, Mendis has created a delicious concoction. To add to its great value, the bottle of this fine liqueur has the signature, dated and numbered, of the founder of House of Mendis, Mr. WM Mendis.
13. HENRI IV DUDOGNON HERITAGE COGNAC GRANDE CHAMPAGNE, $2 MILLION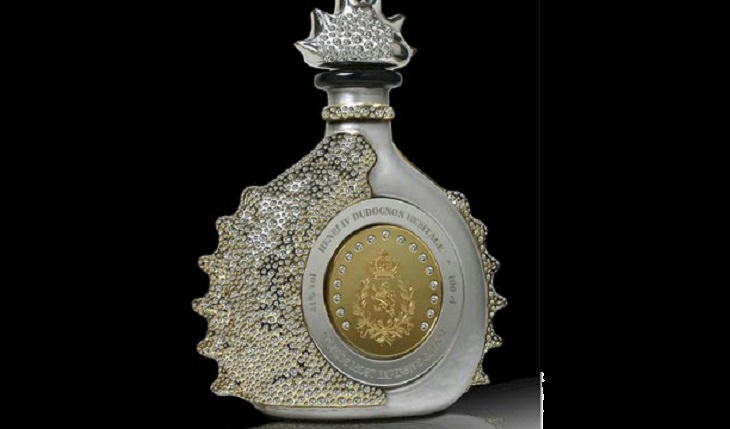 (Source)
First produced in 1776, this is one of the finest champagnes to grace this earth, with an incredible 100-year aging process. It's uniquely delicious taste and method of processing resulted in it being dubbed the "DNA of all Cognac". What further adds to its hefty price is the bottle, forged by the descendants of Henri IV, which has been dipped in 24-carat gold as well as platinum, with 6,500 diamonds embedded on its side. Everything about the bottle and the drink screams of royal lavishness.
14. ULTRA-PREMIUM TEQUILA LEY .925 PASIÓN AZTECA, $3.5 MILLION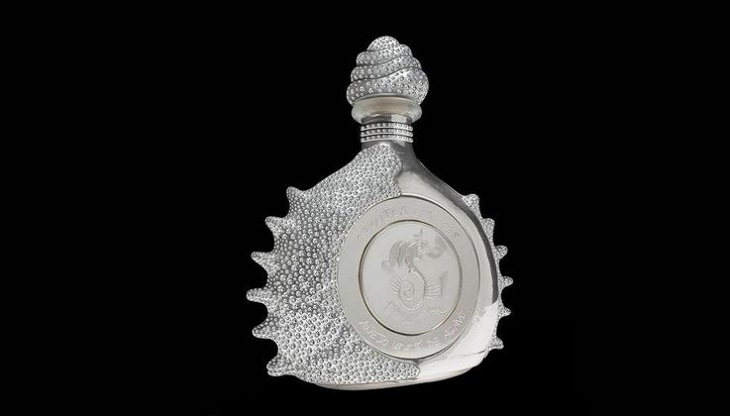 (Source)
That's right. $3.5 million for a single bottle of tequila. The bottle and the liquor bear a somewhat close relation to the Henri IV Dudognon Heritage Cognac Grande Champagne, due to their connection with Ley .925. The bottle is dipped in white gold and platinum and all 6,400 diamonds were placed on the bottle by CEO Fernando Altamirano himself!
15. ISABELLA'S ISLAY, $6.4 MILLION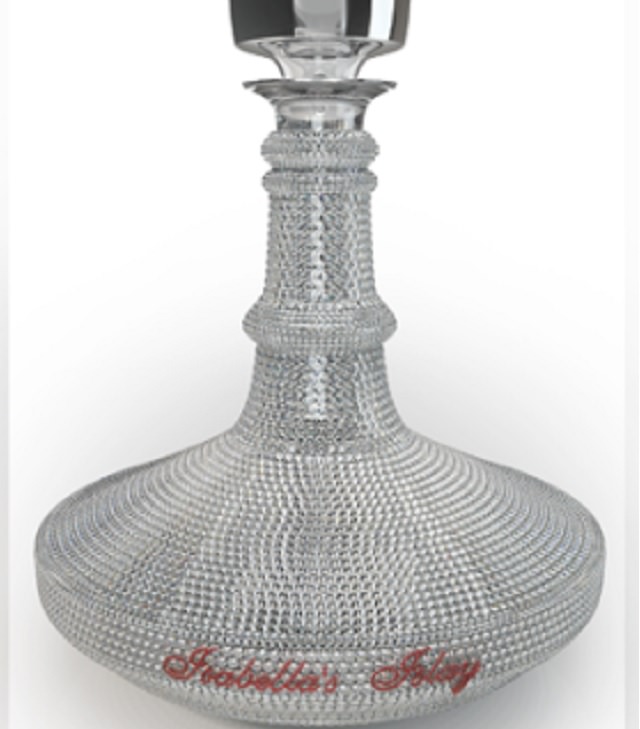 (Source)
Quite possibly the most expensive whiskey in existence today, Isabella's Islay is a truly exquisite scotch. However, a bulk of this liquor's price can be attributed to the luxurious bottle it comes in. Dipped and covered entirely in white gold, and then finally encrusted in diamonds, this bottle is the epitome of luxury. Even the name of the liquor is embedded with rubies. For the price of this bottle, one also gets an endless supply of this fine whiskey, as refills are available for those with the bottle.
Related Articles:
How These 7 Famous Alcohol Brands Got Their Names
The 15 Most Expensive Liquids in the World
The Health Benefits of Drinking Beer