If you're craving some Cajun spice and succulent shrimp, you've definitely come to the right place. With this tasty recipe, all you have to do is season the shrimp with your favorite spices (including Cajun of course), then brown it up in your frying pan with some butter and garlic. Cook the rice with some onion, green bell pepper, celery, and more Cajun, then serve it all up in one big bowl of deliciousness.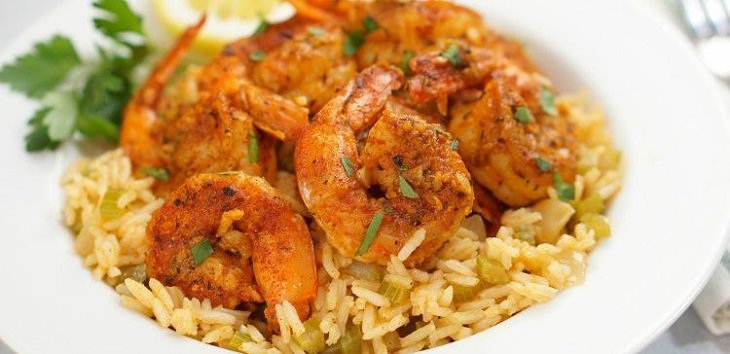 Cajun Shrimp and Rice (4 Servings)
Ingredients
• 1-pound large shrimp, peeled and deveined
• 1 tablespoon of Cajun seasoning
• 2 tablespoons unsalted butter, divided
• 1 tablespoon minced garlic
• 1 lemon, zested and juiced
• Salt to taste
• Ground black pepper to taste
• 2 tablespoons chopped parsley (optional)

Rice
• 3 tablespoons unsalted butter, divided
• 1 cup chopped onion
• 1/3 cup chopped celery
• 1/3 cup chopped green bell pepper
• 1 tablespoon minced garlic
• 1 cup long grain white rice
• 1 teaspoon Cajun seasoning
• 1 ½ cups chicken broth
• Salt to taste
Directions
1. In a pot over a medium heat, add the butter, celery, onion, garlic, and bell pepper. Cook the vegetables, stirring often, until they are softened, but not browned, roughly 5 minutes.
2. Add the Cajun seasoning and rice, and stir to coat. Cook the rice until lightly toasted, about 2-3 minutes. Once the rice is lightly toasted, stir in the chicken broth.
3. Bring the mixture to a simmer, cover, and allow the rice to cook for another 10-12 minutes. Once all the liquid has been absorbed and the rice is cooked through, use a fork to fluff the rice. Set aside and keep warm while cooking the shrimp.
4. Season the shrimp with Cajun, salt, and pepper. Add 2 tablespoons of butter to a large pan over a medium heat.
5. Add the shrimp and cook until browned and mostly cooked through, roughly 3-4 minutes. Add the minced garlic and cook until fragrant, around 1 minute.
6. Turn off the heat and add the lemon juice, lemon zest, and the remaining tablespoon of butter. Garnish with chopped parsley (if using), and toss to combine.
7. Serve the shrimp over the prepared rice.
Source: tiphero