1. Croissant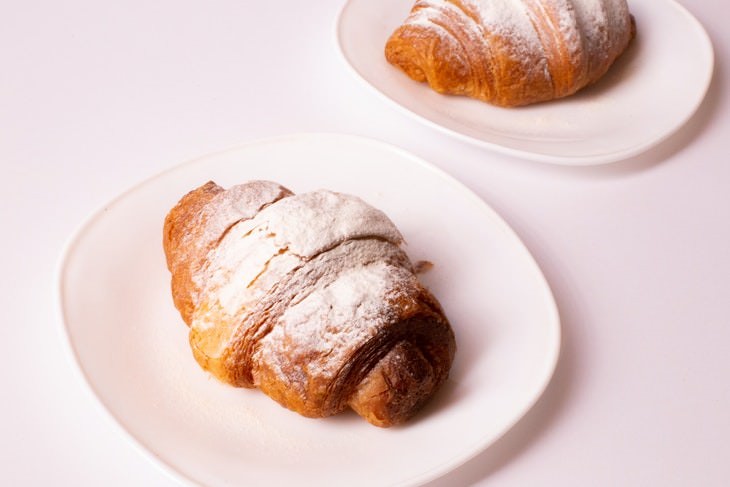 Although croissants are not a French invention, with several historical accounts mentioning these crescent-shaped pastries in antique times, French patisseries have perfected this flaky, buttery pastry and it's today a delicious staple throughout the country.
You can enjoy your croissant savory or sweet, and it makes for the perfect on-the-go lunch, which is very handy when you're a tourist.
2. Crepes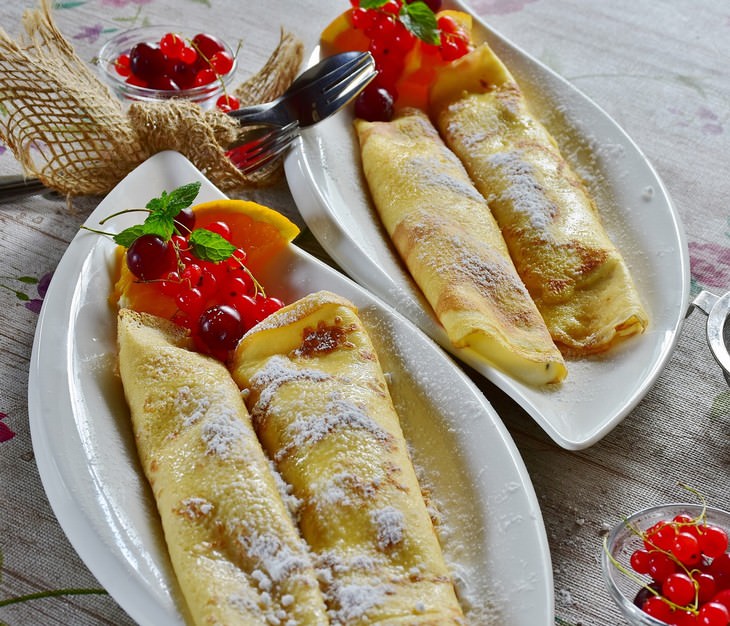 Another versatile breakfast or lunch that's served all around France is the crepe. These thin pancakes come in a variety of sweet and savory fillings and they are a must try, in our opinion. Crepe originated in the northwestern region of France called Brittany, and to this day, this region champions crepe-making.
In Brittany, a common occurrence is a creperie, which is a small takeaway restaurant or stall that sells crepes exclusively.
3. Onion Soup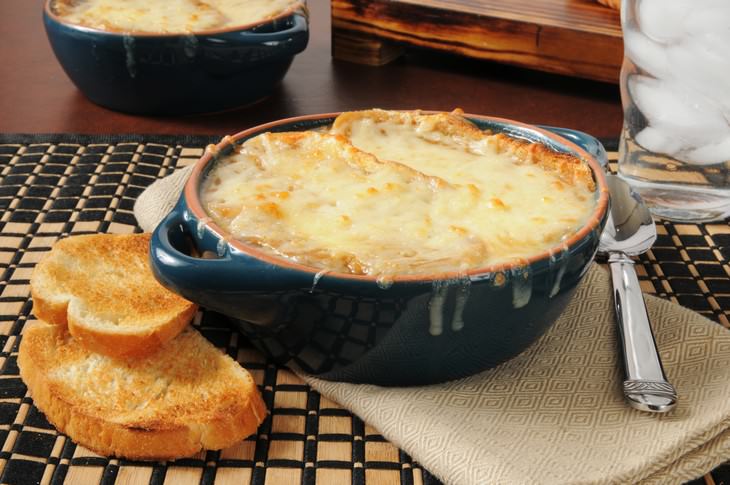 An ancient French creation that goes back to the 17th century, the onion soup is a creamy, savory and filling soup made with beef broth, onions, cheese and toasted bread baked in the oven. Legends tell that the soup started off as a dish that only aristocracy could enjoy, but the opposite is more likely, as onions and bread are some of the most accessible and cheap ingredients.
No matter which theory is true, we greatly recommend this delicious warming soup to everyone, especially if you happen to visit France in the colder months.
4. Tarte Tatin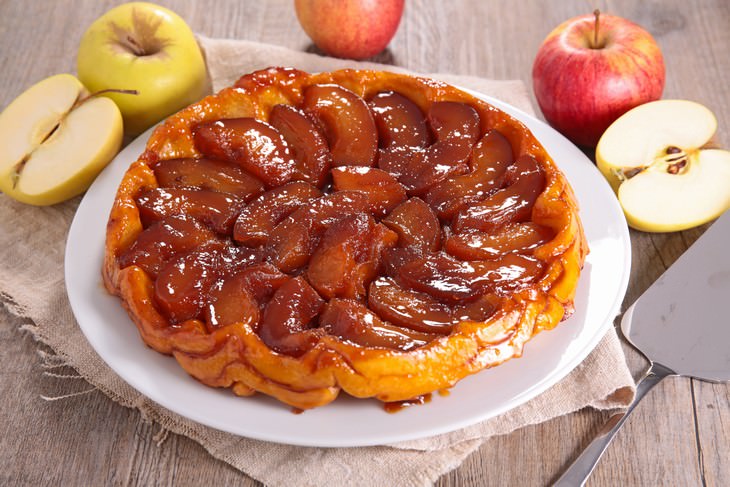 If you love fruit-based desserts, you must try tarte tatin. This delicious and beautiful dessert is made of caramelized seasonal fruit (typically apples, pears or peaches) baked upside down, which crisps up the caramelized fruit and gives them a complex taste and beautiful deep color.
The tarte takes its name from Hotel Tatin, situated in a small city not far from Paris, where the tarte originated in the 1880's.
5. Croque Monsieur and Croque Madame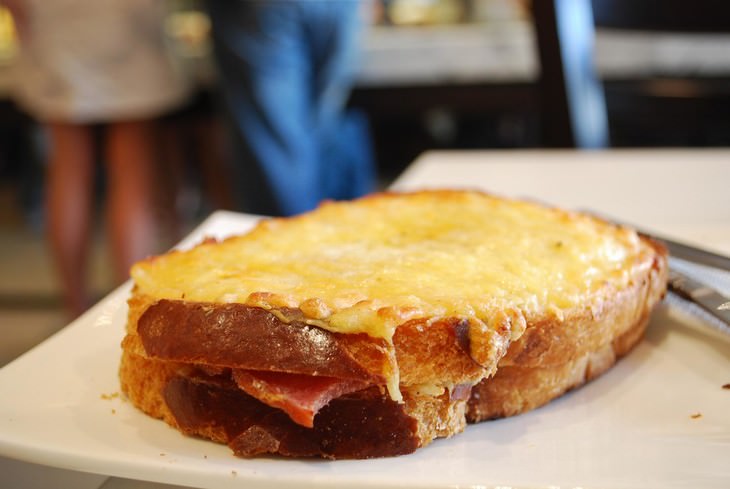 If you want to experience a sandwich the French way, order a croque monsieur or croque madame for breakfast. These pan-fried or broiled hot sandwiches originated as a quick and easy snack in French cafes in the early 20th century, and each restaurant or cafe has their own way of preparing this sandwich.
Traditionally, though, a croque monsieur is a toasted ham and cheese sandwich, whereas the croque madame is the same sandwich topped with an egg.
6. Baguette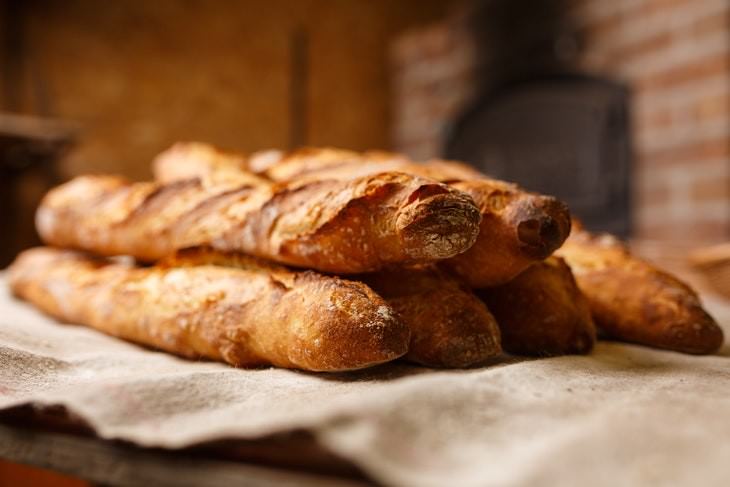 France is strongly associated with long loaves of bread both in our minds and in history. Although baguettes weren't known as such until 1920 and certainly evolved over time, French bakers were preparing different versions of long breads since the royal times.
To honor this tradition, make sure to purchase at least one of these fresh and fragrant breads from a local bakery, we assure you won't regret it.
7. Cream Puffs (Profiteroles)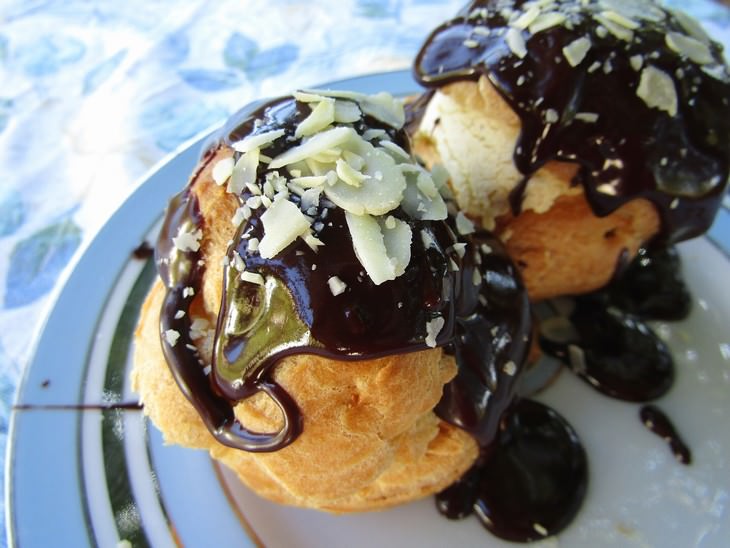 Profiteroles are French cream puffs, yet another convenient one-bite treat. Although cream puffs are most likely not a French invention, French patisseries definitely know what they're doing when they're making these delicious treats. They come with a vanilla custard or chocolate filling and are often drizzled on top with chocolate or caramel. Yum.
8. Escargot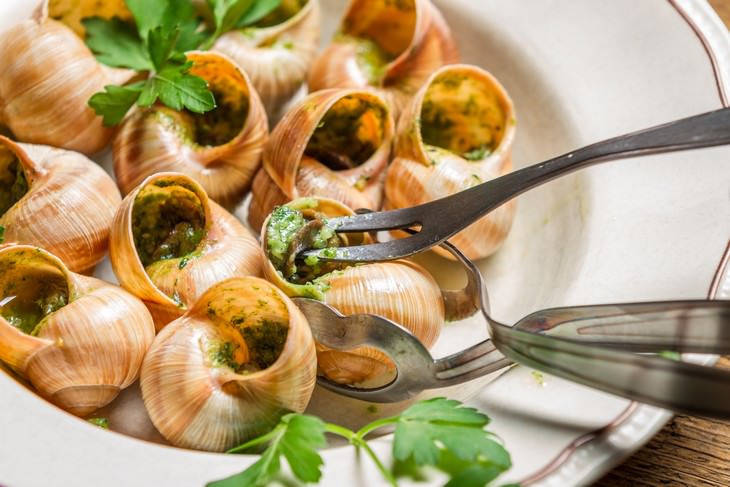 If you're looking for a delicacy to try in France, escargot is definitely a dish to consider. These are edible land snails meticulously cleaned, cooked and served in shells with a butter and garlic sauce.
Just so you know, the French aren't the only people who eat escargot, it's a popular dish all over the Mediterranian, and archeological remains show that the French, the Portugese and Spaniards likely inherited this tradition from ancient Greeks and Romans.
9. Steak-Frites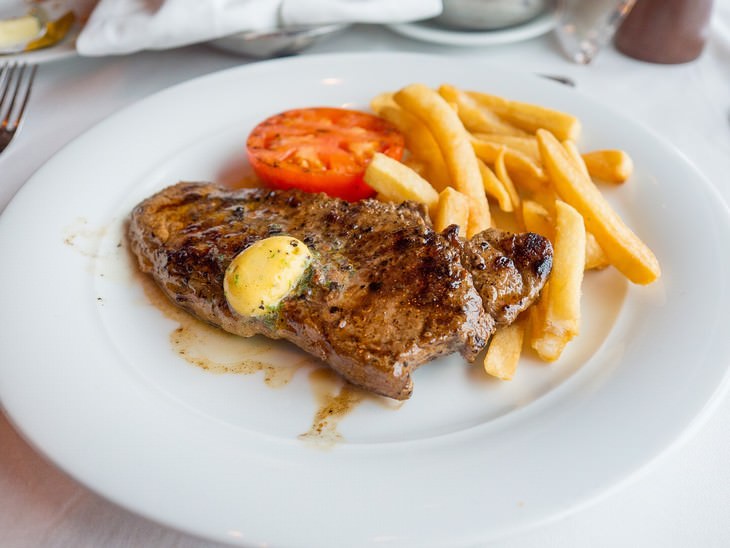 Everyone loves steak and French fries, so why not marry them in one gorgeous dish? And so they did, and by "they" we mean not the French, but Belgians, where it's considered the national dish. Still, this dish has become so popular in France that it has become a staple food in many diners and brasseries, and meat lovers will surely enjoy the French variation of the dish just as much as they would the Belgian original.
10. Souffle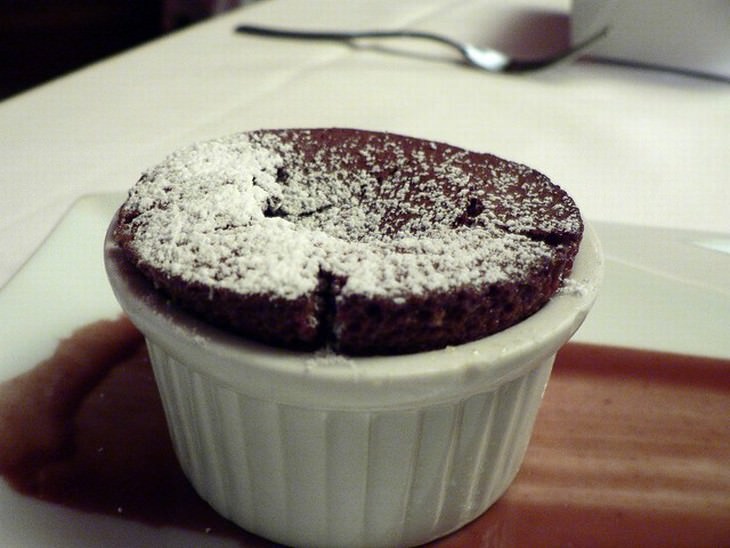 We usually think of a souffle as a dessert, and it certainly is, with the rich chocolate souffle being my personal favorite. But in France, a savory version of this dish with bechamel and cheese is just as popular as the dessert. Both versions are very appealing to the tastebuds, with the light airy texture being out of this world.
And for those of you wondering if the souffle is French, we're glad to announce that indeed it is, with the first mentions of this airy egg-based food dating back to the early 18th century.
11. Ratatouille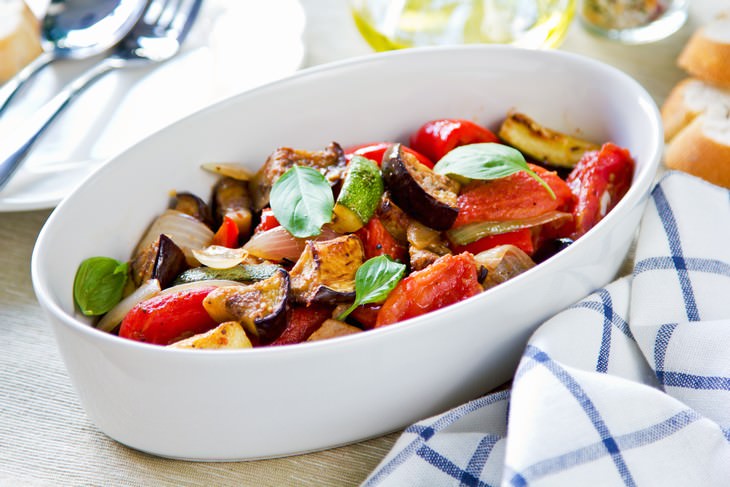 Veggie lovers are sure to appreciate the ratatouille, a French dish prepared with a mixture of different vegetables (tomatoes, zucchini, eggplant, onions, garlic, and bell peppers) and fresh herbs stewed or oven-baked.
The dish appeared relatively recently in the French city of Nice, but today it appears in many variations. Ideally, each vegetable is supposed to be cooked to perfection separately, and they are then combined together to maximize the variety of tastes in the dish.
12. Macarons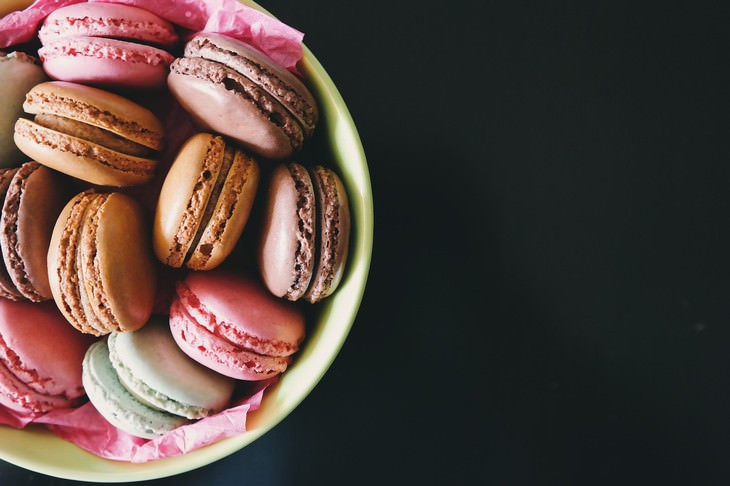 These meringue-based cookies filled with cream aren't simply delicious, they are a work of art. Delicate, crispy, and filled with rich cream, macarons, or as they're often called outside France, the French macaroon, are sold in a variety of colors and tastes, although traditionally, the almond-based meringue didn't have any added flavor and was combined with a jam or ganache filling.
However, French macaroons, just like French fries, aren't actually French. What they are, though, is one of the most ancient desserts in Europe, starting off as a specialty of Venetian monasteries as far back as the 8th century.
13. Cheese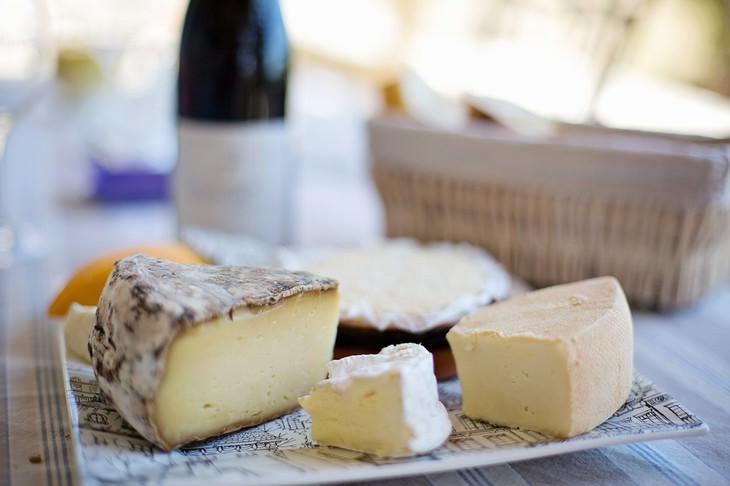 We think we don't have to restate the obvious, but you should definitely eat as much cheese as you possibly can while you're in France. Cheese in France is not only cheap, fresh, and utterly delicious, but it also comes in a huge variety, with many eateries offering a separate cheese menu.
Each region in France has its cheese specialty, and it was estimated that there are over 1.000 distinct cheese varieties in France, with some of the most iconic ones being Brie, Bleu d'Auvergne, Roquefort, Reblochon and Cantal, each differing greatly in terms of taste profile and preparation.
14. Duck Confit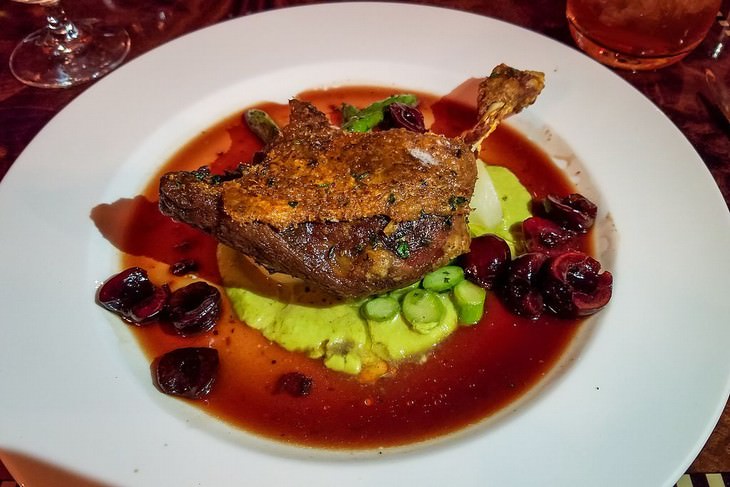 Considered one of the finest dishes in France, duck confit originated in the southwestern region of Gascony, where it has a long-standing tradition. Every piece of the duck can be used in the preparation and it's served with different side dishes.
To prepare duck confit, the duck meat undergoes a special and lengthy preparation process. It's first cured in salt and herbs and refrigerated for around 36 hours, then the salt is cleaned off and the meat is baked at a low temperature in an oven in duck fat for at least 3 hours, or until completely tender. If it sounds delicious, that's because it is, much recommended.
15. Eclairs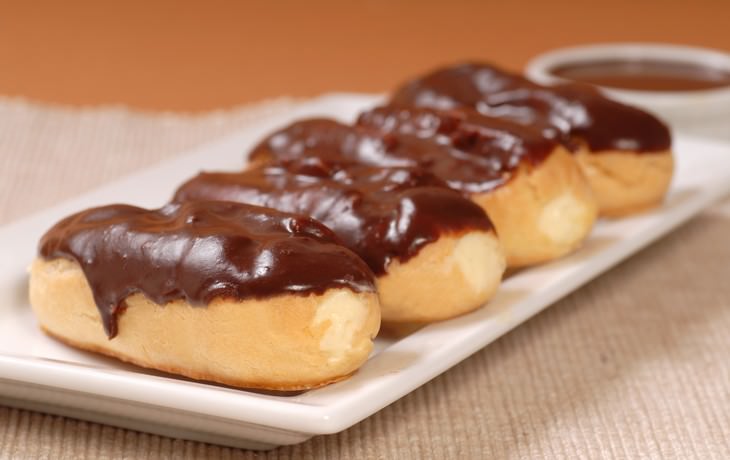 This now iconic French dessert is also known as the sweet baguette may have been inspired by cream puffs, but it has a long shape and is always covered with ganache or caramel. Most importantly, however, the pastry is filled generously with vanilla custard cream. Alternatively, it can come with chocolate, coffee, or pistachio custard or a sweet chestnut filling.
These soft and creamy desserts are must try in France, as they originated there in the late 18th to the early 19th century and are one of the most popular pastries today.