Over the past weekend, the veteran TV host and journalist, Larry King, passed away aged 87. King was one of the greatest broadcasting giants in US history. Over his six-decade career, he carried out interviews with every sitting US president from Gerald Ford to Barack Obama and a number of world leaders and high-profile public figures. Among the celebrities he interviewed were Marlon Brando, Frank Sinatra, Jerry Seinfeld, and Liza Minelli - the list goes on.
An official statement posted to King's verified social media accounts said he had passed away at Cedars-Sinai Medical Center in Los Angeles. The statement did not specify the cause of death. It is, however, known that the late broadcaster battled a number of health issues in recent years and that he was hospitalized with Covid-19 at Cedars-Sinai in late December.
Larry King (originally Lawrence Harvey Zeiger) was born in 1933 in Brooklyn, New York. King began his career in journalism as a local reporter in Miami, Florida. He rose to national fame with the launch of his radio program The Larry King Show in 1978, before moving over to CNN and hosting the Larry King Live, which ran from 1985 to 2010.
King was known for his non-confrontational interview style and his open-ended questions, for which he was hailed, but also occasionally criticized. King himself boasted of not doing much research before the interviews in order to learn along with the viewers. It was his genuinely curious nature and open mind rather than excessive preparation that led to a successful interview, even when conversing with famously-reclusive individuals like Brando or Sinatra.
On the personal life front, King was married eight times, on which he once remarked, "I'm not good at marriage, but I'm a great boyfriend." To honor King's legacy, we rounded up a few more of his quotes that are worth revisiting. Take a look at some of King's most powerful and memorable utterances.
1. "I remind myself every morning: Nothing I say this day will teach me anything. So if I'm going to learn, I must do it by listening."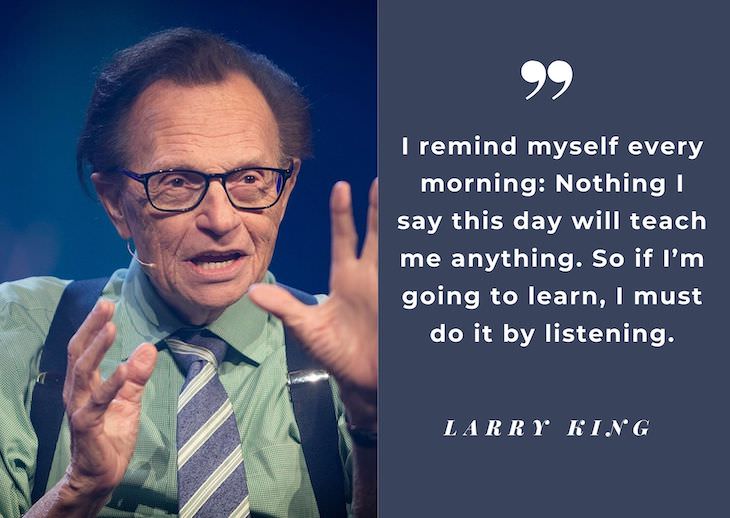 Image Source: Wikimedia Commons
2. "The secret of success is an absolute ungovernable curiosity."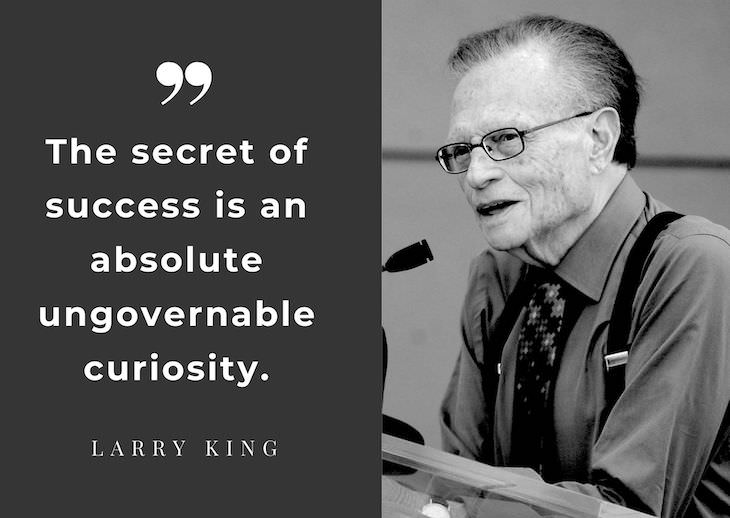 Image Source: Wikimedia Commons
3. "There is nothing in your destiny, nothing in your future that you cannot accomplish."

Image Source: Wikimedia Commons

Related: Sean Connery: 15 Quotes by the Late Actor and His Iconic Roles
4. "I never use the word 'I' when I interview someone. I think it's irrelevant."
Image Source: Wikimedia Commons
5. "If you do something, expect consequences."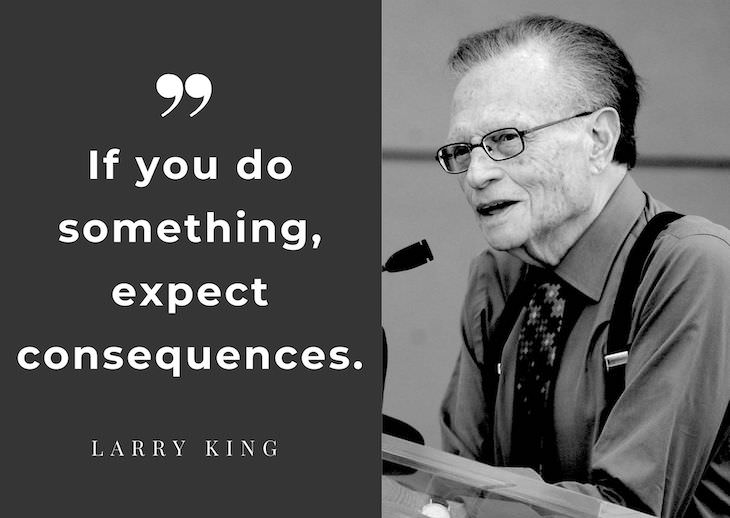 Image Source: Wikimedia Commons
6. "Basically what it comes down to is I love what I do. I don't do it for fame. I don't do it for money. I just love it. I just love asking questions. I love people. It's in my DNA. I'm cursed — and blessed."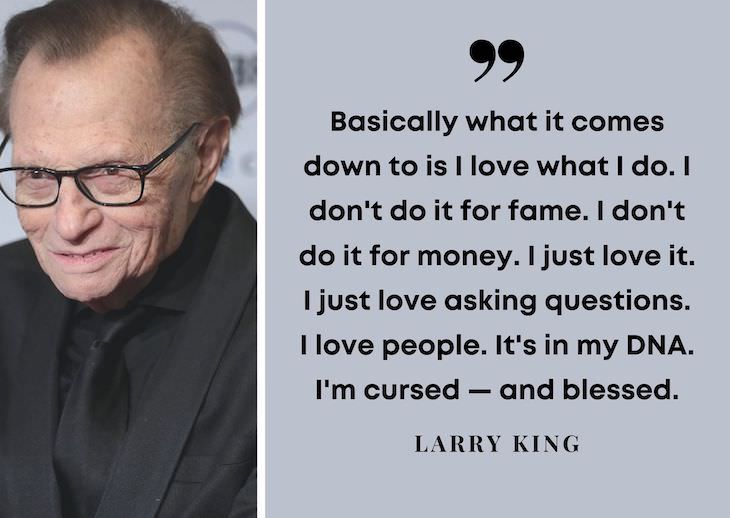 Image Source: Wikimedia Commons
Related: 13 Quotes From the Greatest Minds of the 20th Century

7. "Getting your house in order and reducing the confusion gives you more control over your life. Personal organization somehow releases or frees you to operate more effectively."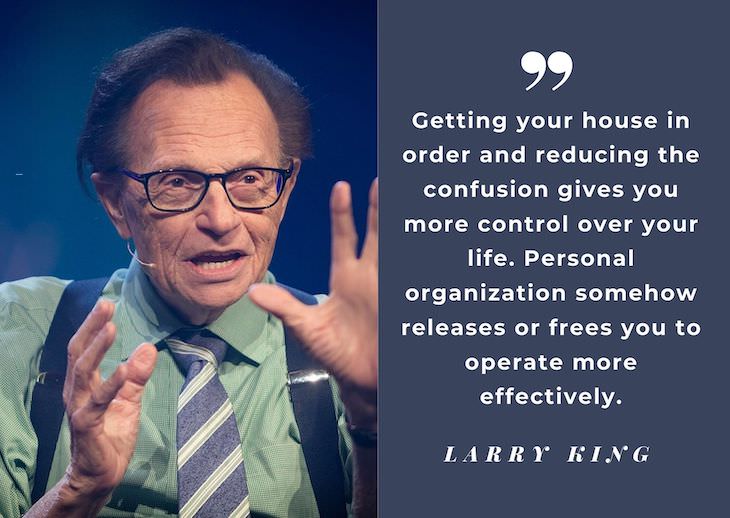 Image Source: Wikimedia Commons
8. "You make your own luck. Luck is the residue of design."
Image Source: Wikimedia Commons
9. "What you want in an interview is four things: You want someone who can explain what they do very well, who can have a sense of humor and hopefully is self–deprecating, who has a bit of a chip on their shoulder, and passion. If you have those four things, you are interesting."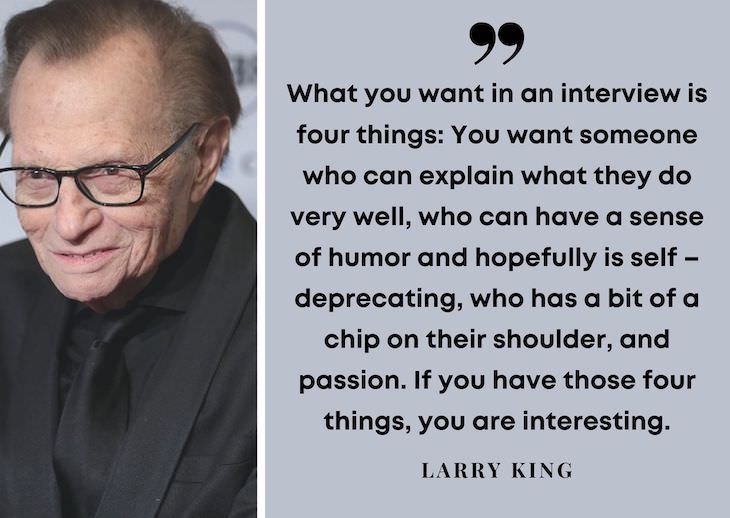 Image Source: Wikimedia Commons

10. "I've had a great ride. I've got no complaints."

Image Source: Wikimedia Commons
Share these words with your friends and family