This special recipe can be served at any festive meal, thanks to the amazing combination of soft and tender lamb meat with sweet dates. In addition, this rich dish is accompanied by couscous and fresh pomegranate seeds that elevate the dish and create a special recipe that will leave your guests speechless.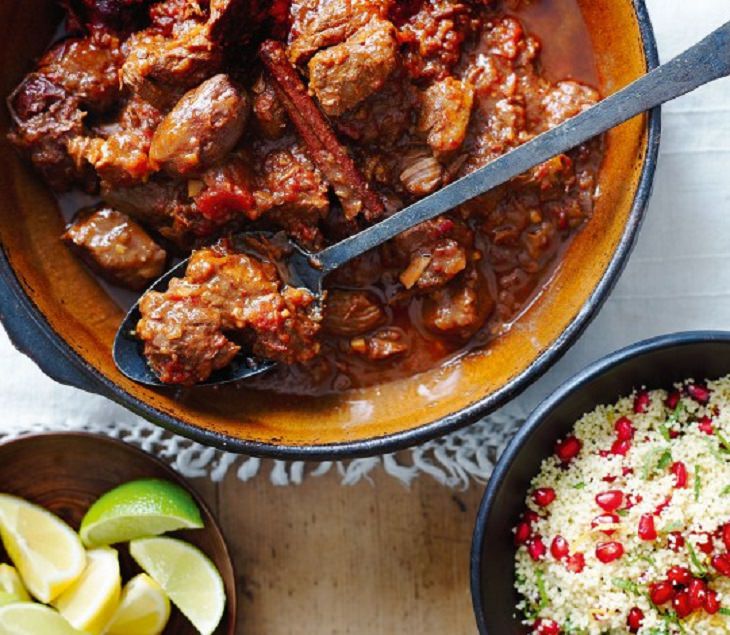 Ingredients for Couscous:
Method of preparing the Lamb:
Pour the oil into a deep-bottom pot and place it on the stove over a medium-high flame.When the oil is very hot but not smoky, add onion, ginger, and garlic into the pot and fry for about 10 minutes.

Add a cinnamon stick, cilantro, and cumin seeds, and cook together for about 5 minutes. Then, place the lamb in the pot and cook for about 10 minutes, then add the dates, tomatoes, and the beef stock.

Mix well, cover the pot and cook on low flame for about two and a half hours until the lamb becomes very soft.

Mix the prepared couscous in a bowl with olive oil, lemon zest, lemon juice, and salt to taste. Pour boiling water over the couscous per package instructions. Once cooked, mix with the mint and pomegranate seeds and serve with the lamb.
Source: deliciousmagazine