Summer is here and as a certified carnivore, I couldn't be happier. BBQ season is my favorite! But how long can you enjoy steak before it becomes boring? This recipe is here to remind you that there's more to red meat than burgers and steak. Enjoy, your parcel has arrived!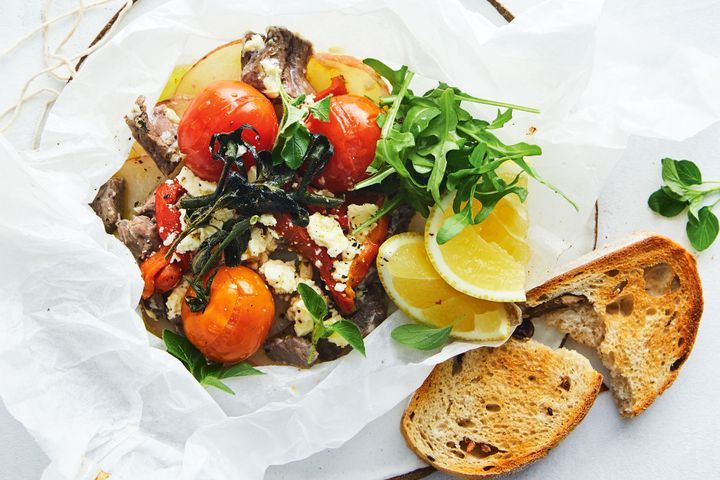 Method of preparing the parcels:
Preheat oven to 360°F. Microwave the potatoes with 1/4 water for 5 minutes or until tender.

Toss the lamb, garlic, dried oregano, juice of 1/2 lemon and 1 tbsp oil in a bowl. Season to taste.

Cut 4 squares of parchment, each measuring 12x18 inches. Prick the tomatoes with a knife.

Divide the potatoes among the squares, top with the lamb mix, chili peppers, tomatoes, feta, and fresh oregano.

Fix the seasoning, drizzle with the lamb meat marinade and the remaining oil, and tie the parcels closed. Evenly space the pieces on a baking dish and bake for 12-15 minutes.

While baking, slice up some bread, drizzle olive oil on top, and grill it slightly. Cut the remaining lemon into wedges. Serve with bread, lemon, and arugula.
Source: Taste.com