Pozole is a customary Mexican stew or soup made from stewed meat, hominy corn, and chiles. This hearty and spicy dish can be enjoyed at any time of the day. Pozole is traditionally topped with plenty of fresh herbs and vegetables.
Prep Time
3 hours and 30 minutes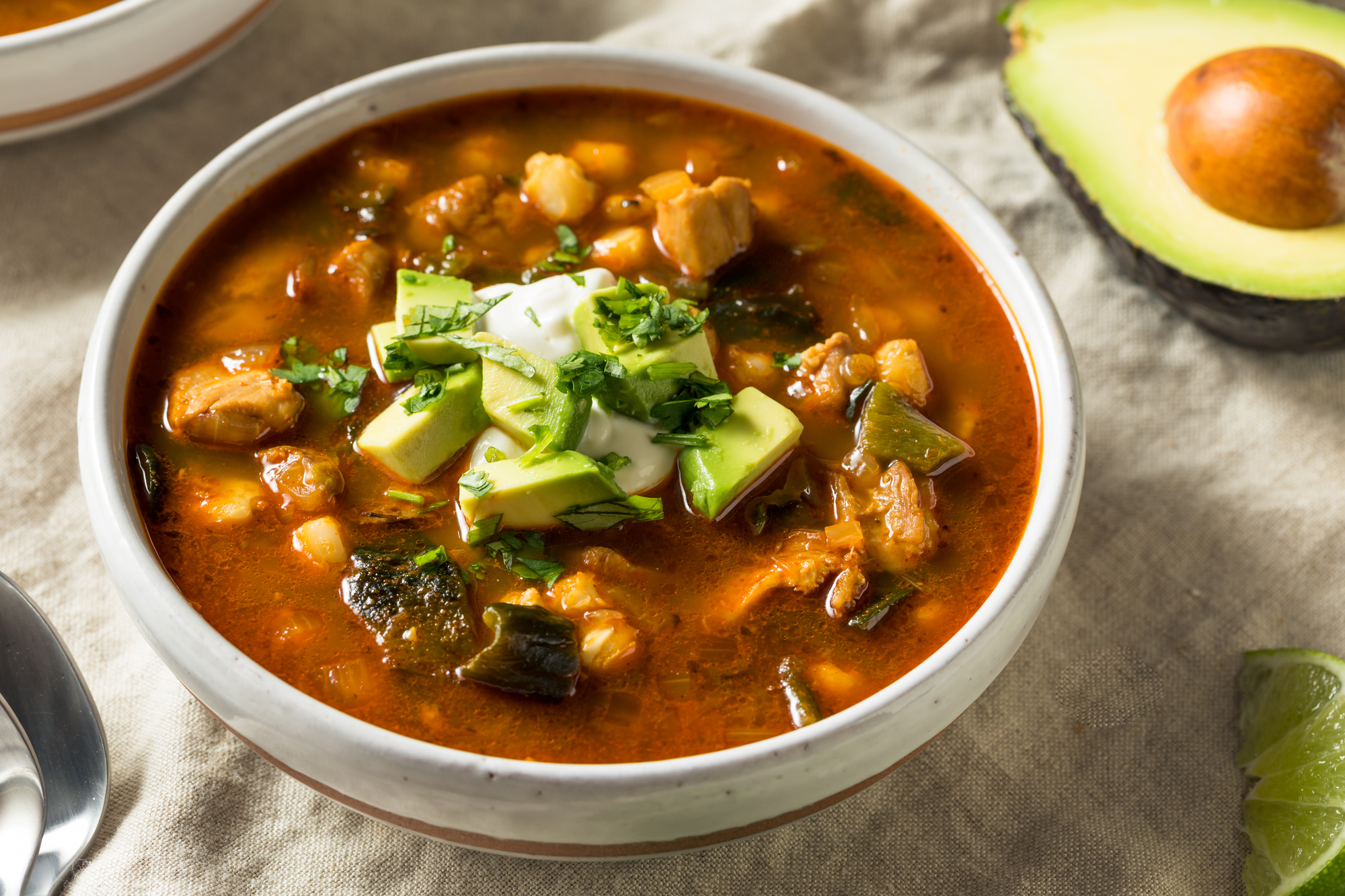 Ingredients for Red Mexican Pozole:
Method of preparing the Red Mexican Pozole:
Boil water. Dry roast the chiles in a deep pan. Once they soften, cover them with 3 cups boiling water. Bring to a simmer for 1 minute, remove from heat and cover with a lid. Let the chiles soak for 20 minutes or until they soften.

In a skillet, heat 1-2 tablespoons of olive oil over medium-high. Blot the pork cubes with paper towels. Season the pork with plenty of salt.

Brown the pork on all sides in the skillet one batch at a time. Transfer the browned pork to the stockpot along with the 4 chopped cloves of garlic.

To the same large stockpot, add the hominy, bay leaves, cumin, oregano, and 1 tablespoon of salt. Bring the soup to a simmer, and then reduce the heat to low and cook for 15 minutes.

Purée the soaked chilies, 2 1/2 cups of the soaking liquid, 1 teaspoon of salt, and the remaining 4 whole cloves of garlic in a blender. Then strain the sauce through a sieve to catch any tough bits.

Combine the red chili sauce with the pot with the cooked pork and hominy. Continue to simmer the soup on low heat for 2-3 hours, or until the pork is fall-apart tender.

As it cooks, skim any excess fat and adjust the seasoning. When ready, the soup should be rich and thick.

While the soup is cooking, prepare the garnishes: chop the cilantro, peel and slice the avocado, and cut the lime.

Serve the soup hot with a dollop of sour cream, a sprinkling of cilantro, and sliced avocado on top. Squeeze lime juice over the pozole right before serving.
Chef's Tip:
Let everyone choose the toppings they love. You can use other garnishes too, such as sliced radishes, fresh chiles, thinly sliced cabbage, and chopped tomatoes.
Source: Simplyrecipes.com