A juicy burger with quick, homemade pickled slaw. We would recommend looking for a relatively lean beef mix (about 85% lean would be the sweet spot) so that it balances out the fats and juices of the cheddar core.
Prep Time
2 hours and 30 minutes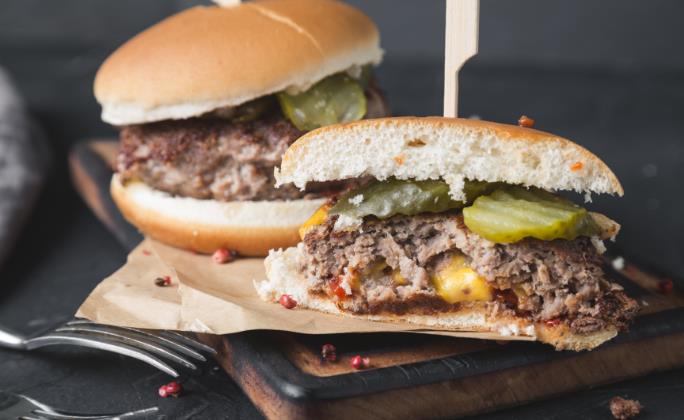 Ingredients for stuffed burgers:
Method of preparing the stuffed burgers:
In a bowl, toss the cabbage with 1 tbsp salt. Massage and drain the liquids. Rinse.

Wipe out the bowl. Add vinegar, sugar, mustard seeds, 1 cup of water, and 1 tbsp salt. Add the cabbage and top it with a plate to keep it submerged. Let the cabbage sit at room temp for 2 hours.

Heat 1 1/2 inches of oil in a pan for deep frying. Toss the shallot slices in flour and fry until golden. Transfer to a towel-lined plate.

In a medium bowl, combine ground beef with onion powder, garlic powder, smoked paprika, Worcestershire sauce, and 2 tsp each of kosher salt and ground pepper.

Knead and form 4-inch thin patties. Top with cheese and press on another patty to make a cheese-filled burger.

Fry the patties, assemble the burgers, and serve.
Source: Delish