Back in the '80s it was popular to say that "real men don't eat quiche." If that was true, then men would be missing out. Forget fridge-cold, soggy-bottomed quiche that you find in all supermarkets - a properly made quiche is a thing of beauty, a just-set savory custard wobbling seductively in its crispy pastry shell.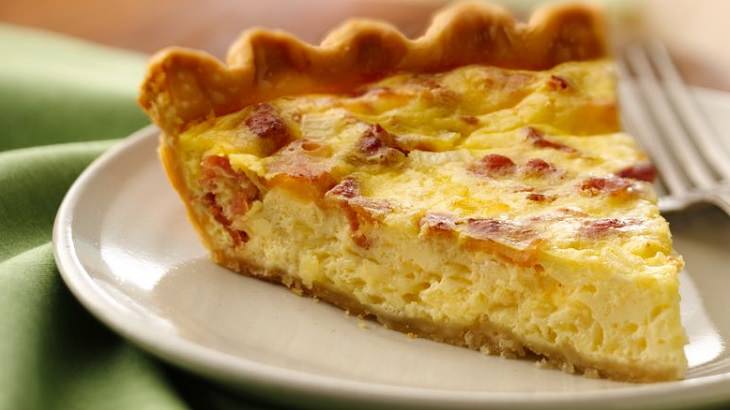 Bacon and Cheese Quiche (Serves 6)
Ingredients
For the shortcrust pastry
• 220g plain flour
• 1/2 tablespoon of salt
• 110g chilled pastry butter, cubed
• 1 large egg yolk
• 2-3 tablespoons of water
For the filling
• 1/2 a tablespoon of Dijon mustard
• 200g of chopped streaky bacon
• 1 medium onion, chopped
• 1 tablespoon of Italian herbs
• 354 ml single cream
• 3 medium eggs
• 170g gruyere cheese
• Freshly ground black pepper
Method
1. Place the flour into a bowl and stir in the salt, rub in the butter quickly until it resembles breadcrumbs, then using a metal knife stir in the egg yolk and water to form a dough. Wrap in plastic wrap and chill for 30-45 minutes.
2. Pre-heat the oven to 200°C. Roll out the pastry and line a lightly greased 9-inch loose bottomed quiche tin. Trim the edges, leaving a slight overlap, then line the tin with parchment paper and fill with baking beans. Chill for 10 minutes and then bake for 12-15 minutes.
3. While you are waiting, fry the bacon in a little oil until crisp. Add the onions to the pan and fry gently until soft, but not brown, about 8-10 minutes. Add the herbs and stir through, drain off the fat and set aside using some kitchen paper to soak up any excess fat.
4. Remove the pastry from the oven and allow to cool for 5 minutes. Remove the baking beans and paper, pierce the base all over with a fork and brush with Dijon mustard - bake for a further 6 minutes. Take the tin from the oven and turn the temperature down to 180°C. When cool, trim the edges with a knife.
5. Beat the cream with the eggs and season with plenty of pepper. Sprinkle the onions and bacon onto the pastry case, then the cheese, and pour over the cream and egg mixture. Bake in the center of the oven for 40 minutes or until cooked through and brown.

Source: bbcgoodfood