There's nothing like peppers to add some flavor to your meals and scintillate your taste buds. They can even be extremely beneficial to the body. Some peppers can really make you sweat, and these are a few of those. Believe it or not, there is a definitive scale to measure the spiciness of chili peppers and other spicy food items.
The Scoville Scale objectively ranks food items based on their spice, which is measured in the form of Scoville Heat Units determined by the concentration of capsaicin, a chemical compound that is responsible for the taste of spice in many food items. Scoville heat units (SHU) are measured by the numbers of cups of sugar water that would be required to neutralize the spicy taste of the item in question. Banana peppers have a Scoville rating of 500, while jalapeno peppers have a range between 2500 to 8000 SHU. Some peppers measure over 200,000 SHU!
These hot chilies are grown all over the world. If you've got a taste for the red hot spiciness of chili peppers, these are 24 peppers you definitely need to find.
1. Birds Eye Chili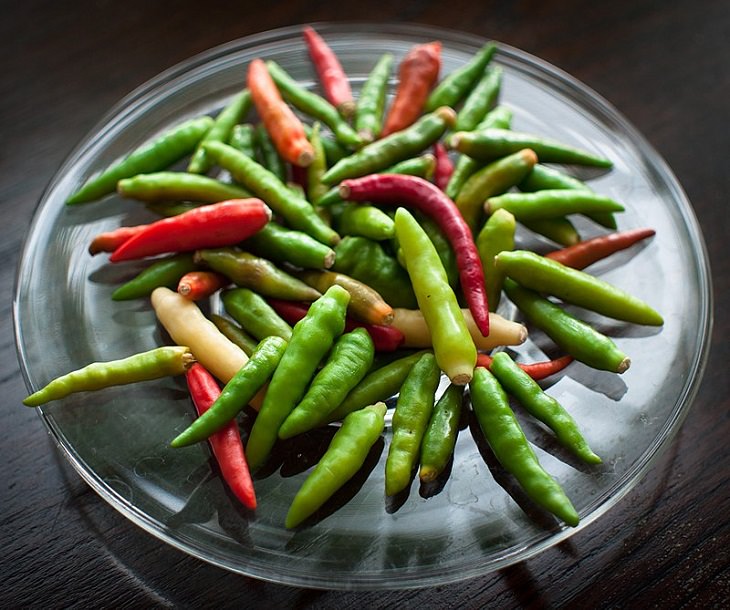 (By Takeaway, Wikimedia Commons)
This variety of pepper was originally grown in Ethiopia and Guyana, a South American country. It is now grown all across Southeast Asia and even parts of Africa. The peppers are small, but can really pack a punch.
Scoville rating: 50,000 - 225,000 SHU
2. Texas Chiltepin Pepper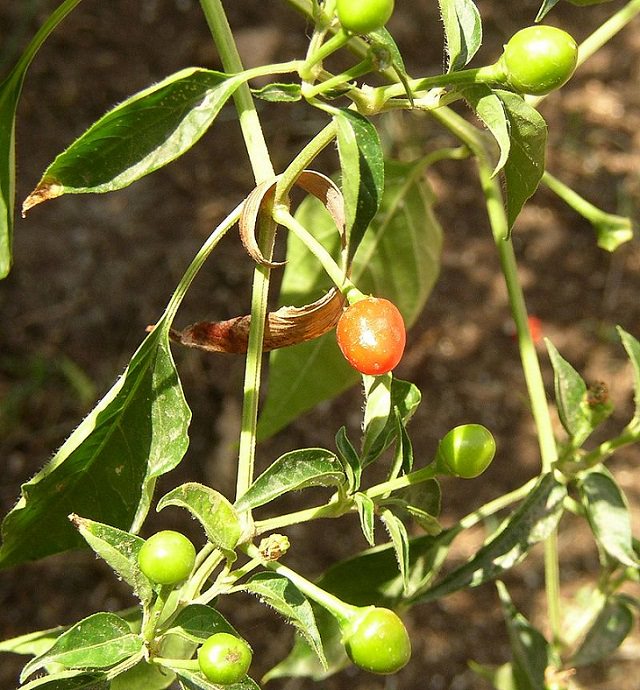 These are small round little peppers that can throw out spice like bullets. They are most commonly grown in the southern parts of North America, like Texas and Arizona, and the northern parts of South America and Central America, in the Caribbean, the Bahamas, and Mexico. This pepper is usually brownish orange, though the hottest variety of this pepper is green. Its spice level varies with its ripeness, the green color occurring 40 days after bloom.
Scoville rating: 50,000 - 1, 628,000 SHU
3. Siling Labuyo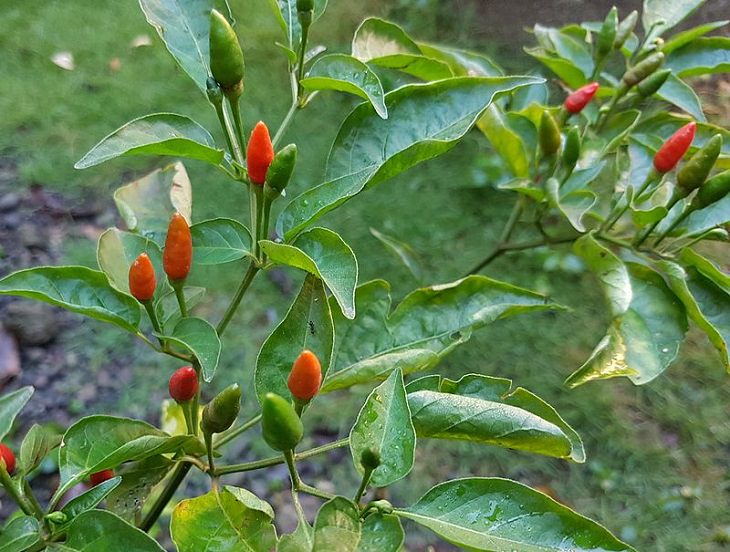 (By Obsidian Soul, Wikimedia Commons)
Here's a small pepper that is famous for its unique triangular shape and the tendency of the peppers to grow upwards. These are a vital ingredient in Philippine cuisine, having a strong spicy taste and a pungent smell. It is also known as the Philippine Birds Eye Pepper.
Scoville Rating: 80,000 - 100,000 SHU
4. Scotch Bonnet Peppers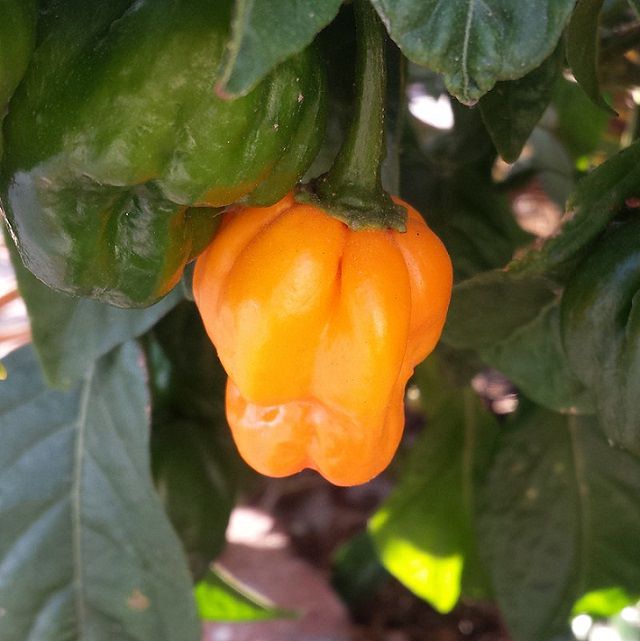 (By Temaciejewski, Wikimedia Commons)
Remaining in the Central American nations, we find another hot pepper, this one native specifically and almost solely to the Caribbean. It is a major ingredient in jerk chicken and pork. There have also been random appearances of this pepper in West African and West Indies cuisine.
Scoville rating: 80,000 to 400,000 SHU
5. Bahamian Peppers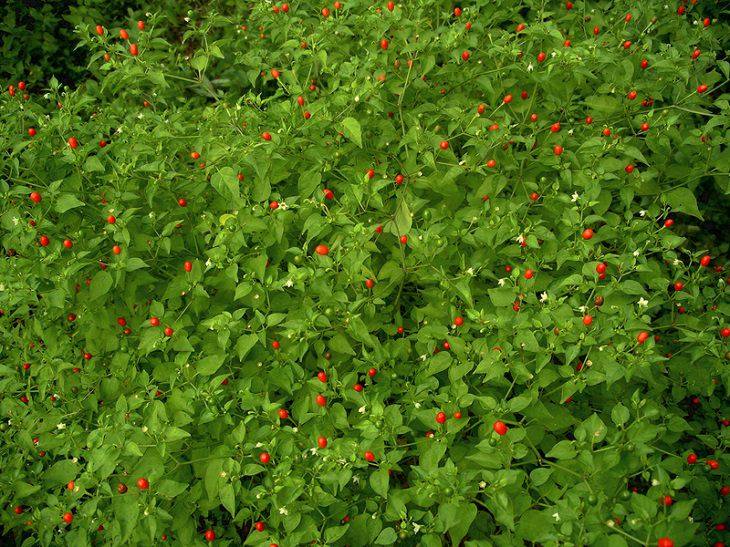 (By Chiltepinster, Wikimedia Commons)
These are shaped something like the old-school globe-like Christmas lights and are bright red when fully ripe.
As you can guess from the name, this pepper is grown in the Bahamas.
Scoville Rating: 95,000 – 110,000 SHU
6. Carolina Cayenne Peppers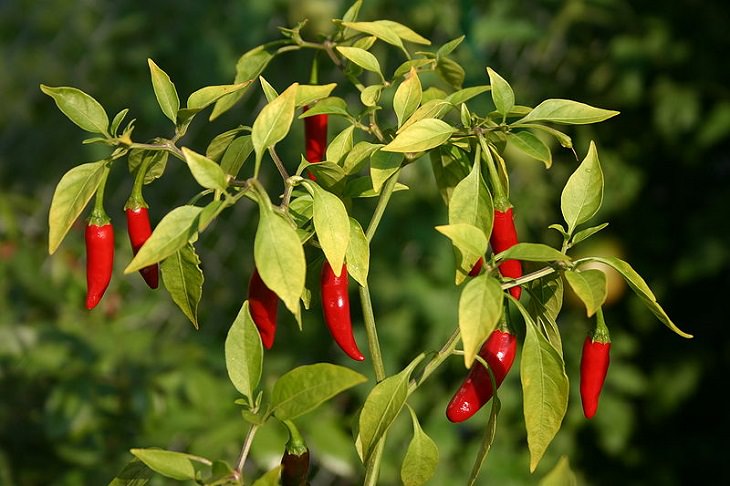 (By Daniel Risacher, Wikimedia Commons)
As the name would suggest, these peppers greatly resemble the normal cayenne peppers but are twice as hot. They are developed almost exclusively at Clemson University.
Scoville Rating: 100,000 – 125,000 SHU
7. Jamaican Peppers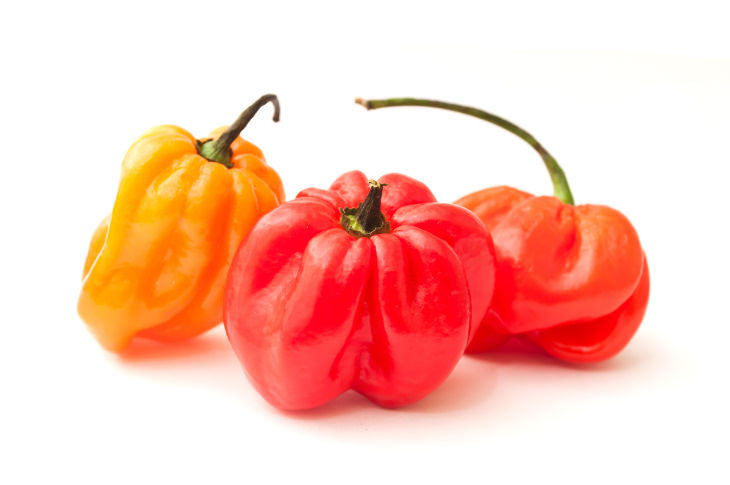 These look a lot like another famous spicy pepper called the Scotch Bonnet, with a few minor differences. It comes in a variety of colors and spice levels, with the red and yellow peppers being the hottest and the brown and purple peppers of this variety bring relatively milder. They are found most commonly in the Caribbean.
Scoville Rating: 100,000 – 200,000 SHU
8. Peruvian White Habanero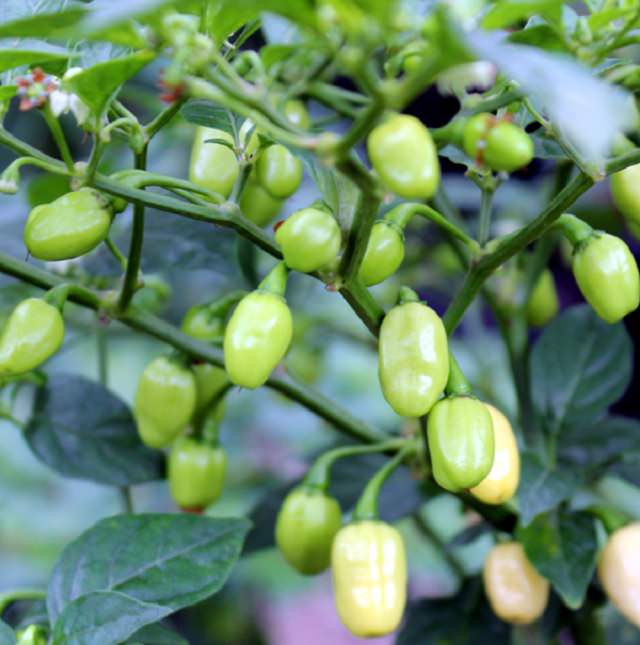 As the name would suggest, this spicy pepper originates from Peru and bears a cream white color. Its spicy flavor is also tempered with tinges of sweetness and a smoky undertone. The plant on which these peppers grow is also aesthetically pleasing, making it a great option for growing at home.
Scoville rating: 100,000 - 350,000 SHU
9. Datil Pepper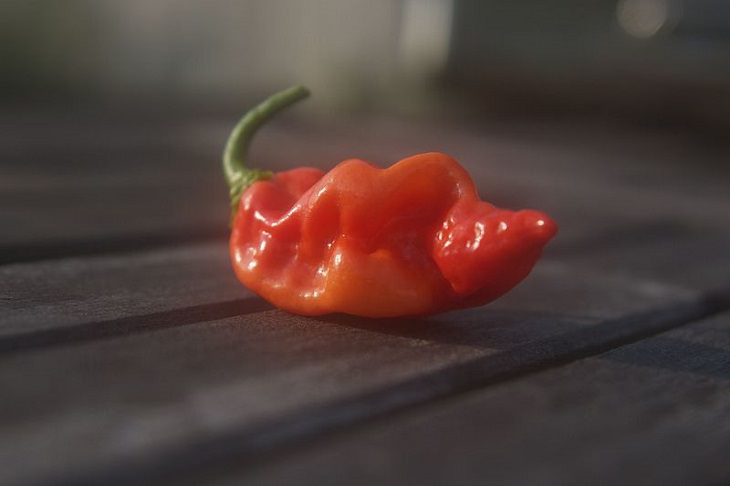 (By Paullassiter, Wikimedia Commons)
The next time you're in Florida, get yourself some classic Florida heat in the form of this pepper, exclusively found in the city of St.Augustine. However, they are not native to Florida. It is believed that they were derived from plants and seeds grown either in Spain or Cuba, though this has not been confirmed. This pepper is extraordinarily rare and among the hottest in the world.
Scoville Rating: 100,000 - 300,000 SHU
10. Adjuma Peppers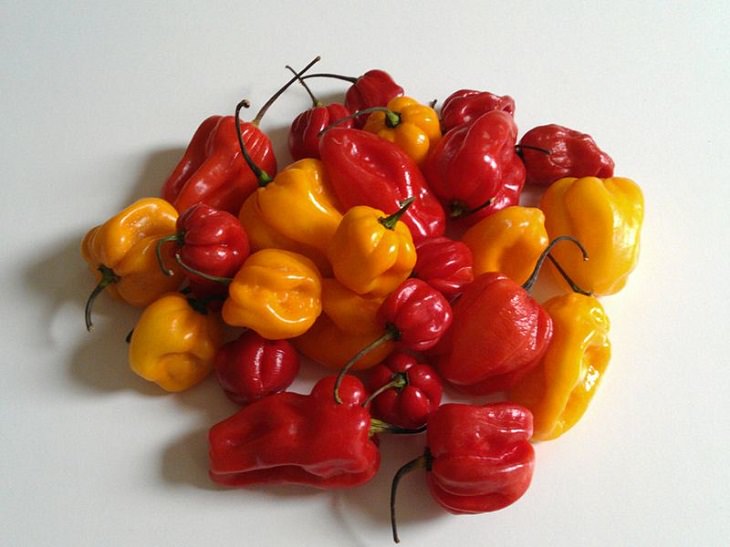 (By Hankwang, Wikimedia Commons)
These are another capsicum based pepper from China, with a highly varied range of spiciness perfect for any type of meal, though are most commonly seen in Suriname and Antillean dishes. Small amounts are sufficient, and the extreme hotness of this pepper makes it advisable to avoid allowing the pepper to make too much contact with the skin, as it can cause irritation and burning.
Scoville rating: 100,000 - 500,000 SHU

11. Madame Jeannette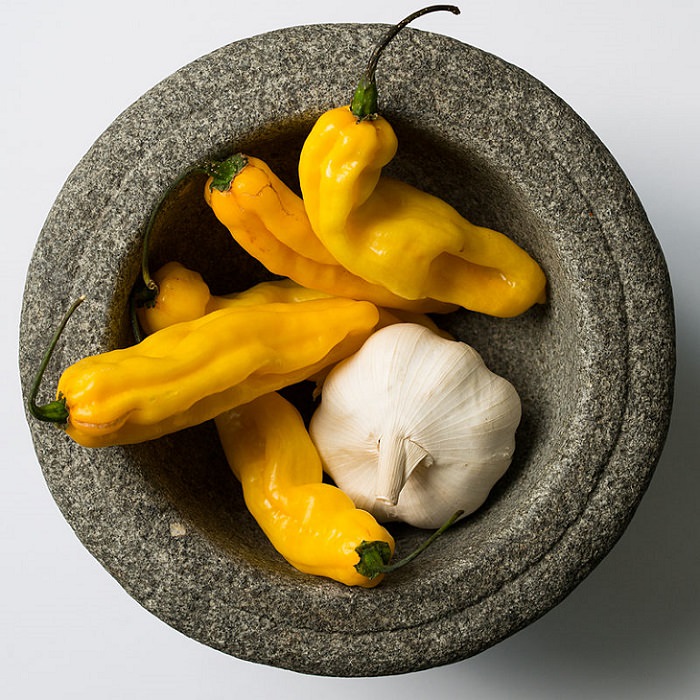 (By Takeaway, Wikimedia Commons)
This pepper originated in the South American country named Suriname and is believed to be named after, shall we say, a rather infamous working woman from Paramaribo, the capital city. They are now also an important part of certain Central American cuisines as well and can add heaps of spice to every bite.
Scoville Rating: 125,000 - 325,000 SHU
12. Fatalii Chilies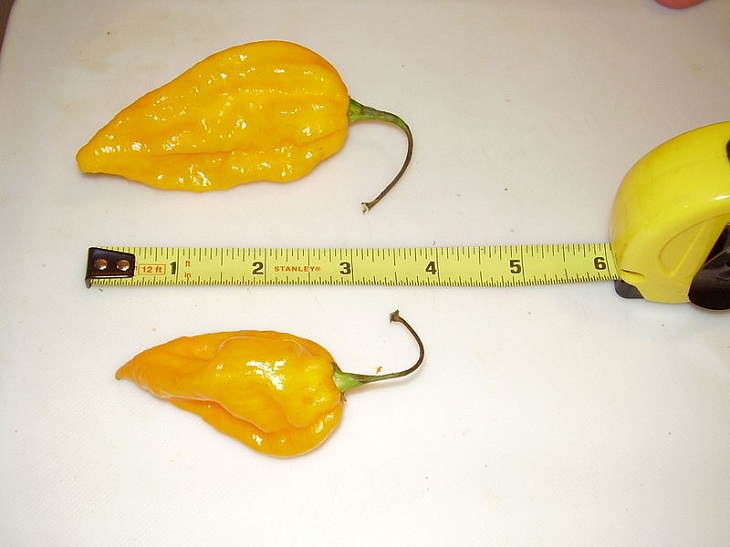 (By Steelerdon, Wikimedia Commons)
These bright yellow beauties are believed to have originated from South America, though they are now developed solely in South and Central Africa. This pepper is known for its unique flavor, which combines the fiery hotness of habaneros with a fruity citrus burst.
Scoville rating: 125,000 - 325,000 SHU
13. Aji Chombo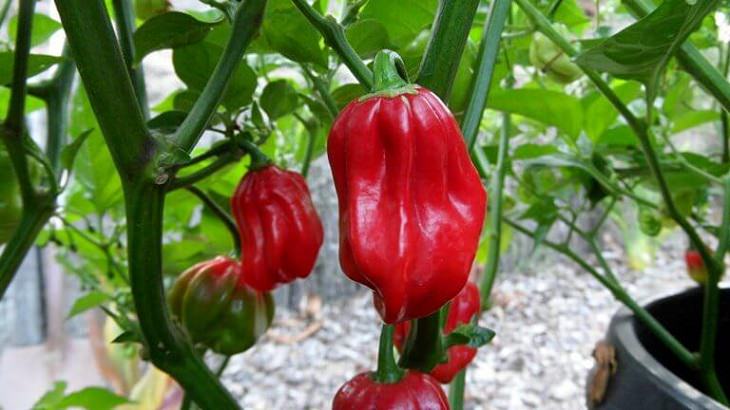 This pepper is also known as the Fiery Panamanian pepper and is extremely difficult to find in most places around the world except for its native place, Panama. The flavor of this pepper combines the red hot spiciness of habanero peppers with a sweetish flavor.
Scoville rating: 150,000 - 350,000 SHU
14. Sparkler Chili Pepper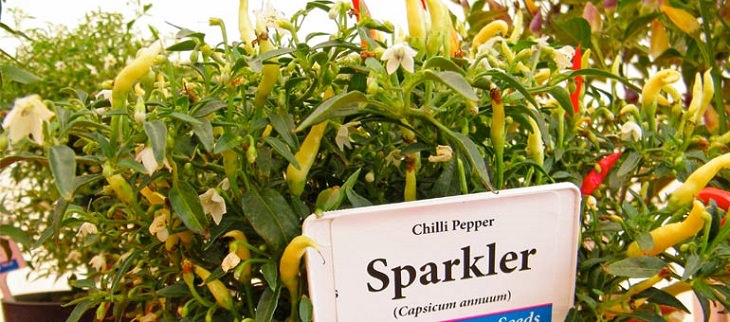 This chili is what can only be described as a wonderful mistake, created as an accidental cross by a chili production company based out of the UK. This pepper is another variety of Bird's Eye Pepper. These bright red peppers come from a bushy plant that makes an excellent addition to any garden or kitchen.
Scoville rating: 160,000 SHU
15. Mustard Habanero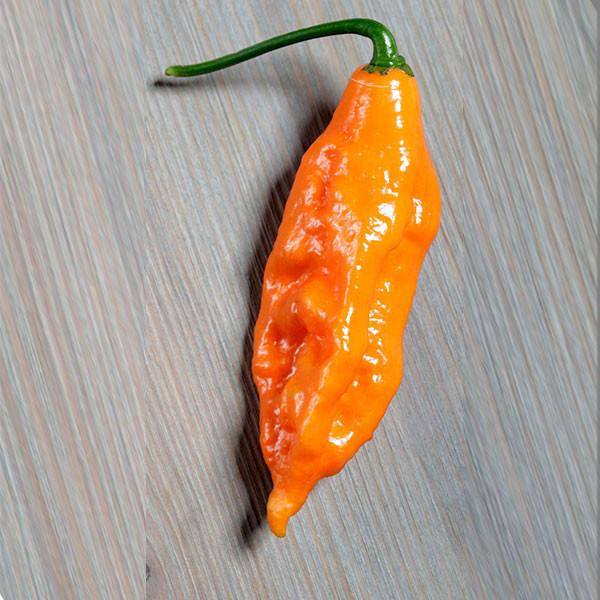 This pepper originates from China and, as it is a part of the capsicum family, is known by the botanical name Chinese Capsicum. In the initial stages of growth, this pepper is green in color before developing into a mustard yellow color, for which it is named.
Scoville Rating: 200,000 - 300,000 SHU
16. Zimbabwe Bird Chilli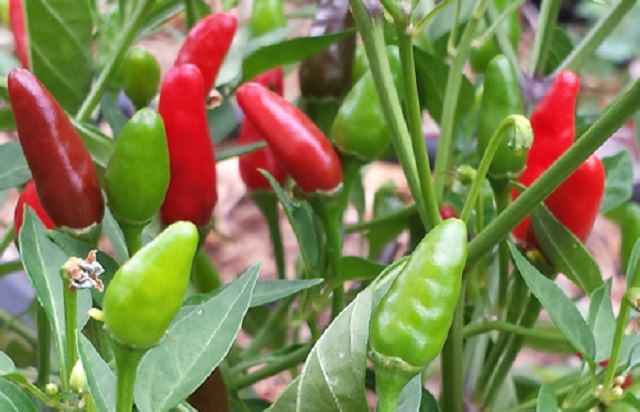 Originating from Zimbabwe, Africa, this chili is an oval-shaped bright red pepper. They are incredibly famous for their flavorful spiciness and are a major ingredient in the creation of the popular Piri Piri Chili dish. Despite being from Africa, this pepper is also commonly seen used in Portuguese Cuisine. The best way to enjoy this pepper is to dry it and grind it into a powder.
Scoville Rating: 200,000 - 350,000 SHU
17. Tiger Paw Pepper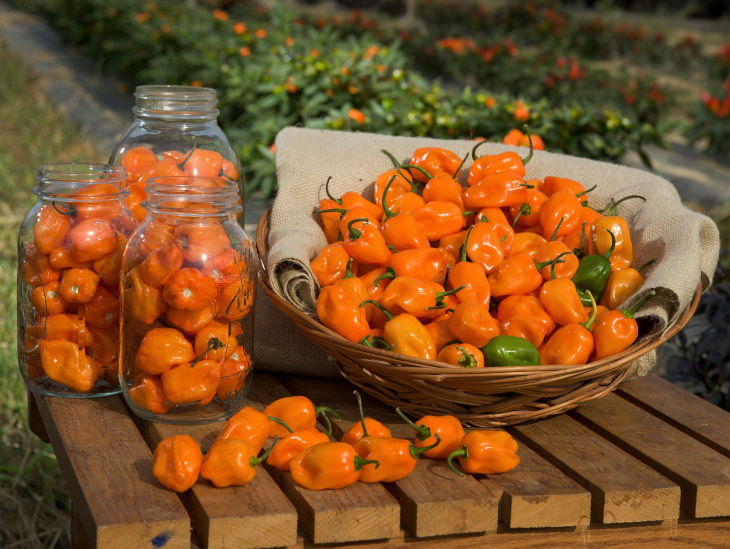 The Tiger Paw Pepper is one of the spiciest habanero peppers in the world ever developed. It was created by two scientists in Charleston, South Carolina, in the Agricultural Research Service and designed in a vegetable laboratory for increased spiciness. It was named after its unique appearance that the scientists found greatly resembled a tiger paw. This pepper is especially popular because of its high resistance to nematodes, worms that often found in habanero peppers.
Scoville Rating: 265,000 - 348,634 SHU
18. Big Sun Habanero Pepper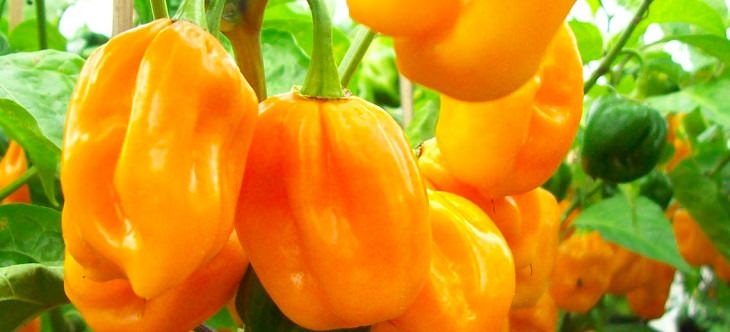 While this pepper was originally grown in fields of Central Africa, it is now produced successfully and in larger quantities in fields across the United States and Mexico. While it has some extreme spice levels, it is great for any foodie looking to add flavor to their meals. This pepper comes with an added burst of garlic, for extra deliciousness.
Scoville Rating: 300,000 - 325,000 SHU
19. Caribbean Red Habanero Pepper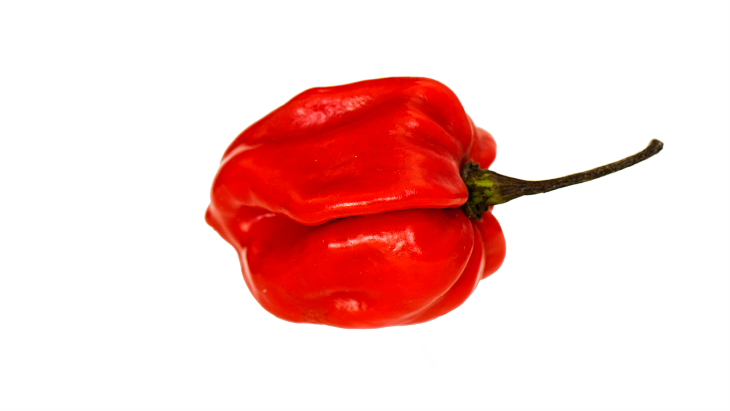 This pepper is also known as the Tropical Thunder pepper, and originate from Mexico. They bear the typical lantern-like shape that most habanero peppers have. They also have a similar smokey citrus flavor, though they are far spicier than the common orange habanero peppers. They are excellent for creating spicy sauces and hot salsa.
Scoville rating: 300,000 – 445,000 SHU
20. Devil's Tongue Pepper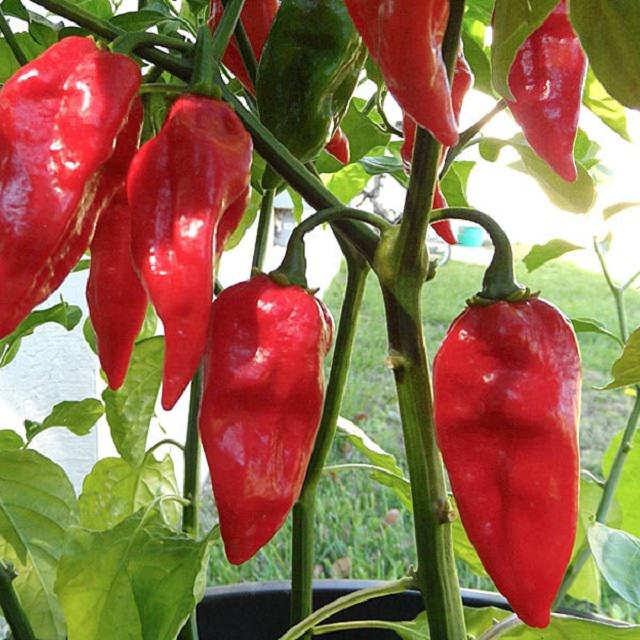 This pepper is very clearly named for its appearance and is also known as the Red Savina Pepper. It was selectively bred by one Mr. Frank Garcia of GNS Spices, a resident of California, to create an extraordinarily hot pepper.
Scoville rating: 350,000 - 577,000 SHU
21. Chocolate Habanero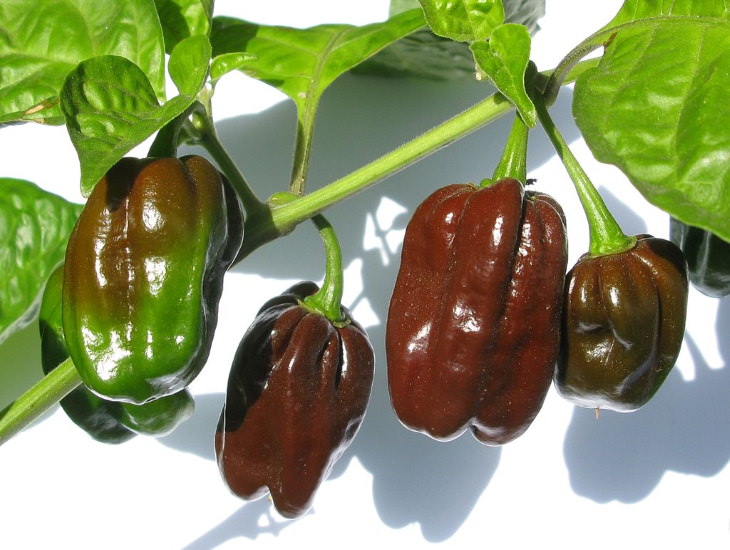 (By Jacopo Werther, Wikimedia Commons)
Yet another fantastic habanero pepper, courtesy of the Caribbeans. Named after the deep brown color of the peppers, though they are bright green in early stages, these chilies are hot spicy vegetables with a distinctive flavor that has now made them popular world over. Each country has named its own strain of this pepper accordingly, such as Jamaican hot chocolate and Senegal hot chocolate.
Scoville rating: 425,000 – 577,000 SHU
22. Nagabon Jolokia Pepper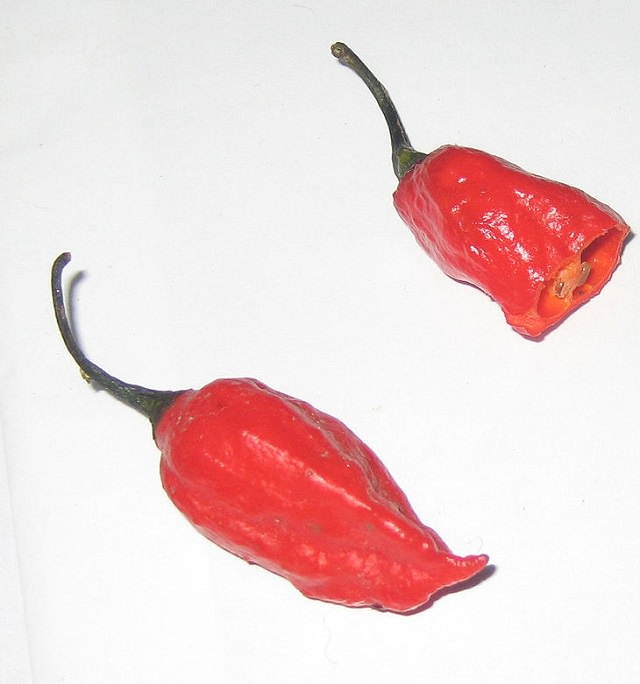 (By Gannon anjo, Wikimedia Commons)
These peppers resemble habanero peppers but are approximately three to four times hotter, so don't be fooled by appearances! It was first bred as a cross between numerous other spicy chilies, due to which it tends to have somewhat unstable characteristics. Believe it or not, it was bred by a scientist in England named Gerald Fowler.
Scoville Rating: 750,000 - 800,000 SHU
23. Bhut Jolokia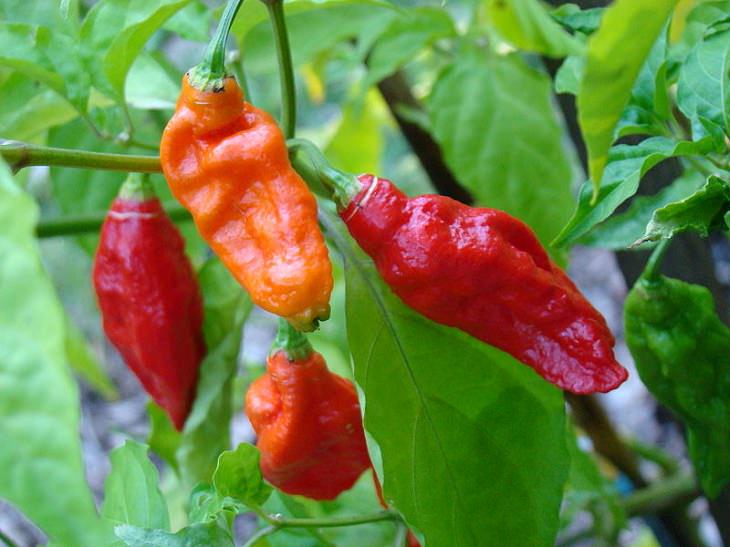 (By Asit K. ghosh Thaumaturgist, Wikimedia Commons)
This is most famous by its colloquial name, the ghost pepper. It is another pepper native to India that was created as a hybrid of many different types of peppers, including habanero and tabasco. This pepper is responsible for the creation of numerous fiery pickles, chutneys, and dishes.
Scoville rating : 800,000 - 1,000,000 SHU
24. Naga Morich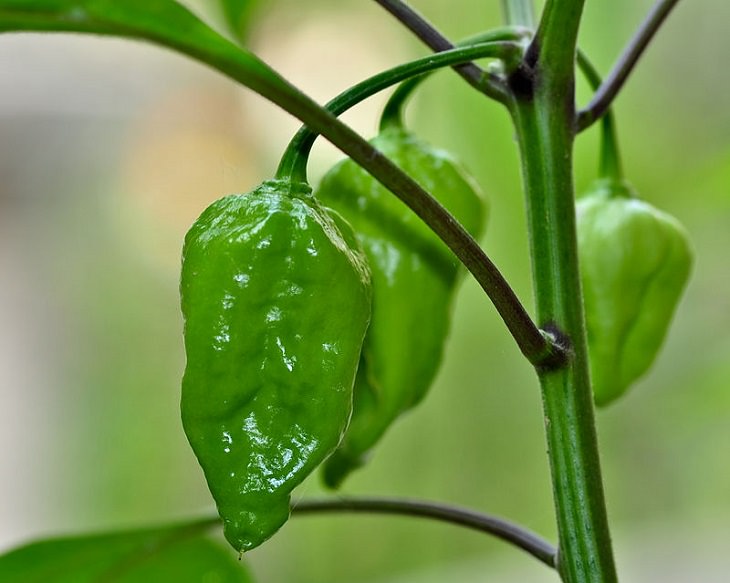 (By Balaram Mahalder, Wikimedia Commons)
This pepper is also known as the Dorset Naga and in Bengali, translates to "serpent chili". Commonly found in northern India and Bangladesh and are enjoyed as raw and unripe, while they are still green. Containing hints of fruity flavors like orange and pineapple, this pepper was specifically bred to reach new levels of heat and was the first pepper to break 1 million SHU.
Scoville Rating: 1,000,000 - 1,500,000 SHU