Meaty sausages, enveloped in a delicious crispy batter, soaked in an onion gravy sauce – what's not to like? This hearty meal will warm you up on even the coldest of days.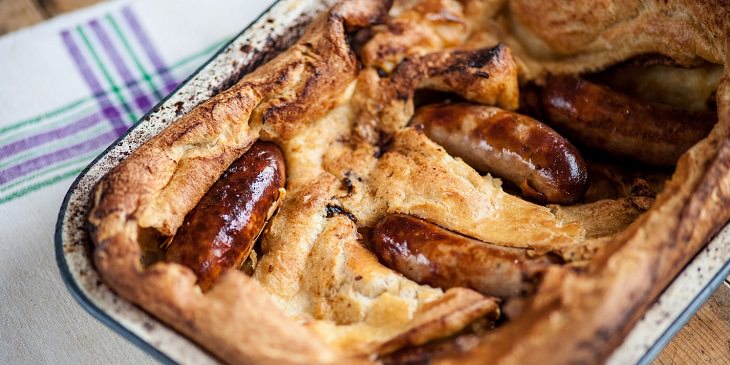 Toad in the Hole (Serves 6)
Ingredients
• 12 sausages, pricked with a fork
• 8 oz. plain flour
• 3 eggs
• 2/3 pint of milk
• 1 oz. duck fat
• 1 pinch nutmeg, freshly grated
• 1 pinch sugar
• 1 pinch salt and pepper
Directions
1. Sieve the flour, sugar, nutmeg, salt and pepper into a bowl.
2. Make a well in the middle and break in the three eggs.
3. Use a hand whisk to slowly incorporate the eggs and then, while you continue to whisk, slowly add the milk until the batter has the same consistency as double cream. Whisk thoroughly to ensure that there are no lumps in the flour. Place in the fridge for an hour.
4. Preheat the oven to 392F or 200C.
5. Place a roasting tin in the oven until it's scorching hot.
6. Add the duck fat and the sausages to the tin and return to the oven. Shake regularly until the sausages are colored all over and the fat is hot.
7. Take the batter out of the fridge and give it a quick whisk. Once the sausages are evenly-colored, remove the tray from the oven and pour the batter over the hot sausages.
8. Return the tin to the oven, and cook for 30-40 minutes, or until the batter is well-risen and golden. Serve with a tasty onion gravy.

Source: greatbritishchefs