Your web browser allows you to carry out the basic web browsing tasks you generally need while surfing the net. But if you're a keen internet user, you might require tools that help you browse more efficiently. Certain web tools could be what you need to enhance your browsing experience, making it faster and more organized. These tools are better known as browser extensions, and if you're not familiar with them, you're in for a treat.
There's an extensive choice of browser extensions out there, but we have brought together a collection of essential ones, complete with all the information you need to know about them, and a link to a page you can access to install each one to your browser.
Before going further, here are a few things you need to know about browser extensions:
You can integrate other services into your browser: some websites, such as Wikipedia, offer extensions in order to make their services more accessible to users. This means that if you've installed their extension on your browser, you don't need to visit the website every time you need the service - you can simply use the extension from your web browser as a shortcut.


You can add additional features to your browser: some tasks require a long time to run or manage, and your browser does not always offer the best solution on its own. Extensions may enable you to do more than your browser typically allows you to do - for example, you can make your own notes over web pages and save them using a relevant extension.


You don't need to pay: The most common extensions are free, which means you can install them instantly without having to pay a penny.


Pick carefully and moderately: Just as there are brilliant extensions, some may also be malicious or contain bugs. Extensions also take up memory (like any other software) so be sure not to load your browser with too many, otherwise they will slow it down.


Click on the icon of your web browser to learn about the best extensions it offers.
| | | | | | |
| --- | --- | --- | --- | --- | --- |
| | | | | | |
| Google Chrome | | Mozilla Firefox | | Internet Explorer | Safari |
Google Chrome
Found a hitch while browsing? Whatever it may be, Google Chrome has got you covered. This browser has the largest selection of extensions compared to other browsers. Check which extensions you already have by clicking on the Chrome menu on the browser toolbar, select Tools, followed by Extensions. Chrome will direct you to a page displaying all your present extensions. By clicking on Get more extensions, you will be taken to the Chrome Web Store, where you can view the whole range of extensions you can install.
Here are the top 9 extensions we thought you will love:
1. Hover Zoom+
Make browsing less strenuous with this terrific extension that allows you to hover over images, links or thumbnails to display a much larger version of the image that the link is leading to. From now on, you don't need to waste time clicking on images and waiting for them to load while browsing, simply use Hover Zoom to make life easier.
2. LastPass
Are you always forgetting passwords for your different online accounts? This extension provides a brilliant solution for this problem by saving your passwords and enabling you to have secure access from every computer and mobile device. Reduce numerous passwords to just one with LastPass.
3. Flair Player
Enliven your browsing time by adding some music. The Flair Player Online Radio doesn't only offer a radio service with a range of stations, but also allows you to search for songs or artists of your choice, mark your favorite music, share it on Facebook, and more.
4. Pocket
When you're browsing the web, you probably come across articles, recipes, videos, and other material that you want to save for later. From now on, you can save your favorite web pages using Pocket. Your saved material can be viewed online as well as offline, from any of your devices, at any time.
5. Google Dictionary
Your dictionary is now more handy than ever with the brilliant Google Dictionary. This extension can display the definition of any word you select in a little pop-up bubble on your active page. This saves you from having to open other tabs each time. The traditional dictionary you know has now been reduced to just a click!
Google Dictionary is available in several languages.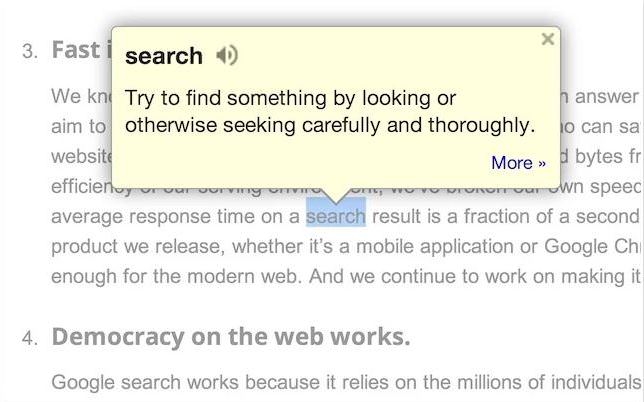 6. Minimalist for Everything
When browsing or reading emails, you can easily be distracted by things such as toolbars and notifications, which make your pages look disorderly. Give your pages a cleaner look by using the Minimalist for Everything extension, which slims down the web to make it look simpler.
7. Lazarus
Have you ever been writing up a form or some content online and lost everything when your computer ran out of power? Say goodbye to this annoyance by adding Lazarus to your browser. You'll get a backup of your online work whenever something unexpected happens thanks to this irreplaceable problem solver.
8. TunnelBear
If you live in a region or country where web content is often blocked, this extension can change your life. TunnelBear lets you route your internet traffic from any country you like, so you can finally stream the videos and movies you were never able to see. You're allowed 500MB free data per month, but you can pay $4.99 a month for an unlimited plan.
9. Jot
If you spend lots of time browsing, you will likely pick up some ideas along the way, or find yourself reminded of something you need to do later. Jot is the perfect extension to have running, since it enables you to create a to-do list and take instant notes, and save them. It also comes in large fonts and fantastic scenic backgrounds you'll definitely love.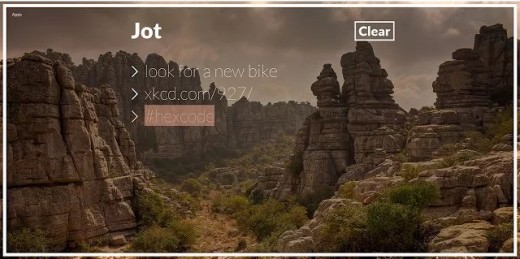 Mozilla Firefox
Firefox offers an array of features you can add to your browser, which will take your experience to the next level. Some of these are definitely must-haves, but first make sure you know how to install and manage extensions on this browser. The following video clearly demonstrates this in a few easy steps. Find all available Firefox extensions and add-ons on their website.
Here are the 9 most recommended Firefox extensions:
1. Imagus

Save time and tabs when viewing images on the web with Imagus. This priceless extension is able to display an enlarged version of any thumbnail image you hover over, so you can view it quickly without having to go into a new web page.
2. Tab Colors
Visually organize your tabs better when using Firefox by installing Tab Colors. Assign colors to your tabs in order to categorize them into different tasks, so that it's easier for you to identify them. It's the type of extension you'll wish you'd known about sooner.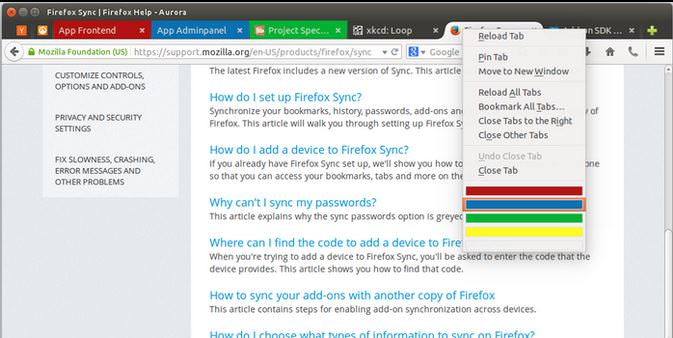 3. Fokus
When you share web pages, you might sometimes want to show the recipient a selected part of an article rather than the whole thing. Highlight what is most important to you by using Fokus. This extension enables you to put a translucent black cover over the page, except for the part you select, so it stands out. It gives super neat results, making it great for presentations and screen sharing.
4. Profilist
If you frequently share electronic devices with a friend or family member, you might find logging in and out of online accounts tiring and annoying. Luckily for you, Profilist enables you to save several profiles, and allows for a smooth switch between one and another, without the requirement to log in and out.
5. LastPass
Having several online accounts also means having a lot of different passwords to remember. The award-winning extension LastPass saves all your passwords and narrows down your list of passwords to just one - the one you need to log into LastPass. It's secure and can be accessed from any of your devices, to make it all the more convenient.
6. Evernote Web Clipper
The brilliant Evernote Web Clipper is the ultimate extension you've always wanted. It allows you to scribble over web pages, take notes, add arrows, highlight important sections, and if that wasn't enough, you can make the information available for later, or save it as PDF. You can even simplify the look of a web page to make it easier to read.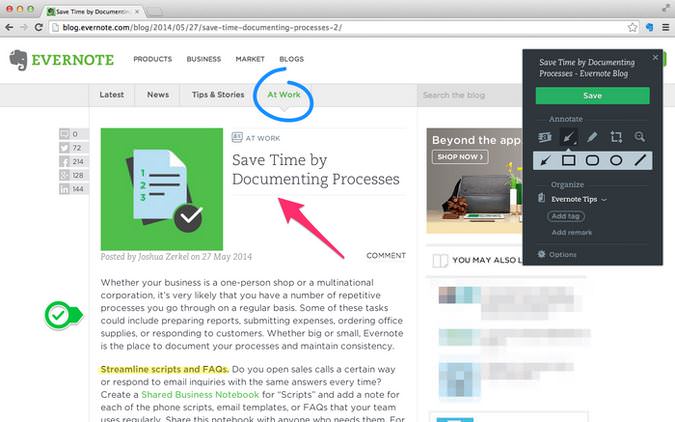 7. NoSquint
Some web pages are just too difficult to read through because of certain font sizes and colors. With NoSquint, you can adjust the look of these web pages to make them easier on your eyes, by modifying text and background colors and text sizes. Install this and you won't need to squint any longer while reading.
8. Dictionary Pop-Up by Dictionary.com
Your dictionary will become ten times easier to use with the reliable Dictionary Pop-Up by Dictionary.com. From now on, all you need to do to access the dictionary is click on the word and a pop-up with its definition will become available to you immediately, without you having to leave the active page. Dictionaries certainly don't get any better than this!
9. Text-to-Voice
If you find it particularly strenuous to read from a screen, use the Text-to-Voice extension to have your content read out to you. This is a great tool for the visually impaired, or for individuals who have eyesight problems. Simply select the desired text and Firefox will read it out loud for you. You can even save the audio for later.
Internet Explorer
As a browser, Internet Explorer has several built-in features that make it great for browsing, however it also offers the choice of adding more. On its website, Internet Explorer users are offered some useful add-ons that can enhance the browser's features. The following video demonstrates an example of how an add-on (featured in the list below) can be installed into your browser.
Here are the 9 best Internet Explorer add-ons:
1. Define with Wikipedia
Wikipedia is an online encyclopedia many of us use frequently to acquire information about pretty much anything. To make your process of searching on Wikipedia faster, use Define with Wikipedia. All you need to do is select the word you are curious about and use the accelerator to open up a new tab with the search result for that word on Wikipedia.
Learn more about this on this video.
2. Microsoft Translator
Translating text can be much easier if you use this great feature. Microsoft Translator enables you to translate any text you come across on the web into the language you desire. There's no need to open up new windows or tabs to do the translation, Internet Explorer will do it for you. Use the link below to find the add-on - you will need to search for 'Translator' in the search box.
3. Speckie
Take your spellchecker online by installing Speckie to ensure that anything you post online is flawless. This add-on will underline misspelled words and display spelling suggestions to fix your mistakes. It works on every website, so you can use Speckie wherever you go.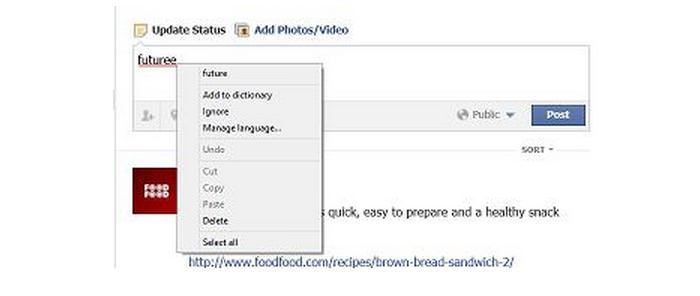 4. Parental Control Bar
If you have kids using your computer, make sure you shield them from explicit content. Control what they can and cannot see by installing Parental Control Bar into your browser. By activating this add-on, you will be able to block access to web pages unsuitable for children by means of a password of your choosing.
5. The Free Dictionary
Searching for word definitions while browsing often means opening up more tabs, and that often becomes confusing or slows your internet down. If you download The Free Dictionary add-on for Internet Explorer, you can guarantee a faster way of doing this. All you have to do is click on the word and the add-on will display the definition instantly.
6. Ebay
This extension allows you to easily access Ebay while browsing. If you come across a product you'd like to search for on Ebay, use this accelerator to avoid having to open new tabs. Simply select the word(s) and use the add-on button for quick Ebay search results. Use the link below to find the add-on. You will need to search for 'Ebay' in the search box.
7. LastPass
When you have a long list of passwords for various online accounts to remember, it's easy to forget one or all of them. LastPass has the safest solution - it can save all your passwords so that you only need to remember one. You can access LastPass from any of your devices, so you can literally rely on it wherever you are.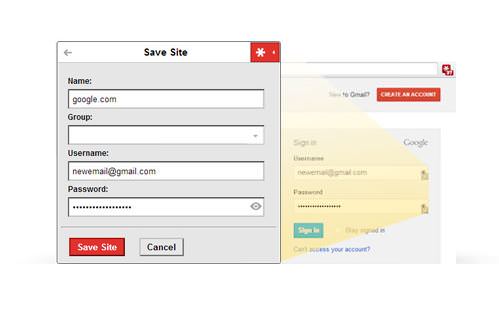 8. XMarks
We often save web pages in our Favorites and later find it difficult to access them from other devices. XMarks allows you to synchronize your Favorites across multiple platforms (including your smart phone). Using this, you can guarantee a more portable way of storing your favorite pages, making them accessible from anywhere you may be.
9. Internet Explorer's Pinned Sites
Apart from the range of extensions it offers, Internet Explorer makes use of a feature called Pinned Sites. When you pin a site, such as Facebook or Gmail, you can receive notifications from your account to the Windows taskbar (when you get a new email or message for example). The browser also adapts itself to the branding of the particular site to give you a more specialized look. There are several Pinned Sites you can choose from.
Safari
If you use Safari as a web browser, you might want to increase its functionality by adding some extensions. These extensions can help you carry out specific tasks that Safari alone can't really help you with. On Safari's website, you can find many extensions and a wide selection of tools available for installation. The following video will show you how to install and use these extensions in a few easy steps.
Here are 9 great extensions for Safari we highly recommend:
1. SafariRestore
If your browser crashes often or you've accidentally closed all of your tabs, this extension is for you. With SafariRestore, you can restore all the tabs you had open before you unexpectedly lost them. When you reopen them using SafariRestore, they will be the same as they were when you last saw them, saving you from a huge amount of frustration.
2. AutoPagerize
When running through search results on any search engine or website, it can be rather tedious to have to click on Next each time you get to the end of the page. Say goodbye to this with AutoPagerize, an extension allows you to view all search results on one page, so all you have to do is scroll down.

3. LastPass
Have you got too many different passwords to remember for your online accounts? Avoid forgetting them by using LastPass. This extension securely saves all your passwords and substitutes them with just one - the one you need to log into LastPass. You can, of course, access your account from any of your devices. It's a fantastic extension, which ensures you never have to worry about forgotten passwords again.
4. Translate
Eliminate language barriers by using this translation extension. Translate allows you to translate the content of your active page into a language of your choice. This can be done on the same page, or in a separate tab or window. It's ideal for use on foreign websites, or when you want to make content more shareable.
5. Evernote Web Clipper
The extension you've always dreamed of is finally here. Evernote Web Clipper enables you to privately highlight, mark and add text and shapes to any web page, and save it for offline reading, or sharing. Its wide range of features make Evernote a must-have add on for your Safari browser.
Learn more about the Evernote extension in this video.
6. WOT
It's not always easy to tell whether a web page is trustworthy or not when you're browsing the internet, but WOT (Web of Trust) will give you some peace of mind. It allows you to view reputation ratings gathered from other users before you even enter the web page, reducing the chances of you entering an unsafe site.
7. Widgets Bar
Make sure you have some handy information available while browsing, by installing Safari's Widgets Bar. It allows you to view weather updates and displays the time and date at all times. You don't need to enter any extra pages to see this information, because the extension adds it to a toolbar that remains visible on any page you visit.

8. Incognito
As you probably know, your online activity is constantly being tracked by websites and major companies, such as Google and Facebook, so they can personalize adverts according to your habits. By using Incognito, you can stop these websites from tracking you, giving you greater privacy while you're using the internet.
9. Pocket
Pocket is a simple but practical extension that allows you to save your favorite web pages for later, by storing them so that they are available on all your devices. This means you can access your saved recipes, videos, blogs, and favorite content from anywhere at any time, even offline!
Do you have any extensions you can't live without?
Tell us in the comments section below.