Our world is a diverse and beautiful place. What makes it even more amazing are the innumerable languages spoken by different cultures around the planet. You would be surprised to know, perhaps, that roughly 6,500 languages are spoken in the world today! And most of us tend to speak only about one or two different languages.
Now, we know that languages are doorways to new cultures and help us connect with people from different places around the world. But learning a new language has other advantages as well. For instance, did you know that speaking a second language helps improve your focus? According to a study in the journal Brain and Language, speaking multiple languages routinely exercises the brain. Another study published in the Journal of Experimental Child Psychology states that being bilingual helps develop your working memory. Also, research from the University of Edinburgh suggests that people who speak more than one language have better cognitive abilities.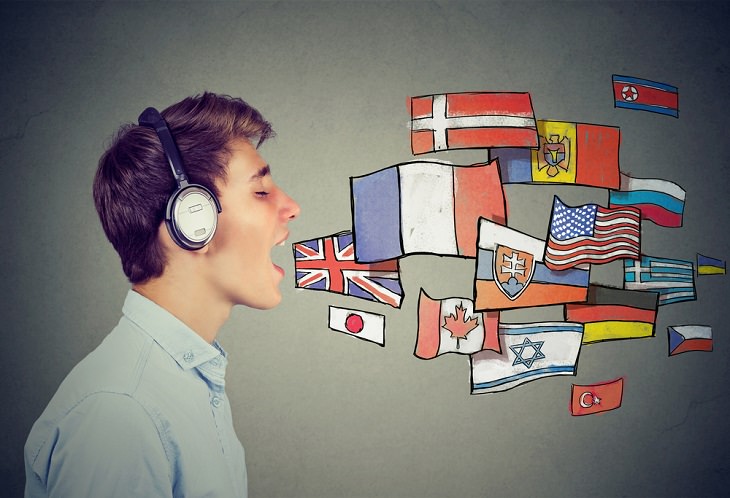 So, as you can see, the benefits of learning a new language are numerous. That being said, doing so might appear daunting at first. After all, not all of us have the time or resources to attend classes, especially not now. But worry not! We present to you a list of 7 great websites for learning new languages for free. Check them out right away...
Related: These Little-Known Websites Will Make Your Life Easier
1. Duolingo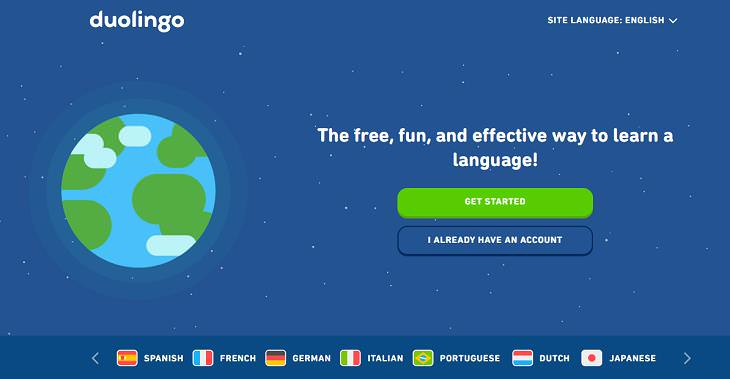 'Duolingo' is one of the most well-known free language learning platforms out there today. This online medium is creative and addictive, as it uses a game-like approach to make learning new languages fun. All you have to do to get started is create a profile or launch a beginner's course. And if you know the basics of the language you want to know more about, you can take a test to move into an advanced lesson.
At the time of writing, 'Duolingo' offers 20 language courses available for English speakers, including Spanish, French, German, Italian, Portuguese, Dutch, Swedish, Russian, and more. The languages are taught through tasks that include a mix of reading, writing, listening, and speaking. There's also an "immersion" section on the website that provides terrific reading materials.
The best feature of Duolingo is that it motivates you to learn a language by making the process fun and interactive. What's more, this free service promises that it will be free forever.
Spanish, French, German, Italian, Portuguese, Dutch, Swedish, Russian, Irish, Turkish, Danish, Norwegian, Polish, Esperanto, Ukrainian, Welsh, Hebrew, Vietnamese, Hungarian, and Greek.
2. Memrise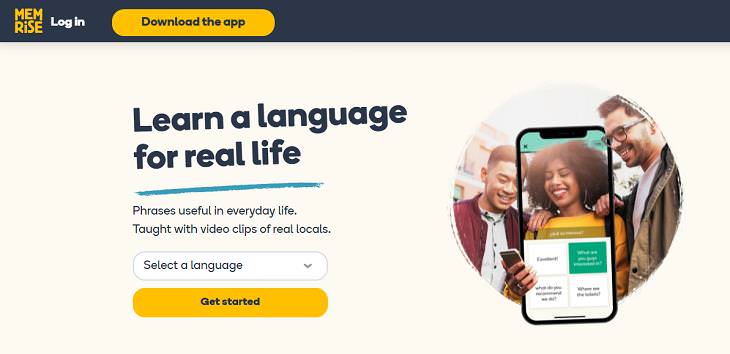 'Memrise' is a free learning platform having 200+ language courses. The website has a team of in-house linguists that create lessons around languages you can use. These include practical phrases taught and designed by native speakers that will help you get familiarized with accents, voices, and the culture of that language. This might also come in quite handy if you travel to a foreign country. But their biggest draw is the thousands of video clips they offer as examples of language used in real life.
'Memrise' also uses excellent gamified tests that train your language skills where users are awarded points as they learn. Lastly, you can even use their "mems" to make mnemonic devices that enable you to remember the new words more easily.
French, German, Spanish (Spain), Spanish (Mexico), Arabic, Turkish, Japanese, Dutch, Korean, Swedish, Portuguese (Portugal), Portuguese (Brazil), Norwegian, Polish, Russian, Danish, Icelandic, Mongolian, and Slovenian.
3. Busuu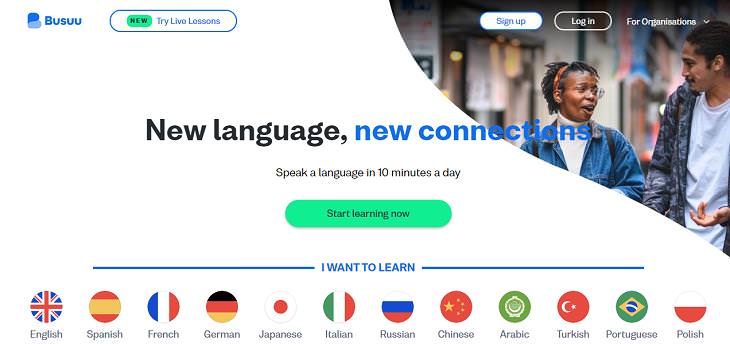 'Busuu' is another popular language learning tool that boasts of a global online language learning community of 60 million users from around the world. While not all of its features are free, the ones that are will be good enough for a beginner looking to get a grasp on a new language. Some of its free features include reading, writing, speaking, and listening lessons. The courses are well-developed with a concrete approach to language learning. Moreover, you will get to be a part of a community that allows you to learn languages from others.
English, Spanish, French, German, Italian, Portuguese, Chinese, Japanese, Polish, Turkish, Russian, and Arabic.
4. Learn a Language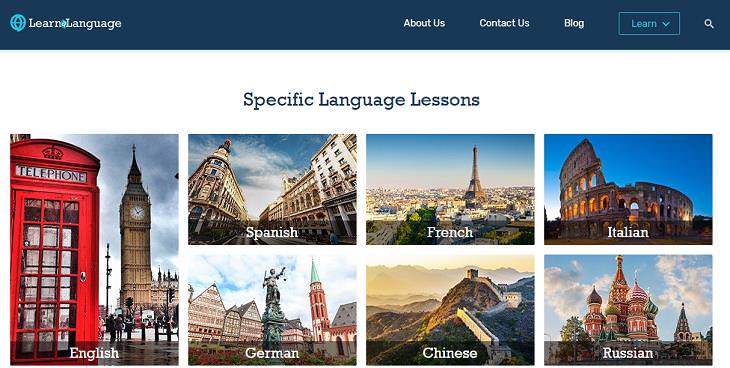 'Learn a Language' is a fun platform for everyday language learners. It's simple, easy to use, and pretty interactive. Just select the specific language lessons you are interested in from the front page and get started. For each language, there's a dictionary, words, verbs, phrases, and even a culture section. Most languages have several short and easy lessons you can access for free. 'Learn a Language' also offers users to speak to native speakers on any topic they want.
Spanish, French, Italian, German, Chinese, Russian, Arabic, Portuguese, Swedish, Hebrew, Latin, Greek, Turkish, Norwegian, Danish, Korean, Dutch, and Japanese.
5. 123 Teach Me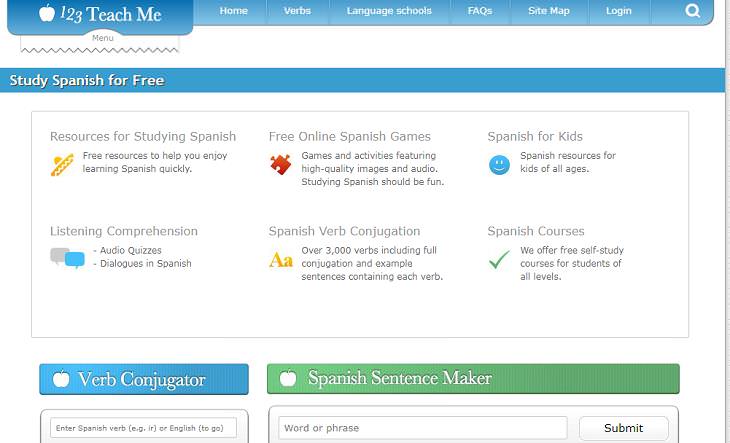 If you're specifically looking to learn Spanish, then look no further than '123 Teach Me'. It's a great online resource with free Spanish lessons, and it is super easy to navigate. Apart from the lessons, the website also has features like Verb Conjugator, Spanish Sentence Maker, and cool games to help you properly master the language. The best part of '123 Teach Me' is that you can start wherever you like and don't have to log in to begin every time.
6. Open Culture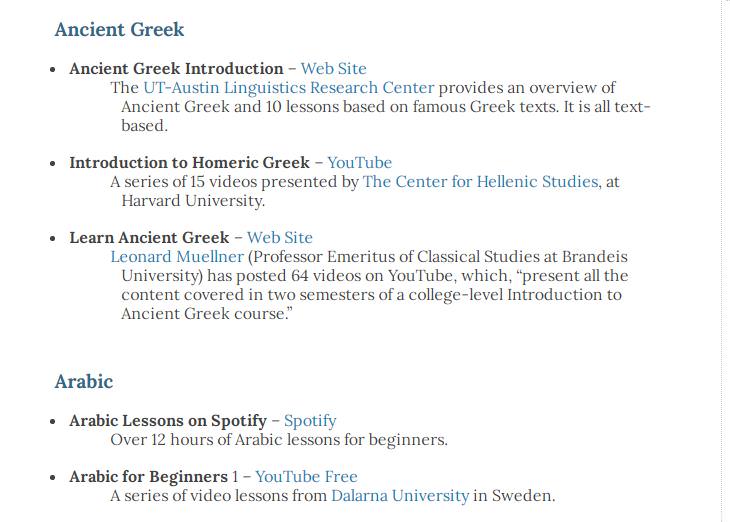 'Open Culture' is a unique online tool that features lessons in 48 languages, including Spanish, French, English, Mandarin, Hindi, Chinese, Italian, Russian, and many more. It's different because the portal offers free language course downloads where you have options of getting audio lessons to your computer or mp3 player and can listen to them at your convenience. Many of the listed languages also have links to YouTube sessions and PDF transcripts, along with audio lessons.
Another thing that stands out about the site is that it provides lessons in less common languages like Catalan, Frisian, Swahili, Icelandic, and even Maori (the language of New Zealand's indigenous people).
Open Culture currently offers 48 language courses from Spanish and French to Arabic and Indonesian.
7. RhinoSpike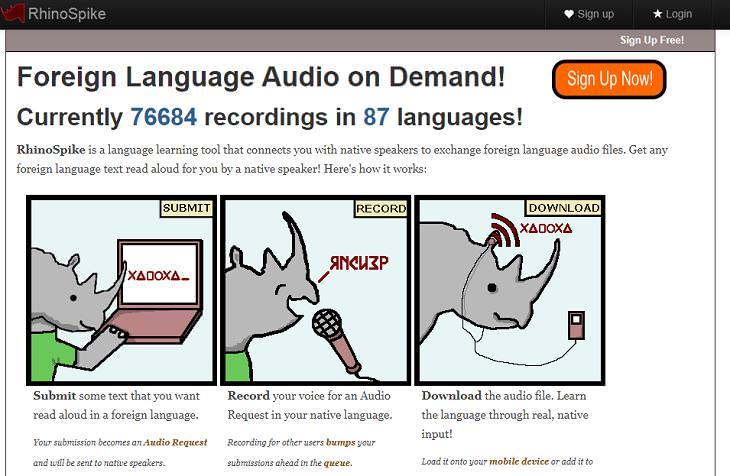 'RhinoSpike' is a great online language learning tool that connects you with native speakers to exchange foreign language audio files. Currently, the website contains a whopping 76,684 recordings in 87 languages.
So how does the site work? Basically, it lets you submit a text in a foreign language and request it to be read by a native speaker. In return, you can record and upload your voice for an audio request in your native language. You can request anything from a word to a block of text (a letter, a sentence, or even an article) of your target language from a native speaker. This will enable you to get a quick grasp of the basics of the language. Furthermore, you can also request a transcription of an audio file (or YouTube video) and can download it to your device.
The primary goal of RhinoSpike is to help users learn a language through native input. It's a nice resource for practicing reading and listening at the same time. The audio recordings of the native speakers also make sure that you pronounce everything correctly.
Languages Available:
RhinoSpike currently offers recordings in 87 languages that range from Japanese, Russian, and German, to Portuguese, Vietnamese, and Romanian.
Check Out RhinoSpike
Share these useful websites with your friends and family...