1. Mark Twain is one of the most misquoted authors in history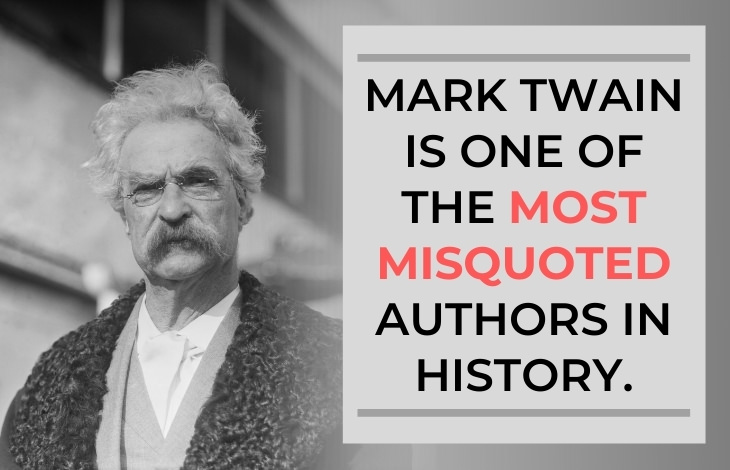 When you're the author of the first great American novel and famous for your witticisms and quotes, you're bound to eventually become the most misquoted authors in history. That is exactly the case with Mark Twain, who has been attributed dozens of quotes he didn't actually say.
One of such quotes is the famous saying, "I have never killed a man, but I have read many obituaries with great pleasure." According to Quote Investigator, this quote actually belongs to the famous lawyer Clarence Darrow, which makes perfect sense. Luckily, there are still plenty of excellent Mark Twain quotes he had actually coined, take a look at this collection - The Best of Mark Twain's Quotes.
2. The great author's formal education was limited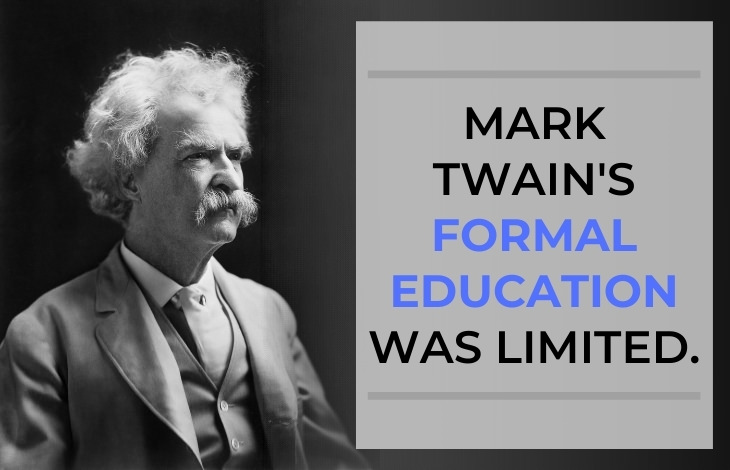 Mark Twain was a great advocate for self-education, a trait he likely inherited from his father, John Marshall Clemens, a self-taught lawyer and justice of the peace in Hannibal, Missouri. Unfortunately, Twain's father perished when the author to be was just an 11-year-old boy, and this put the family under serious financial strain. In 1848, just one year after his father's death, young Samuel Clemens started working as an apprentice printer at a newspaper.
He did not give up on his own education, however, and just a few years later he already penned a few short publications in his older brother's newspaper. Mark Twain was adamant about reading and sitting in libraries as a child to expand his knowledge about the world, and this keen interest in everything around him continued throughout his life, even as he worked as a miner or a steamboat pilot on the Mississippi.
3. At one point in his life, the author had 19 cats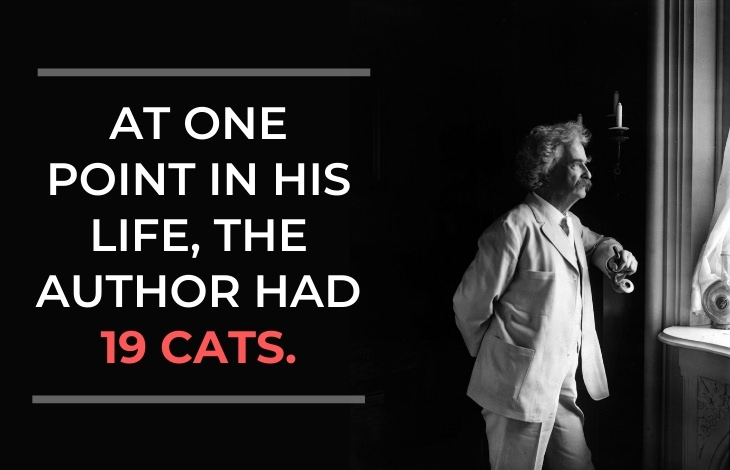 Mark Twain was a real cat person, and he actually thought very highly of felines, much higher than of humans, in fact. He is quoted as saying, for example, "If man could be crossed with the cat, it would improve man, but it would deteriorate the cat." At one point in his life, Clemens had 19 cats in his home. Throughout his travels, he was even known for "renting" cats to keep him company.
4. Mark Twain's big break was a story he actually heard at a bar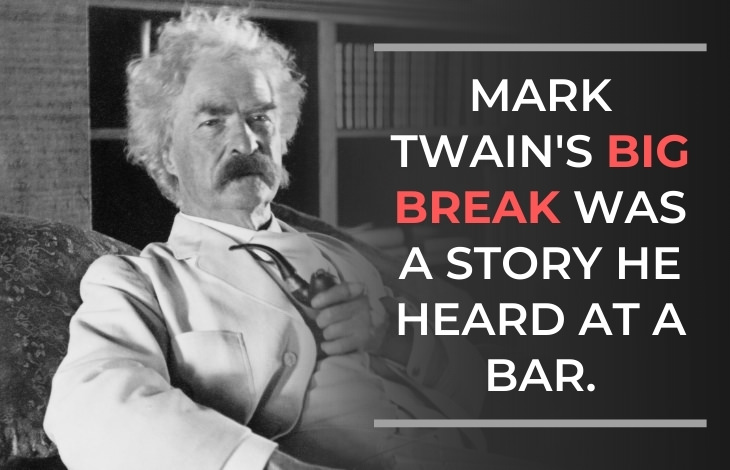 As he was traveling through California in 1864 as a gold prospector, Clemens stayed at the Angels Hotel in Angels Camp, Calaveras County. One day, he overheard the bartender telling an unbelievable story about a frog-jumping contest, which became the inspiration for the short story that would become his big break - The Celebrated Jumping Frog of Calaveras County. In 1865, the incredible tale was published in The New York Saturday Press and received acclaim across the nation.
5. Writing 'The Adventures of Huckleberry Finn' took 7 years of work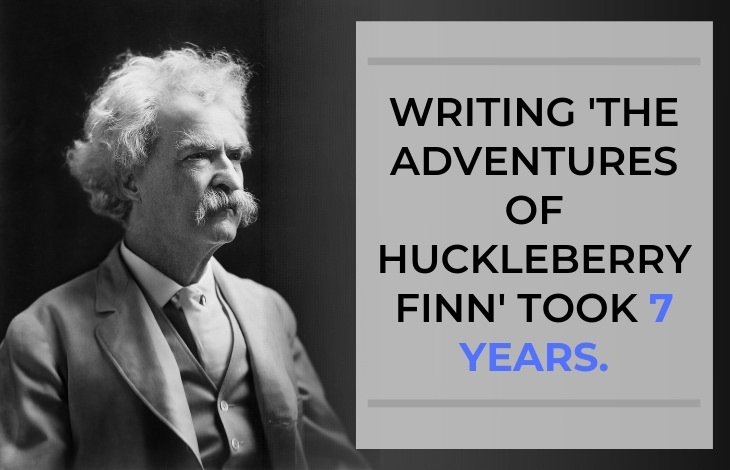 The Adventures of Huckleberry Finn is considered to be the first great American novel, but writing the masterpiece was no smooth ride. In fact, Clemens started writing the novel in 1876, but it didn't go well at first and he ended up shelving the piece for several years. After a new burst of inspiration years after, he returned to the manuscript and ultimately finished the novel in 1883.
6. Mark Twain and Nikola Tesla were good friends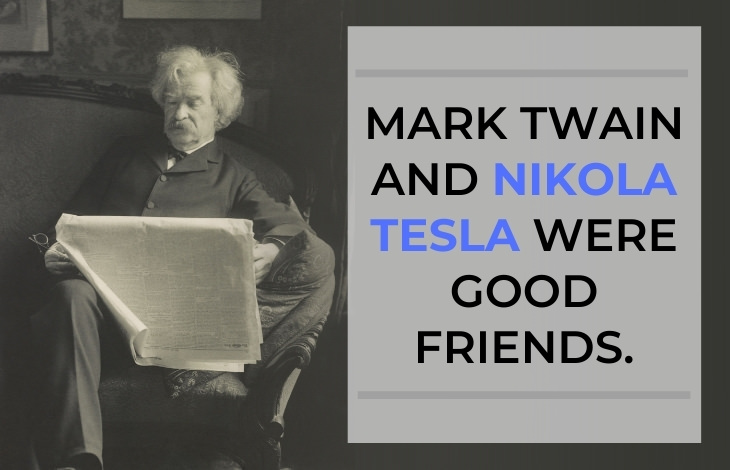 Mark Twain loved hanging around and meeting other great minds of the era. For example, he was filmed in his own home in 1909 by Thomas Edison and had also known Alexander Graham Bell. One of the closest friendly relationships Twain had was with no other but visionary inventor Nikola Tesla. Mark Twain spent hours hanging out with the famous innovator as he worked in the lab.
7. Mark Twain's white suit was his signature style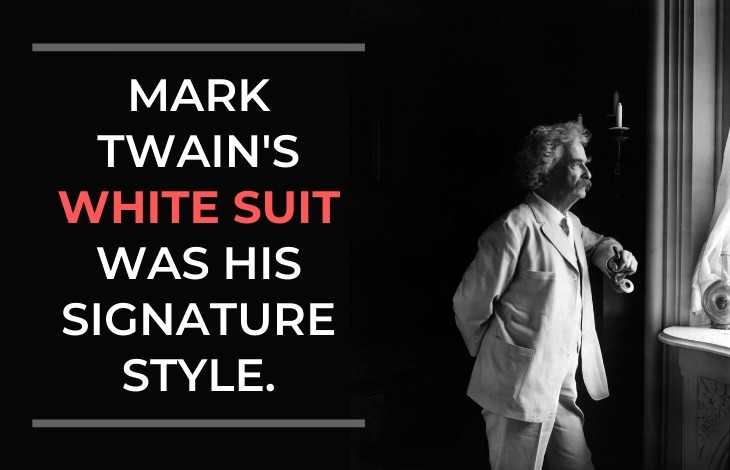 Although the author only started this habit later in his life, he is well-known for his signature look - a white suit and a pipe. This was a real statement, as in the past, wearing an all-white suit was only appropriate during the warm months and only on some occasions. So, Twain flaunting a white suit year-round and even on formal occasions like an appearance in Congress was quite edgy and rebellious. At some point, Twain even called his signature look the "dontcareadam" suit, which really shows you his attitude towards fashion and clothing.
8. The author accurately predicted his own death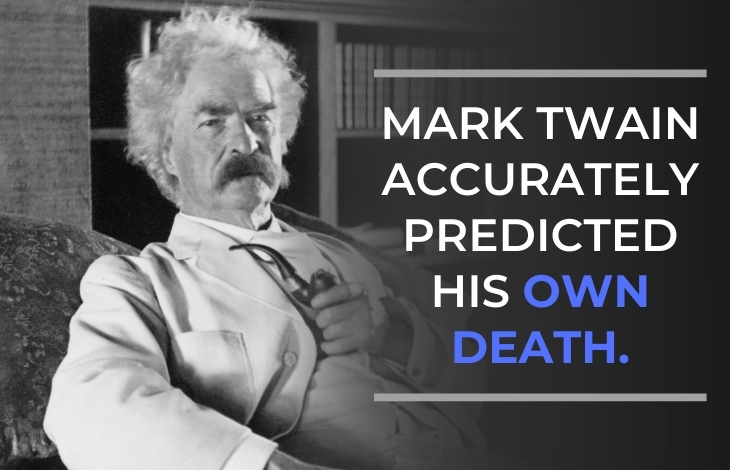 Probably one of the most fascinating details about Mark Twain's life is the fact that he accurately predicted the day he would pass away. As he wrote in 1909, "I came in with Halley's Comet in 1835. It is coming again next year, and I expect to go out with it. It will be the greatest disappointment of my life if I don't go out with Halley's Comet. The Almighty has said, no doubt: 'Now here are these two unaccountable freaks; they came in together, they must go out together.' Oh, I am looking forward to that." To everyone's great surprise but his own, the great author passed away in his Connecticut home just on the day the comet appeared in the sky, on April 21, 1910.
9. The pen name 'Mark Twain' is actually a nautical reference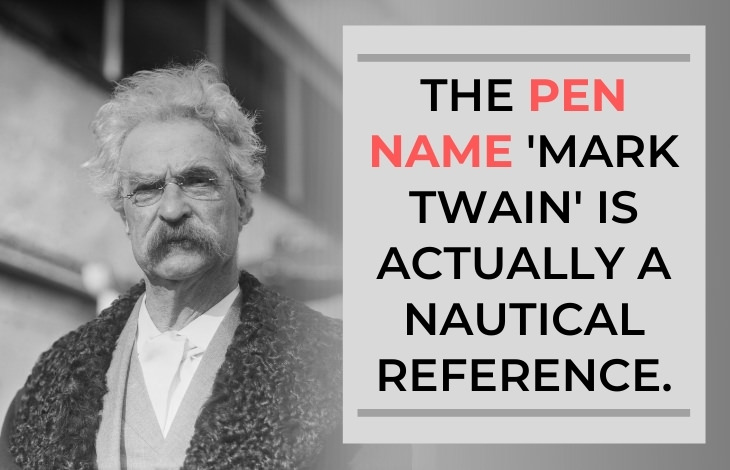 For years, Samuel Clemens had difficulty finding a good pen name. None of the aliases he used stuck, and he tried quite a few - Sergeant Fathom, Thomas Jefferson Snodgrass, or just Josh. Clemens ultimately settled on Mark Twain, which is boating jargon for 'two fathoms (12 feet) deep'. Nautical themes and references were quite prominent in his life, as Samuel Clemens was working as a steamboat pilot on the Mississippi River for 4 years until the beginning of the Civil War in 1861, which halted commerce.
10. The famous American author left no direct descendants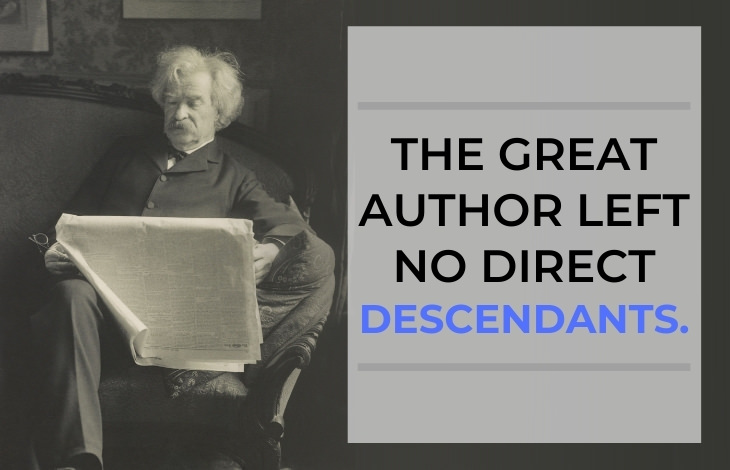 Mark Twain had four children - three girls and one boy - with his wife Olivia Langdon, whom he married in 1870. Unfortunately, their son died as a toddler, and two of their daughters also passed away in their 20s. Their only surviving child, Clara Clemens, passed away at age 88 in 1962, and she had only one daughter, Nina Gabrilowitsch. Nina didn't have any children and she sadly also passed in 1966, so at present, no direct descendants of the great author remain.
Share these facts about Mark Twain with others!