If you enjoy pasta with meatballs, you'll love this Italian meatloaf recipe. After all, it's essentially a giant meatball with marinara sauce. The advantage of the meatloaf is, however, that it's much quicker to prepare, as you'll be saving a lot of time you'd otherwise spend on rolling the meatballs.
Prep Time
1 hour and 20 minutes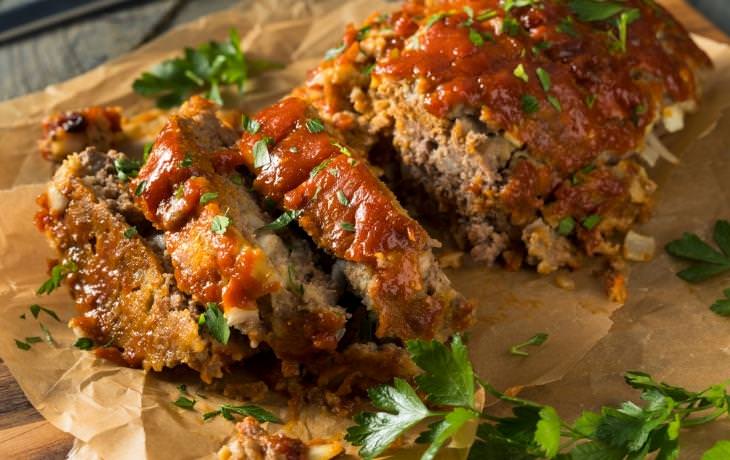 Ingredients for Italian Meatloaf:
Method of preparing the Italian Meatloaf:
Preheat the oven to 375°F (180°C).

Fit a food processor with the blade attachment and grind the sandwich bread into breadcrumbs. Pour the breadcrumbs into a large bowl.

In the food processor, combine the onion, celery, carrot, garlic, and 2 tbsp of chopped parsley until smooth. Transfer the chopped veggies to the bowl with the bread crumbs.

To the same bowl, add the grated Parmesan, ground beef and pork, egg, Worcestershire sauce, 1/4 cup of the pasta sauce, Italian seasoning, pepper flakes, salt, and pepper. Stir until smooth and mold into a 6x13-inch meatloaf in a baking dish.

Bake the meatloaf for 50 minutes to 1 hour, or until the internal temperature of the meatloaf register 165ºF (75ºC).

Remove the meatloaf from the oven. Drain any excess juices and fat from the baking dish.

Meanwhile, turn the oven to the broiler setting and switch to high.

Pour 1 cup of the pasta sauce over the meatloaf, and then spoon the remaining tomato pasta sauce on the sides of the meatloaf.

Optional: top the meatloaf with grated mozzarella.

Transfer the meatloaf back to the oven and broil for another 3-5 minutes. Then remove it from the oven and let the meatloaf rest for 10-15 minutes.

Right before serving, sprinkle the meatloaf with the remaining parsley.
Source: Thekitchn.com