Ice cream cake is two great desserts in one, but sometimes it can stray a little too heavy on the cake side, and a lot too light on the ice cream side. But, not anymore! This is how you can make the ultimate ice cream sandwich cake.
Prep Time
8 hours and 20 minutes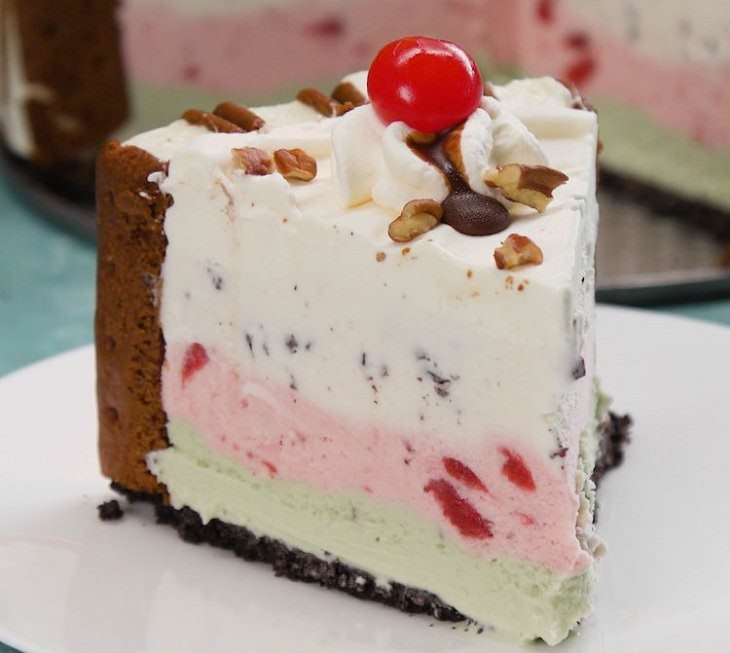 Ingredients for Ice Cream Cake:
Method of preparing the Ice Cream Cake:
Coat a 9-inch springform pan with waxed paper. Trim the paper to fit the height of the pan.

Place the chocolate sandwich cookies in a food processor and blend until the cookies are reduced to crumbs. Add the melted butter and pulse until the mixture starts to hold together.

Add the cookie mixture to the springform pan and press firmly into an even layer on the bottom of the pan. Stack the cut ice cream sandwiches, vertically on end, until you have a completed ring of ice cream sandwiches. Chill in the freezer for an hour to firm up the ice cream, and set the cookie crust.

Add the pistachio ice cream to a large bowl and stir until a firm spreading consistency is reached. Spread the pistachio ice cream in an even layer in the center of the ice cream sandwiches and return the pan to the freezer. Repeat this process with the strawberry and then the chocolate ice cream.

Top the cake with a layer of whipped cream. Return the cake to the freezer overnight. Remove the wax paper before serving. Top with some more whipped cream, chocolate sauce, maraschino cherries, and chopped nuts, if desired.
Chef's Tip:
Prep time includes an overnight freeze.
Source: Tiphero